May 18, 2021

January 1900 | Vol. I - No. 1

---
September Toys on the Move
If you really want to get to know a toy, you´ve got to see it move. Or quack. Or do whatever it is that toy was meant to do. Mr. TOYDIRECTORY examines 18 new products in the following brand new videos produced just for specialty retailers like you. Tickets, please! It´s time for the show ...
Response to this section has been tremendously positive, so check back soon for new clips!
Videography by Alison Marek. Editing by Mark Zaslove.

Babies-a-Bloom "Daisy" by MARIE OSMOND DOLLS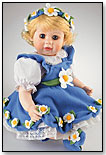 This Retailer Exclusive doll is sculpted by Ping Lau and comes with a numbered Certificate of Authenticity. Made of a super-soft "Cuddle Me" vinyl that gives flexibility to her fingers and limbs, her pale ivory "skin" has a porcelain look but silky feel. Her palms, cheeks, knees and toes are tinged with blushes of pink. She's 20" tall and is weighted to feel like a real baby. Her short blond wig is stitched to her head and is wreathed in a fleece headband decorated with cheerful fleece daises. Her radiant blue eyes are fringed with "real" upper lashes. She's dressed in a white cotton blouse and pinafore edged with lace, a soft blue fleece apron splashed with fleece daisies, with matching booties and bloomers, and white socks. She has a special pocket in her chest for an included mechanism that sets her "heart" a-beating when a little girl holds her close. (

Watch Video) 8/26/2005 (MSRP: $89.95; Age: 3 and Up)



Blobbiemorphers by PERS®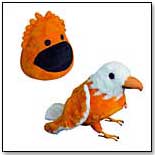 Blobbiemorphers, introduced in the picture book and CD-Rom set "Here Come the Blobbies," are now featured as a morphing plush toy. The first set of Blobbiemorphers includes: Red Reindeer, Orange Eagle, Yellow Dolphin, Green Rabbit, Blue Llama, Indigo Angelfish and Violet Dragonfly. The book, "Here Come The Blobbies," was a Finalist Award Winner for "Children's Book of the Year" at the 2004 Foreword Magazine Awards and a Finalist Award Winner for "Best Children's Book of 2004" at the Writers Notes Book Awards. In addition, it won a Preferred Choice Award in the Plush Toys for Kids category at the 2005 Top Creative Toy Awards. It is also winner of 7 iParenting Media Awards for Greatest Product of 2005, winner of the Parent to Parent Adding Wisdom Award and selected by Better Homes & Gardens magazine as one of the best gifts for 2005. The Blobbiemorphers were selected as "Toy of the Year 2006" by Creative Child Magazine and "Best Toyline of the Year 2005" by Parent to Parent Adding Wisdom Awards. "Here Come The Blobbies" was selected as "10 Best Toys of 2005" by Dr. Toy and as "Book of The Year 2006" by Creative Child Magazine. (

Watch Video) 2/25/2005



Yesteryears Star Horse by MARY MEYER CORP.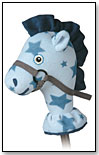 Mary Meyer Yesteryear Stickhorses feature a new retro styling reminiscent of the last century. The stick horses are 33" long and are made with soft, washable fabrics. Mary Meyer stick horses were chosen by the Toy Industry Association as one of the "Toys of the Century." In 1963, Mary Meyer´s son Walter, made a "stick horse" for his two-year-old son Steven, who liked to spend many hours each day dressed up as a cowboy. When Walter saw how much Steven enjoyed playing with the toy horse, he made stick horses for his other five children. Stick Horses were introduced into the Mary Meyer product line the following year. (

Watch Video) 8/9/2005 (MSRP: $15; Age: 2 to 6)



Pink Panther by AURORA WORLD INC.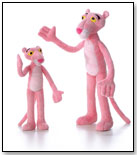 Just in time for the release of his new movie, the beloved feline is on the loose again. These poseable plush figures come in 12" and 18" versions. Whether he´s taking his bows or making his escape, this Pink Panther is irresistible. (

Watch Video) 5/24/2005



Superstructs BIG Builder by WABA FUN LLC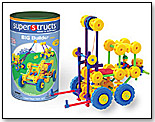 The 126-piece Superstructs BIG Builder set gives you everything you need to build detailed, hard-working construction vehicles. Build a working forklift, dump truck, crane or utility truck with the enclosed step-by-step plans. And once you have mastered these, you can take them apart and use your imagination to build other great creations. (

Watch Video) 6/1/2005 (MSRP: $35.95; Age: 4 and Up)



The Time Machine For All Time Demo Clock by WORLD CLASS LEARNING MATERIALS INC.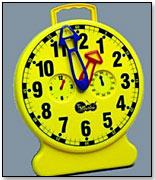 This large yellow plastic clock features three completely synchronized dials that can be moved clockwise and counterclockwise (forwards and backwards in time). The large display features hour and minute hands with easy-to-read numerals and minutes noted in five-minute intervals. There are two small dials that are synchronized to the large face to display the elapsed and beginning and/or ending time. It measures 15" high with a clock face 13" in diameter. (

Watch Video) 9/1/2005 (MSRP: $24.99; Age: 9 to 11)



LEGO 50th Anniversary System of Play Limited Edition by LEGO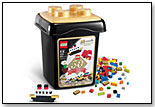 LEGO´s been doing what it does so well for 50 years: creating interlocking pieces that kids can use to build anything their imaginations can dream up. This LEGO-brick-shaped bin holds 500 classic pieces that includes special limited edition gold bricks. (

Watch Video) 9/1/2005 (MSRP: $9.99; Age: 4 to 9)



Dinosaurs by KANE/MILLER BOOK PUBLISHERS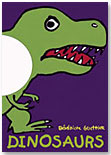 It's a book about dinosaurs … with a hole in it that kids or adults can fit their face in. The pages depict dinosaurs who (in one easy to read—except the names—line) tell what they like to eat. From the fern-loving Diplodocus to the dino-loving T-Rex, each page gives the name and eating habits of another animal. The hole? That's right where the dinosaur's face is, so readers look pretty silly and have a lot of fun. (

Watch Video) 9/1/2005 (MSRP: $11.95; Age: 0 to 3)



Backyard Flyer Double Pack by KID GALAXY INC.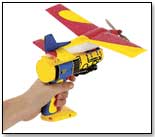 The Backyard Flyer Double Pack is a high-flying plane from Kid Galaxy that brings the wonder of flight to the backyard. The toy provides two great planes, one red and one blue, with one launcher for high-flying variety and value. The Backyard Flyer is a powered flight plane that charges on its own integrated hand-held, battery-powered launcher. Made of high-strength EPP foam, both planes are ideal for young daredevils. This product is a 2007 Creative Child Seal of Excellence Award winner.
— "Kid Galaxy's Backyard Flyer, that is a good seller," noted Helen Noland, owner of Father Goose in Macon, Ga.
— "For 8 and up it's a terrific seller," observed Judy Bielewicz, manager of Imagination Toys in St. Louis, Mo.
— "Backyard Flyers from Kid Galaxy" are a best-seller at Izilla Toys in Seattle, Co-owner Jude Larene said in mid-2007. "My [7-year-old] son bought our first one and he has really spread the gospel about this toy. Amazingly, these sell well year-round." (

Watch Video) 1/7/2005 (MSRP: $20.00; Age: 8 and Up)



Matching Musical Blocks by BABY EINSTEIN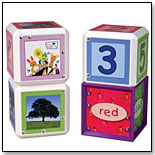 This collection includes four multi-colored baby-safe plastic blocks, each focusing on a different developmental concept: colors, animals, numbers, and real-world objects from nature. The six-sided control block features one panel for each of the five featured colors: blue, pink, red, green and yellow, while a sixth panel contains an image of the lovable Baby Einstein orchestra. Match any color from the number, animal or nature block to this control block, and you'll hear the color name and the name of the object pictured. A match of the Baby Einstein orchestra will play a score from Contradance by Beethoven, specially re-orchestrated for little ears. This toy won a Toy Tips "Tested and Trusted" Mark (2005). (

Watch Video) 9/1/2005 (MSRP: $9.99; Age: 1 and Up)



Dudley Flap & Wobble by MAMAS & PAPAS LTD.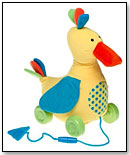 This dynamic duck waddles from side to side and rattles when pulled along by his string. Press Dudley´s beak and he´ll flap his wings and quack. Dudley also likes to sing three different songs, including his very own version of "Old MacDonald Had a Farm." (

Watch Video) 9/1/2005 (MSRP: $23.99; Age: All Ages)



Cold Nose Puppy: Golden Retriever by PLAYMATES TOYS INC.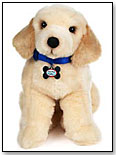 Pet this puppy and he gets so excited that he wags his tail and barks with joy. If kids want to be sure that their puppy is healthy, they just have to feel his nose. It´s cold ... as a puppy´s nose should be. Puppies need love, though, so if he´s neglected, he´ll whimper and beg until he´s petted and his soft little belly is rubbed. He doesn´t need food, but he does require 3 "C" batteries and 3 button cell batteries, which are not included. (

Watch Video) 9/1/2005 (MSRP: $29.99; Age: 4 to 8)



Raceway 57 by FRONT PORCH CLASSICS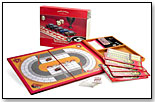 This beautiful game lets 2 to 5 players experience the full throttle excitement of America´s fastest sport. Players roll the dice or play a card to move a cast metal racecar around the track while managing valuable resources such as fuel, suspension and tires. A metal dashboard with magnetized markers helps keep track of the car and its opponents. Bumping and crashes are part of the sport but damage to the chassis might force the car into the pits at the wrong time. A clean fast race to victory and the player will receive the Raceway 57 trophy. The game measures 15"L x 12"W x 2"H and comes in a wooden carrying case. Raceway 57 won a Dr. Toy award. (

Watch Video) 9/1/2005 (MSRP: $75.00; Age: 8 and Up)



Toppos Spinning Top by TOPPOS INC.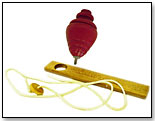 This classic back-to-basics wooden top with a new handle design gives more spinning power, and keeps the toy perfectly balanced. Wooden Toppos is sturdy, stands about 3 1/2" high and is lightweight. It´s ideal for spinning on table tops, or any smooth surface, indoors or outdoors. Nimble kids can even play "magazine catch" by spinning the toy on a magazine, then flipping it up in the air for a partner to catch on another magazine. Toppos won a Dr.Toy 100 Best Children´s Products award and a Dr. Toy 10 Best Active Products award for 2005. (

Watch Video) 9/1/2005 (MSRP: $10.00; Age: 6 and Up)



Little Daydreamers Royal King Hat by ELOPE INC.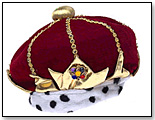 This fully lined crimson velvet plush hat is trimmed with fake ermine and bedecked with plastic jewels and gold filigree. A large plastic sapphire festoons the front. The hat is trimmed with intricate gold and blue ribbon and set with a jeweled golden knob. A secret pocket hidden in the lining holds a fortune for the King to read. Or, it can be used to hide state secrets from unruly contenders. Velcro tabs allow adjustment for almost any head size. (

Watch Video) 9/1/2005 (MSRP: $19.99; Age: 3 and Up)



---
---


Copyright © 2021 TDmonthly®, a division of TOYDIRECTORY.com®, Inc.