"Everything we give children, they're learning something." —Sarah Evers, Dancing Bears

If you're looking for a perfect niche market for your specialty toys, you might try homeschoolers. Since they are outside of the mainstream, they tend to be more skeptical about mass-marketed products and more inclined to make unorthodox choices, as a scan of homeschooling websites and a survey of five homeschooling moms revealed.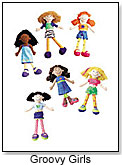 Julie Petoia, one of the homeschooling moms interviewed by TDmonthly Magazine, only recently "lowered her standards" enough to buy Barbie (

Watch Video) dolls for her three girls. "They thought they were great for a couple of hours," she said. "It was a novelty." After the initial thrill, the dolls stayed in the toy box, along with the less traditional Groovy Girls (

Watch Video)and fixed-play items such as an electronic cat.
TDmonthly's homeschooling moms said that their kids were highly drawn to active pretend play. Some retailers have taken notice.
"We just got in a selection from Melissa & Doug," said Ed Evans, co-owner of All Things Fun! in West Berlin, N.J. "We were looking for a higher quality product to be used for homeschooling."
For the most part, specialty toy retailers could not distinguish between their homeschooling and nonhomeschooling clientele, since anyone who comes to their stores is interested in unique toys. Evans, however, noticed that the homeschoolers tend to shy away from popular-culture items, be interested in periodicals related to child development, and question the content of books before they buy them.
"They look at the dialogue, at the art, and at the forms of the figures depicted," he said. "I don't get that kind of grilling from libraries!"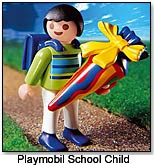 Overall, both the homeschooling moms and retailers agreed: homeschoolers look for toys that are not necessarily labeled "educational" but are high quality, unique and stimulate creativity. It's a broader view of what is educational, said Sarah Evers, owner of Dancing Bears Toys in Hendersonville, N.C. Mark Slotin, owner of Imagination Station in Spartanburg, S.C., said that both his homeschooling and nonhomeschooling customers appreciate the traditional toys he sells, such as games, puzzles and craft kits.
"Everything we give children, they're learning something," noted Evers. "We try to provide a variety of toys that meet all aspects of child development, including social development (via Playmobil role-playing sets), language skills and large-muscle development with outdoor toys and building blocks."
Dancing Bears – a chain of four specialty shops in North and South Carolina – offers homeschoolers a 10% discount. They promote the offer through signs in the shop and via the store's newsletters.