May 8, 2021

---
Toys in Motion: Dolls
Some dolls cry. Some dolls smile. And some are just as pretty as can be. Mr.

TOY

DIRECTORY shows you how they move and how they dress. The dolls will speak for themselves!
Strawberry Shortcake by MARIE OSMOND DOLLS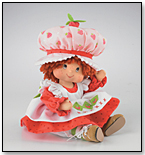 With "Strawberry Shortcake Tiny Tot" by Marie Osmond, strawberries are in season all year long! Honored to present, in porcelain, one of her favorite doll characters, Marie re-creates "Strawberry Shortcake Tiny Tot" with all the attention to detail you've come to expect from her dolls. As you know, "Strawberry Shortcake" lives in Strawberryland with her many sweet friends, and now brings the charm of Strawberryland to your home. Enjoy! (

Watch Video) 4/21/2006 (MSRP: $39.95)



Fairies by MARIE OSMOND DOLLS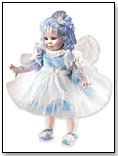 Marie is always looking for unique dolls to offer her collectors. When she received these sculpts, she KNEW they were special! Looking very ethereal, each of these dolls is crafted in white porcelain, with sherbet-toned tattoo-like floral painting on their faces, arms and legs. They have soft, colorful synthetic mo-hair wigs and are costumed in dresses made predominantly of airy netting. (

Watch Video) 4/21/2006



Once Upon a Dress by MARIE OSMOND DOLLS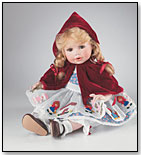 "Once Upon A Dress", in Marie Osmond's doll line, lived a charming new doll named "Little Red Riding Hood". Each panel of her dress was uniquely adorned with a scene from its beloved fairytale, creating an actual storyboard of the tale upon her dress. Not a detail was overlooked in creating "Little Red Riding Hood", so that she and her owner could live together, happily ever after! (

Watch Video) 4/21/2006 (MSRP: $159.95)



Fashion Angels: Living Dolls by FASHION ANGELS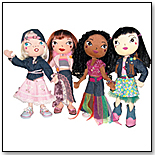 They're plushy with the cutest embroidered faces. They're poseable with a full body armature. They stand 15" tall and pose from head to toe. Don't tell anyone, but their 'dos are wigs and are interchangeable with each other. New 'dos sold separately. Last but not least, their wardrobe is to die for and the proof is in the details. They have great jewelry, accessories and shoes (made in a real shoe factory). The Fashion Angels are hip, sweet, intelligent and soulful. Pictured are Lulu, Bebe, Debo and Izzy. This product received a 2007 Oppenheim Toy Portfolio Gold Seal Best Toy Award.
— As of 05/13/2011 this product had 5 out of 5 stars from 2 reviews on Amazon.com. Cons: Wig may lose shape if not placed on the Fashion Angels wig stand. (

Watch Video) 8/30/2005 (MSRP: $36.00; Age: 8 and Up)



Christmas Katie 2005 by ABEL CREATIONS CO.

This 18" rag doll is ready for Christmas with her knit Christmas 2005 sweater. Her brown hair has a cute little red bow to match her pleated red skirt. (

Watch Video) 11/14/2005 (MSRP: $35.00)



Terri Lee Princess Ballerina by TERRI LEE ASSOCIATES



Terri Lee has an important ballet recital to attend. She is dressed in favorite blue leotard and tutu with matching ballet slippers. Her accessories include a rhinestone crown, bouquet of roses, special compact and lipstick and her very own hairbrush. (

Watch Video) 10/19/2005 (MSRP: $19.99; Age: 3 to Adult)



Kinder Garden Babies by ABRAMS GENTILE ENTERTAINMENT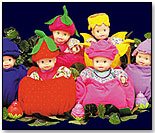 After taking some time off, a new crop of Kinder Garden Babies is suddenly in bloom. The scented, flower-themed dolls, which were a hit in the 1990s, have returned with varieties such as Blueberry, Cherry, Rose, and Violet. The dolls, which "blossom and grow" deep in the forest, provide an outlet for the nurturing side, as children can take care of them and keep them involved in every aspect of their lives. (

Watch Video) 9/16/2005 (MSRP: $19.99; Age: 3 and Up)



Tyler Wentworth Collection by TONNER DOLL COMPANY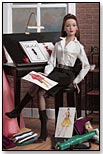 Before he delved into dolls, Robert Tonner was senior designer for Bill Blass's sportswear division. The Tyler Wentworth doll is herself a mini-fashion designer. The clothes that "she" creates are backed by Tonner's strong, classic design sense. For 2006, "There are some wonderful outfit collections and the return of Tyler ready-to-wear boutique," said Tom Courtney, director of marketing for Tonner. The dolls are extremely detailed and wear only the finest garments from the Wentworth collection, but what else would you expect? (

Watch Video) 9/16/2005 (MSRP: $79.99)



Sky Dancers by JAKKS PACIFIC INC.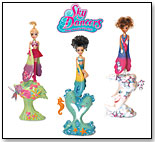 In a partnership with Abrams Gentile Entertainment, Sky Dancers are back. The toy that proved to be a big hit in the mid-90s is being re-released, this time with sound and light-up capabilities. The doll itself is modeled to look like a fairy, and when shot out of a launcher its wings will actually spin and propel the doll up to 15´ high before gently returning to earth and the arms of a happy child. (

Watch Video) 9/16/2005 (MSRP: $15.00; Age: 5 and Up)



Hottiez: Asiana by CHIC BOUTIQUE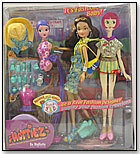 The latest entry into the fashion doll trend, Asiana challenges young girls to be "a real fashion designer" by giving them a mannequin, detachable parts, multiple outfits, and a wide assortment of accessories to use in creating a uniquely outlandish fashion style. In the Hottiez "It´s Fashion, Baby" line, Asiana pushes attitude as an accessory all its own. (

Watch Video) 9/13/2005 (MSRP: $13.99; Age: 4 and Up)



Prophecy Girl Buffy by SIDESHOW COLLECTIBLES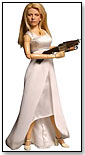 This 12" collectible doll depicts Buffy (as played by Sarah Michelle Gellar on the TV series "Buffy the Vampire Slayer") as she appeared in the episode "Prophecy Girl," wearing a leather jacket over her white prom gown. She is armed with a crossbow, wooden stake, and cross necklace, and she carries her trusty Vampyr book for those unexpected showdowns with the undead. (

Watch Video) 9/13/2005 (MSRP: $30.00; Age: 3 and Up)



My Scene Goes Hollywood by MATTEL INC.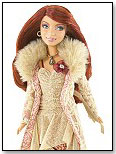 These hip diva dolls are glammed up for a night out in the City of Angels, wearing their best bling bling for clubbing and socializing. The newest in the line of Barbie spin-off dolls, these modelesque girls wear fur stoles atop platform heels and lacy tops. Tween girls are the target audience, as they have a little more spunk than the traditional Barbie dolls. (

Watch Video) 3/1/2005



Barbie Magic of Pegasus: Barbie Doll by MATTEL INC.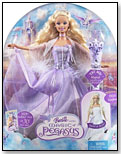 From the movie "Barbie and the Magic of Pegasus" comes a new line of Barbie toys. This doll sets Barbie as a princess in a world of winged horses and cloud castles, and along with her sparkling purple gown comes a tiara and light-up wand. A bonus activity DVD with three games is also included. (

Watch Video) 9/13/2005 (Age: 3 and Up)



Fisher-Price Little Mommy doll by MATTEL INC.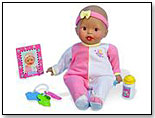 The Little Mommy doll provides your child with the opportunity to play with and nurture a baby of their own. Children can bottle-feed the baby (no liquids), play with a set of toy keys, and teach the baby using a building block. The doll´s torso is soft, for holding and cuddling, while the head and limbs are sturdier and more realistic. The Little Mommy doll also offers a line of accessories, including a swing, a rockinghorse, a high chair, and a stroller, all purchasable separately. (

Watch Video) 9/13/2005 (MSRP: $13.00; Age: 1 and Up)



Princess Ai: Borrowed Threads by BLEEDING EDGE



Based on the successful Anime from Tokypop, Princess Ai borrows clothes. "These will fit me well, with just a few adjustments … snip, snip." Princess Ai not only has musical talent, she is a fashion diva! Though adult collectors are big fans of Bleeding Edge dolls, "tween girls like them, too," Bleeding Edge's studio director, Toni DeAso, told TDmonthly. (

Watch Video) 11/16/2005 (MSRP: $24.99)



Teen Trends Kiana by MATTEL INC.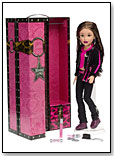 Launched in summer 2005, the new Teen Trend dolls take fashion dolls to a whole new level: 17 inches high, to be precise. Kiana is one of four posable fashion dolls that come with trendy clothes that reflect each girl's personality. Each doll has long, stylable hair that can be streaked with gel, waved or curled. The dolls also come with their own personalized Look Books. (

Watch Video) 9/1/2005 (MSRP: $39.99; Age: 6 to 12)



New Baby Annabell With Tearing Function by ZAPF CREATION (U.S.) INC.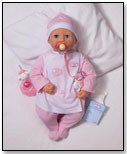 Zapf's newest 18" baby babbles, gurgles, giggles, sucks a bottle and "actually cries real tears," Virginia Uelze, marketing manager for Zapf Creation (U.S.), told TDmonthly. "It´s the first time we´ve mixed water with electronics."
— As of 05/13/2011 this product had 4.8 out of 5 stars from 5 reviews on Amazon.com.
— This baby was soft launched at the end of July 2005.
— Baby Annabell received the National Parenting Publication Association´s Oppenheim Toy Portfolio Gold Seal Award 2006.
— "Zapf does well," at the Hello Dollie Doll Shoppe in Albuquerque, N.M., according to owner Carmen Keicher. Sherry Grisham, owner of Yesterday & Today's Dolls in Corinth, Miss., agreed. (

Watch Video) 10/3/2005



Teach-A-Tot by LANGUAGE LITTLES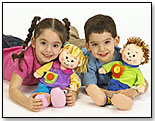 This charming little teacher encourages tiny tots to tie their shoes and blow their noses. There is a female and male version of the doll for girls and boys. Toddlers everywhere will be proudly declaring that they can go potty along with their new friend the Teach-A-Tot. Each doll features removable clothing with a button, zipper and shoelaces and comes with 3 AA batteries. It is also accessorized with its own tissue, toothbrush and comb. This ingenious friend has a child´s voice and a colorful outfit that will make the transition from toddler to big kid a delight. The seven press points of this doll are what make it truly original: Each is indicated by a yellow star, from head to toe, with activities that will challenge a range of different ages. READ MOM REVIEW (

Watch Video) 10/5/2005 (MSRP: $34.99; Age: 1 and Up)



Language Littles by LANGUAGE LITTLES



These adorably cute and trendy dolls aren´t just pretty faces! Each 16 inch plush doll speaks English and another language and is eager to teach her language skills to children! Children delight in their talkative pals, and soon after receiving a Language Littles doll, children are excited to show off their bilingual skills to anyone they meet! (

Watch Video) 12/14/2004 (MSRP: $39.99)



American Beauty Basics by TONNER DOLL COMPANY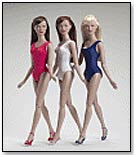 Tonner® American Beauty Basics™ made of high-quality vinyl and hard plastic, with rooted saran hair, and hand-detailed, painted eyes. The 16" American Beauty Basics™ feature jointing at the neck, shoulders, elbows, hips and knees. They´re available as a brunette, redhead or blonde. (

Watch Video) 9/28/2005 (MSRP: $49.99)



Sunshine Pretty Betsy McCall by TONNER DOLL COMPANY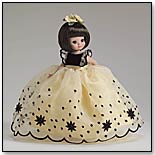 Betsy is dressed perfectly for a party in this sunshine yellow embroidered organza gown. Betsy McCall® debuted on the cover of McCall's Magazine in May 1951, to the delight of mothers and daughters everywhere, for whom reading the adventures of Betsy and her friends, and cutting out their paper clothes brought imaginative fun to playtime. In 1957, Betsy became an 8-inch hard plastic doll, produced by the American Character Doll Company in conjunction with McCall's. In 2000, the Tonner Doll Company reintroduced 8-inch Betsy McCall® as a high quality doll for play and collecting based on the original Tiny Betsy. (

Watch Video) 9/28/2005 (MSRP: $59.99)



Ruth by CANDY BOX KIDS INC.



One of 26 character dolls in the Candy Box collection, Ruth collects shiny pennies to buy her favorite treats. The 21" vinyl-and-cloth rag dolls in the magical world of the Candy Box Kids reflect and relate to every child's life, with their emphasis on the cute, sweet, mischievous, silly and the just plain yummy. Ruth comes with a storybook and cassette and has the signature of creator Barbara A. Hock on her soft cloth body and her box. Each doll also has a trademark heart stamp on his or her chest, too. The girl dolls come with removable fake candy treats and the boys with removable frogs. (

Watch Video) 1/17/2006 (MSRP: $24.99; Age: 3 and Up)



Babies-a-Bloom "Daisy" by MARIE OSMOND DOLLS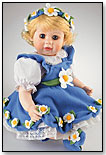 This Retailer Exclusive doll is sculpted by Ping Lau and comes with a numbered Certificate of Authenticity. Made of a super-soft "Cuddle Me" vinyl that gives flexibility to her fingers and limbs, her pale ivory "skin" has a porcelain look but silky feel. Her palms, cheeks, knees and toes are tinged with blushes of pink. She's 20" tall and is weighted to feel like a real baby. Her short blond wig is stitched to her head and is wreathed in a fleece headband decorated with cheerful fleece daises. Her radiant blue eyes are fringed with "real" upper lashes. She's dressed in a white cotton blouse and pinafore edged with lace, a soft blue fleece apron splashed with fleece daisies, with matching booties and bloomers, and white socks. She has a special pocket in her chest for an included mechanism that sets her "heart" a-beating when a little girl holds her close. (

Watch Video) 8/26/2005 (MSRP: $89.95; Age: 3 and Up)



Friendship by MARIE OSMOND DOLLS

Product Information Coming Soon (

Watch Video) 4/21/2006



---
---


Copyright © 2021 TDmonthly®, a division of TOYDIRECTORY.com®, Inc.