January 22, 2022

---
Toys in Motion: General Toys
From helicopters to yo-yos, these toys like to move. Watch Mr.

TOY

DIRECTORY demonstrate the way to play.
Throw Yo by THE PENCIL GRIP INC.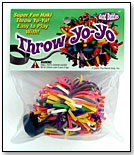 This rubbery yo-yo is sure to bounce back as kids practice their eye-hand coordination. (

Watch Video) 4/20/2006



Rubberband Ball Kit by THE PENCIL GRIP INC.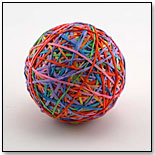 The make it yourself rubber band ball kit includes a Super Ball and an ultra bright assortment of the highest quality American made rubber bands available. Children love the highflying rubber band ball that they can create for themselves. Stimulates both eye-hand coordination and visual sequencing in Children. Fun to throw and catch, it can bounce over 40 feet in the air. (

Watch Video) 4/20/2006



Astrojax Saturn by Astrojax USA – Active People



Although Active People´s Astrojax comes in many colors and designs, by far the coolest one to have swinging in the air, off walls or off your body is the bright, fluorescent Saturn model (aptly named for its encircled ring). When creating more complex tricks than with your average yo-yo, fret not; each Astrojax comes with a trick sheet and an Astrojax Docking Station if you need to walk away from it for a while. The Astrojax is equipped with three colored LED lights that can be switched from "Continuous" mode to "Disco." Nothing is more groovy for kids 8 years old and up than three disco balls on a string for $14.95 (

Watch Video) 12/9/2004 (MSRP: $14.95; Age: 8 and Up)



Bowl-a-Dude Action Set by XCONCEPTS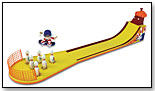 This home bowling set includes an exclusive dude, dressed in a blue helmet and red, white and blue action suit, ready to skateboard down a plastic bowling lane at the end of which sits six bowling pins, affixed with magnets. But, not for long! The little dude has plans to knock down as many pins as he can with his skateboard. Each bowling pin has a unique design on it, from a skull and crossbones to a pair of evil-looking eyes. (

Watch Video) 1/5/2006 (Age: 3 and Up)



Marshmallow Shooter by MARSHMALLOW FUN COMPANY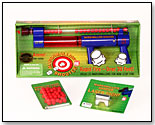 Shoot an edible miniature marshmallow over 30´ with this pump-action shooter, complete with LED sight for aiming accuracy. The easy-to-refill magazine holds 20 marshmallows (or foam pellets—which are included) for fast, nonstop action. The LED sight shoots a safe beam of red light to help locate a target. Barrel and magazine are top-rack dishwasher safe, and the back of the box even has a target for practice.
— "The Shooter did excellent for us this past year [2005]," said Andrew Saucier, general manager for the Marshmallow Fun Company. "We were on Jay Leno and Good Morning America. We're about to go on David Letterman, and AOL picked us as a top toy of the year." In November the company launched the Marshmallow Blaster, which fires "big marshmallows," he added.
— Warren Brown, owner of French's Toy Shop Inc. in Concord, N.H., claimed he never fired marshmallows at lax storeworkers, but later admitted, "I did use it on a couple of customers!"
— "Marshmallow Shooters are really hot," Mary Alice Miner, co-owner of Miner's Doll & Toy Store in Ocean Springs, Miss., told TDmonthly in fall 2007.

Past Videos: Product demonstration, Toy Fair 2009 (

Watch Video) 6/28/2005 (MSRP: $21.95; Age: 8 and Up)



Toppos Spinning Top by TOPPOS INC.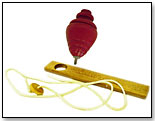 This classic back-to-basics wooden top with a new handle design gives more spinning power, and keeps the toy perfectly balanced. Wooden Toppos is sturdy, stands about 3 1/2" high and is lightweight. It´s ideal for spinning on table tops, or any smooth surface, indoors or outdoors. Nimble kids can even play "magazine catch" by spinning the toy on a magazine, then flipping it up in the air for a partner to catch on another magazine. Toppos won a Dr.Toy 100 Best Children´s Products award and a Dr. Toy 10 Best Active Products award for 2005. (

Watch Video) 9/1/2005 (MSRP: $10.00; Age: 6 and Up)



Shark Darts by MINDWALK INC.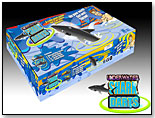 This cool game for two or more players lets kids toss sharks without getting bitten. Each player gets one set of 3 Target Rings and a Dive and Rise Shark. Players set themselves 10 feet from one another and float their targets. Each player tries to land her shark in the opposing player's Target Rings. The first player to score 10 points wins. Distance between players can be modified to fit the age and skill level of the players. Rings are 6", 12" and 24". (

Watch Video) 1/20/2006 (Age: 5 and Up)



Xiaolin Showdown: Golden Tiger Claw by TOY PLAY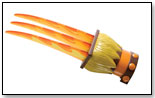 Little sisters beware: This is one product you don't want to fall in the hands of your evil older brother. Better yet, make sure Mom gets you one of your own before she hands it over to your mortal enemy and sometimes partner in crime. This wicked two-foot long plastic claw is held by putting clutching the interior of the plastic claw. Kids can them press the outside button to hear a thunderbolt-like sound for added effect. (

Watch Video) 1/9/2006 (Age: 4 and Up)



Xiaolin Showdown: Sword of the Storm by TOY PLAY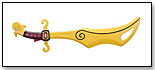 Take cover if the kid down the block gets his hands on this puppy first. This two-foot long plastic sword makes a yappy-swishy sound when its handle is pressed, and it can be wielded to strike fear even into the neighborhood bully. It may be made out of plastic, but the plastic is darn sturdy. (

Watch Video) 1/9/2006 (Age: 4 and Up)



Polly Pocket Snow Cool Hotel by MATTEL INC.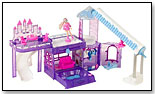 Polly Pocket and her friends can have a luxury vacation in this winter resort. Polly can ice-skate in her own mini rink, ride a working ski lift up to the slope, then race down the ski slope. After a hard day of play, she can hit the hot tub. It also features a wardrobe room with mirror and a sofa.

(

Watch Video) 9/13/2005





---
---


Copyright © 2022 TDmonthly®, a division of TOYDIRECTORY.com®, Inc.