May 8, 2021

---
Toys in Motion: Plush
What´s soft and cuddly and in motion? Mr. TOYDIRECTORY showing the latest plush toys. Take a looksie.
Eric Carle Line -The Very Hungry Caterpillar by SMALL WORLD TOYS


Eric Carle's whimsical caterpillar is a childhood favorite, and this cuddly, licensed plush toy is full of surprises: 10 pockets each contain a different fabric food object, securely tethered with an elastic cord ... objects crinkle, squeak, rattle and more! Bright colors, bold patterns and a variety of textures stimulate baby. The caterpillar is great for teaching cause and effect and developing manual dexterity. He'll begin inching his way into stores in April 2006. It's suitable for ages 6 months and up. (

Watch Video) 2/24/2006 (MSRP: $30.00)



Pet Carriers by AURORA WORLD INC.



Now kids can make a fashion statement just like Paris Hilton and Reese Witherspoon, and take their favorite animal pals on outings. From Aurora's newest plush line Fancy Pals, Pet Carriers (8") are a stylish plush purse and best friend in one. Fully lined Pet Carriers have plenty of room for belongings, handles and a unique dual zipper closure. (

Watch Video) 9/1/2004 (MSRP: $14.99; Age: 5 to 7)



Cuddly Wudley by CUDDLY WUDLEY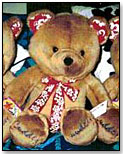 Cuddly Wudley was born in the Hawaiian Islands and his purpose is to spread love and aloha. Each Cuddly Wudley is given a Hawaiian name at birth and comes with a license to love. Each license has a different Hawaiian name, address, birth date and license number. There will only be so many made in each name so it will become a collector's item. On the back of the license it's an ID card for children to fill in and keep for themselves. Cuddly Wudley is so cuddly, he is always available for a hug. His only wish is for every person who adopts him, that they pass on the love they feel to everyone they know. You'll be able to recognize a Cuddly Wudley when you see the brightly color Hawaiian fabric in his ears and the Hawaiian print ribbon around his neck. Cuddly Wudley puts a smile on faces. (

Watch Video) 1/4/2006 (MSRP: $15.99; Age: 2 to 92)



Creme Puff Giraffe by FIRST & MAIN INC.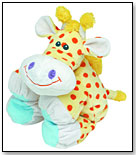 This 15" giraffe is a cuddly soft armful of velvety plush. He has yellow fur accented with orange stripes, and deep yellow tufts of hair on his head, heck, horns and tail. His feet are weighted with beans so he can sit upright, as is his bottom. He´s a nice addition to any kid´s crib zoo. (

Watch Video) 9/8/2005 (MSRP: $9.00; Age: 0 and Up)



Cold Nose Puppy: Golden Retriever by PLAYMATES TOYS INC.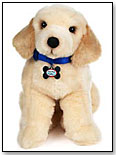 Pet this puppy and he gets so excited that he wags his tail and barks with joy. If kids want to be sure that their puppy is healthy, they just have to feel his nose. It´s cold ... as a puppy´s nose should be. Puppies need love, though, so if he´s neglected, he´ll whimper and beg until he´s petted and his soft little belly is rubbed. He doesn´t need food, but he does require 3 "C" batteries and 3 button cell batteries, which are not included. (

Watch Video) 9/1/2005 (MSRP: $29.99; Age: 4 to 8)



Dudley Flap & Wobble by MAMAS & PAPAS LTD.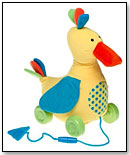 This dynamic duck waddles from side to side and rattles when pulled along by his string. Press Dudley´s beak and he´ll flap his wings and quack. Dudley also likes to sing three different songs, including his very own version of "Old MacDonald Had a Farm." (

Watch Video) 9/1/2005 (MSRP: $23.99; Age: All Ages)



Funny Feet Giraffe 12" by BESTEVER INC.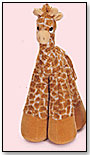 This tall animal has long, fat club legs that are filled with squeezable beads at the very bottom. His light brown mane is made of yarn and his big brown eyes look upward in a kind of hopeful pout. His small tail is also made of yarn. (

Watch Video) 1/10/2006



School Bus Pillow by PLAY SMART

Soft and comfortable plush pillow opens up to display a school setting with students, lunch box, desk and chair. Figures are bendable and adhere to pillow with Velcro. Use your imagination and creativity for hours of fun! 16"x 12" (

Watch Video) 8/10/2005



Pink Panther by AURORA WORLD INC.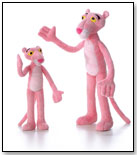 Just in time for the release of his new movie, the beloved feline is on the loose again. These poseable plush figures come in 12" and 18" versions. Whether he´s taking his bows or making his escape, this Pink Panther is irresistible. (

Watch Video) 5/24/2005



Blobbiemorphers by PERS®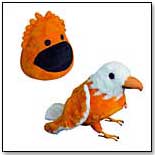 Blobbiemorphers, introduced in the picture book and CD-Rom set "Here Come the Blobbies," are now featured as a morphing plush toy. The first set of Blobbiemorphers includes: Red Reindeer, Orange Eagle, Yellow Dolphin, Green Rabbit, Blue Llama, Indigo Angelfish and Violet Dragonfly. The book, "Here Come The Blobbies," was a Finalist Award Winner for "Children's Book of the Year" at the 2004 Foreword Magazine Awards and a Finalist Award Winner for "Best Children's Book of 2004" at the Writers Notes Book Awards. In addition, it won a Preferred Choice Award in the Plush Toys for Kids category at the 2005 Top Creative Toy Awards. It is also winner of 7 iParenting Media Awards for Greatest Product of 2005, winner of the Parent to Parent Adding Wisdom Award and selected by Better Homes & Gardens magazine as one of the best gifts for 2005. The Blobbiemorphers were selected as "Toy of the Year 2006" by Creative Child Magazine and "Best Toyline of the Year 2005" by Parent to Parent Adding Wisdom Awards. "Here Come The Blobbies" was selected as "10 Best Toys of 2005" by Dr. Toy and as "Book of The Year 2006" by Creative Child Magazine. (

Watch Video) 2/25/2005



XXL Educated Bear by ABEL CREATIONS CO.


This teddy bear wears your school sweater! Ideal for a graduation gift or other special occasion, this 18" teddy bear is available in either white or brown with any color sweater and any lettering. The trim at the bottom can be either stripes, trains or sailboats. Lettering on the back —- such as a birthdate or grad´s chosen college and an optional mortarboard and diploma are available, all at no extra charge. (

Watch Video) 9/1/2004 (MSRP: $35.00)



10" Plush Moose by ABEL CREATIONS CO.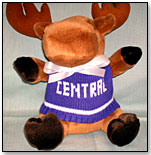 This adorable plush moose is about 10" tall and comes with a red bow wrapped around his neck. His knit sweater has his name on the front, and Christmas 2005 across the back. All Abel Creations products have passed rigorous safety tests. The eyes on the animals are safe for children and all of the clothing is machine washable and dryable. (

Watch Video) 11/22/2005 (MSRP: $20.00)



---
---


Copyright © 2021 TDmonthly®, a division of TOYDIRECTORY.com®, Inc.