"We've run out of product," said Beau James, North American director of
Corolle Dolls
. "It's just really kicked in suddenly." Every time the company estimated how many dolls to manufacture this year, they had to up the numbers.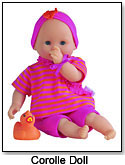 "Our phones have been ringing off the hook," since the new Christmas catalog was released, said Mark Putinsky, vice president of marketing for the Lee Middleton Original Doll Company. "We're going into Christmas feeling very good about it."
And even though sales were down from last year at Adora Inc. (they lost 19 stores during Hurricane Katrina), "everyone tells us that our dolls are still doing well, and we are hoping that we'll have enough to ship to everybody," said vice president of sales and marketing, Thomas Ames. Their Cradle Babies line has already sold out. "We won't have any more until next year," he noted.
Find out what other dolls will be great sellers for Christmas 2005 in the December issue of TDmonthly Magazine.