January 25, 2022

November 2005 | Vol. IV - No. 11

---
Today's Kids Rock Out for Real
Toy Instruments Get Tuned Out
At Toys "R" Us in Cleveland, Ohio, electric guitars and drum sets by First Act are the most popular musical items in the store. —Theresa Schmidt, sales associate

Perhaps in part due to the increasing popularity of child-geared CDs, such as those by Wiggles N' Tunes, kids want to pick up their own instruments and play. These days, children's instruments are less about child's play and more about learning the basics. Sophisticated products are looking more like smaller versions of adult music makers than kid stuff.

For older kids, smaller sized working guitars have become a big deal, according to Palo Alto Sport & Toy World manager, Eric Hager. "The trend is people want real guitars. Prior to this year, we'd sell a lot of toy ukuleles and guitars, but now the highest extent of those kinds of products we sell are drums, tambourines, etc.," Hager told TDmonthly Magazine. While the Mozart Music Blocks by Neurosmith did meet with quite some success last year (each block represents a different part of a lively Mozart piece), Hager hasn't seen enough demand recently to reorder the product.

Another retailer, mastermindtoys.com, supports youth musical development with an offering of musical instruments. And again, guitars seem to be the instrument to stock. "The most popular musical toys are the classic half or three-quarter-size folk guitars," explained Jon Levy, vice president of mastermind.com. "We left the world of toy guitars years ago. If the parent is inclined to get lessons it's great, otherwise they can be strummed and make noise. So, the sound can go anywhere from just blam blam blam to being quite melodic."

According to Theresa Schmidt, sales associate at Toys "R" Us in Cleveland, Ohio, electric guitars and drum sets by First Act are the most popular musical items in the store. Kids 8 and above are excited to purchase them.

Chris Desch, owner of Amuse in Baltimore, agreed with Schmidt, explaining that his store had seen a vast improvement in the quality of products offered from years past. "Anything you can beat on like a drum," he said, is popular, since it can be played by children as young as infants.

Also popular are small, $25 acoustic guitars crafted by Schylling. "The price is great — it's an investment. It's not going to get tossed aside. Music is definitely timeless." He thinks that part of the allure of guitars may be that younger parents are more inclined to promote the instrument to their children than parents of generations past.

Products that are luring them in:
Junior Bongo Drums by FIRST ACT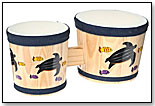 Already out of stock on the Mastermindtoys.com website, these bongos are especially sized for a child's hand. The natural hide head and the patented construction insure a long lasting, full, round tone when played. 10/27/2005 (MSRP: $16.95)



Discovery 8 Piece Junior Drum Set by FIRST ACT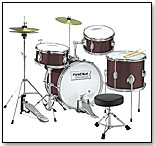 For those retailers that cater to brave parents with large, spacious homes or that already have hearing problems (this could get noisy), this professional quality junior drum set includes a 16" bass drum, 10" mounted tom drum, 10" snare drum, 13" floor tom, a 10" mounted brass cymbal, and a hi-hat stand with 10" cymbals. It has a pro-style lug design with fully tunable drumheads, an attractive candy apple-red finish and wooden shells. The set includes a drum seat, sticks, pedal and tuning key. 10/27/2005 (MSRP: $129.95)



6 String Acoustic Guitar by SCHYLLING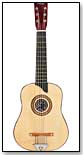 Made of wood with nylon strings, this child-sized version of an adult guitar is practically the real thing. The guitar even comes with tuning instructions to turn young musicians into pros in no time. At 24" long, it can be stored easily without taking up too much space. 10/27/2005 (MSRP: $19.49; Age: 8 and Up)



1/4-Size BeBoP Student Guitar Package in Pink Sunburst by MUSIC FOR LITTLE PEOPLE/MFLP DISTRIBUTION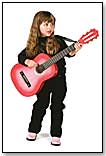 These specially designed student guitars from BeBoP Instruments (distributed exclusively by MFLP Distribution) have small necks and soft nylon strings for easy playing. Built to last, these high-quality instruments are available in 1/4, 1/2 and 3/4 sizes in natural, blue sunburst and pink sunburst. Full-size option is available in natural finish only. The 1/4-size has a playful dancing animal sound hole design. All guitars have a beautiful high-gloss finish and come with a padded bag, strap and picks. Launch date: October 2007. 10/27/2005 (MSRP: $79.98; Age: 4 to 6)



Guitar Strap by FIRST ACT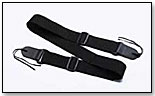 So popular on the Mastermindtoys.com website that the product has run out, this nylon strap includes leather attachment tabs and fits on kid-sized guitars made by First Act but can be used on other models as well. 10/27/2005 (MSRP: $8.99; Age: 4 to 11)



LittleFish Tambourines by RHYTHM BAND INSTRUMENTS LLC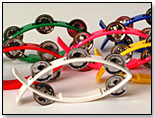 These 8" x 3" tambourines include 5 pairs of High-Action stainless steel jingle bells secured by interlocked stainless steel pins. The solid ABS plastic body has a comfortable handle easy to grip and use for young musicians. 10/27/2005 (MSRP: $8.50; Age: 3 and Up)



Neurosmith Music Blocks Mozart Set by SMALL WORLD TOYS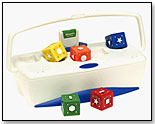 This sturdy, radio-like box comes with five colorful, sensor-controlled blocks and a memory cartridge. Little ones have fun placing the blocks into the box, hearing snippets of Mozart songs as the blocks are placed in the square seats. Switching around the blocks creates new songs.
― "I sell a lot of Music Blocks because I love them to pieces," Wendy Bricht, owner of Chatterpillar Toys, Gifts, and Balloons in Frazier Park, Calif., told TDmonthly in spring 2010.
― During a March 2010 survey of 39 specialty retailers, two named Neurosmith as their top brand of infant and toddler products. 10/27/2005 (MSRP: $69.95; Age: 2 and Up)



The Wigglin´ Collection by WIGGLES N' TUNES INC.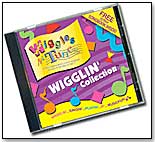 A collection of award-winning familiar children´s favorites have been compiled and adapted with love for toddlers and preschoolers performed by Miss Wiggles and The Wiggle Ensemble with a unique twist. These fun-filled, upbeat, lively and playful tunes are guaranteed to captivate every child´s attention with hands-on feet-tapping, sing-along and play-along fun! Tonal and rhythm patterns, the critical building blocks of the music language will nurture a child´s ability to think musically providing a "balanced musical diet" to grown on! Over 30 favorite folksongs such as The Eensy Weensy Spider, If You´re Happy and You know it, Grandpa´sFarm and the popular signature Wiggle theme song along with 26 more. An unbelievable value, the CD includes a 20-page lyric and activity songbook. It´s fun and educational! It´s edutainment! 11/10/2005 (MSRP: $16.95)



---
---


Copyright © 2022 TDmonthly®, a division of TOYDIRECTORY.com®, Inc.