May 8, 2021

December 2005 | Vol. IV - No. 12

---
Infant and Toddler Products Are Tough to Outsell
Toys for Tots Are Among Retailers' Best Sellers During the Holidays
To view fresh infant and toddler products for the holidays, click here.


"It's our biggest category. We do well right across the whole line." — Elaine Hackney, J. P. Boing's Toy Shop

Everything old is new again, again. Euro/retro wooden toys and bouncy rubber rides catch the fancies of infants and toddlers — or at least their parents — 40 retailers across the nation told TDmonthly Magazine. The infant/toddler segment is strong, all agreed, but with so many great toys to choose from, it's hard to select a single winner.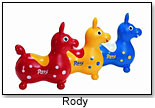 One toddler toy that keeps on bouncing, all the way from Italy, is the Rody by Ledraplastic s.p.a.
"We still do really well with them," enthused Elaine Hackney, owner of J.P. Boing's Toy Shop in Jamaica Plain, Mass.
Rody's been hopping around for approximately 20 years, but has had a surge in popularity during the past two years, owing to the addition of new, fashionable colors, said Wilfried Demisch, owner of Toymarketing International, Ledraplastic's U.S. distributor. "Retailers are telling me that they can't keep Rody in stock," accountant Jennfier Blacklock, told TDmonthly. "I just e-mailed [Demisch] to order another 40-foot container."
Jude Larene, owner of Izilla Toys in Seattle, rated Rody as one of his very best sellers. So did Ava Allen of Be Beep A Toy Store in Columbia, S.C.; Gladys Griffin of Main Street Toy Shop in Columbus, Ga.; and Katie Henry of Toy Magic in Bethlehem, Pa. Two other retailers said the toy did just "okay."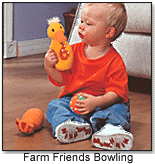 Early Years Farm Friends Bowling by International Plaything (ToyDirectory)scores strikes in New Hampshire, according to Toy Chest owner Jean Simmons in North Conway. The same was true at the Learning Express in Hampton, N.H., according to manager Linda Doucette.
"Farm Friends is popular," agreed Grafton Stine, owner of Toys on the Square in Hummelstown, Pa.
"Another thing that's really hot for us is the Tolo line — the First Friends car and the bulldozer," Terri Bracken, owner of Whole Earth Explorers Toys in Zionsville, Ind., told TDmonthly. Griffin, Jeanne Orlando of Purple Bear in Guilford, Conn., and Steve Meynig, manager of Tom's Toys in Beverly Hills agreed.
Suzanna Gaddis of Yesterday & Today was having success with "blocks and trains from Maple Landmark. (ToyDirectory)"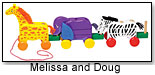 "The letters for the [Name] Train themselves are the biggest item," said Michael Rainville, owner and designer for Maple Landmark, which has been making the trains for 12 years. Rainville's Base Starter Set was his best seller in the Railbox line — tracks and blocks designed to the same scale as the Name Train. "For 2006, we have a big 2-foot arched bridge," he noted.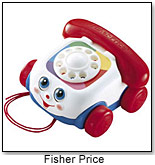 Wooden pull-toys and vegetables by Melissa and Doug, Whoozits and Stella by Manhattan Toy Company (ToyDirectory), Bob the Builder, Thomas the Tank Engine, reproductions from Fisher-Price and a number of toys from HABA (ToyShow), Neurosmith, Gund, Steiff and Taggies were all cited as good sellers. In general, retailers had difficulty picking their best-selling infant/toddler toys:
"We have 75 items in [our infant/toddler] room and no one picks the same thing twice," explained Warren Brown, owner of French's Toy Shop Incorporated in Concord, N.H.
"It's our biggest category," concluded Hackney. "We do well right across the whole line."
Here are the toys that retailers said were hot with tots, as well as a few picks of our own:
NameTrains by MAPLE LANDMARK WOODCRAFT CO.



Each different-colored letter, available in A through Z, comes on wheels. All letters are crafted from hard maple and have a nontoxic color finish. Magnets allow letters to be strung in a line to form names. $4.90 each.
— "Maple Landmark wooden train letters sell very well," said Gail, manager of the Toy Chest in West Hartford, Conn.
— 44 retailers surveyed in September 2010 said Maple Landmark Name Trains are their best-selling personalized item.
— In an October 2011 survey, Joe Berardoni, owner of Pun's Toys in Bryn Mawr, Pa., told TDmonthly that "We do not personalize, but we do sell a lot of Maple Landmark's colored train letters." They are "great as a newborn gift," and Pun's sells dozens each month. 7/15/2005 (MSRP: $4.90; Age: 3 and Up)



PlasmaCarŽ by PLASMART INC.



The Original PlasmaCar continues to intrigue and fascinate. Powered by kid power; no batteries, gears, or pedals needed. Just sit, put your feet up, and turn the steering wheel to propel yourself forward. The patented safety seat design places riders in a safe, comfortable position and minimizes tipping. Moves up to 6 mph on any smooth, flat surface. Supports up to 220 lbs. Visit www.plasmacar.com to see all the wonderful colors available.
— In a March 2015 survey, two out of 10 retailers told TDmonthly that Plasmacar is a best-selling outdoor toy.
— As of 05/13/2011 this product had 4.5 out of 5 stars from 122 reviews on Amazon.com. Cons: Does not work well on surfaces that aren't completely smooth.
— This top-seller in specialty stores earned a TDmonthly Top Toy 2007 award for its distinctive aerodynamic design and ease-of-use. TDmonthly believes it has the potential to become a classic due to its fresh, contemporary appeal and application in a child's formative years.
Awards: 2012 Parents Choice Awards Recommended, 2009 Green Parents List Check Mark, 2009 DisneyFamily.com Top Action Figures and Toys for Toddlers, 2009+2008+2005 The National Parenting Centre Seal of Approval, 2008 iParenting Media Toy Award, 2008 Fat Brain Toy Award Active Play, 2006 TIA Outdoor Toy of the Year - Specialty Toy of the Year, 2006 Oppenheim Toy Portfolio Platinum Award, 2005 Oppenheim Toy Portfolio Gold Seal Award, 2005 Dr. Toy Best Vacation Products, 2005 Creative Child Seal of Excellence, 2001 International Patent Fair, Hong Kong Gold Medal 6/28/2005 (MSRP: $69.99; Age: 3 and Up)



Twist Trike by RADIO FLYER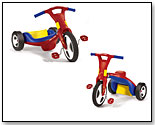 Radio Flyer has reinvented the classic tricycle with the Twist Trike. An industry-first, this two-in-one creation easily adjusts from a trike to a chopper in seconds, making it suitable for children as young as age 2 and as experienced as age 7. It's really two trikes in one! The Twist Trike is designed after the look of a high-end sports car. The patented quick-release mechanism, front wheel tread grip and adjustable seat adds functionality to the sporty design. The Twist Trike is available in three color schemes: the classic red, blue and yellow; red and silver; and pink and purple. It's an iParenting Media Award winner. 9/23/2005 (MSRP: $60.00; Age: 2 to 7)



Baby Whoozit by MANHATTAN TOY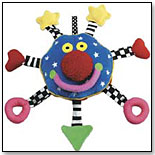 The 6" version of Whoozit has hidden noise makers, including rattles, squeakers and crinkle paper to perk up little ears. Whoozit is made of ultrasoft velour and attaches to most strollers, carriers and car seats. Whoozit is uniquely designed to hold babies' attention. Barbara Fineblum, owner of Barston's Child's Play in Baltimore, Md., told TDmonthly Whoozit by Manhattan Toy would be a 2006 holiday best seller in a market where "nothing really stands out."
— Jessica Wood of Northshire Bookstore in Manchester Center, Vt., told TDmonthly in summer 2008 that her store sells six to 12 Whoozits a month.
— Catherine Higgins of Stone Soup in Bar Harbor, Maine, reported monthly sales of 5 to 6 units.
— Three of 66 retailers mentioned Whoozit as a best-selling baby gift in July 2008.
— As of 8.24.10, this product had 4.5 out of 5 stars from 2 reviews on Target.com and was listed in the top 30 best-selling toys and games. PROS: Humorous; keeps children busy. 11/2/2005 (MSRP: $12.00; Age: 0 to 2)



Neurosmith Music Blocks Mozart Set by SMALL WORLD TOYS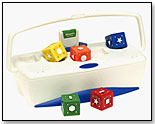 This sturdy, radio-like box comes with five colorful, sensor-controlled blocks and a memory cartridge. Little ones have fun placing the blocks into the box, hearing snippets of Mozart songs as the blocks are placed in the square seats. Switching around the blocks creates new songs.
― "I sell a lot of Music Blocks because I love them to pieces," Wendy Bricht, owner of Chatterpillar Toys, Gifts, and Balloons in Frazier Park, Calif., told TDmonthly in spring 2010.
― During a March 2010 survey of 39 specialty retailers, two named Neurosmith as their top brand of infant and toddler products. 10/27/2005 (MSRP: $69.95; Age: 2 and Up)



DVD MagIQ by TINY LOVE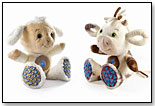 This educational DVD develops children's learning abilities by enveloping them in an interactive environment where they are led through lessons by a trio of barnyard friends. Join Tiny the dog, Tickle the lamb or Dot the cow as they help build vocabulary and motor skills while always managing to have fun. It's best for ages 12-36 months for the cow and 3-12 months for the lamb and puppy. (

Watch Video) 9/19/2005 (MSRP: $49.95; Age: 0 to 3)



Dudley Flap & Wobble by MAMAS & PAPAS LTD.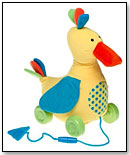 This dynamic duck waddles from side to side and rattles when pulled along by his string. Press Dudley´s beak and he´ll flap his wings and quack. Dudley also likes to sing three different songs, including his very own version of "Old MacDonald Had a Farm." (

Watch Video) 9/1/2005 (MSRP: $23.99; Age: All Ages)



Snuggle Time With Goodnight Star Gift Set by TAGGIES INC.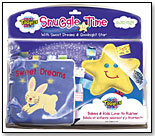 A musical plush toy is paired up with "My First Taggies Book: Sweet Dreams" in this new gift set. The Goodnight Star plush toy plays lullabies. Both toy and book feature numerous tags for babies to explore. Additionally, this product won a Dr. Toy award in Dr. Toy´s Smart Play/Smart Toys Product Awards Program 2005. 4/21/2005 (MSRP: $29.95; Age: All Ages)



Pushing Car by HABA USA/HABERMAASS CORP.



Roll, roll and roll … with this beautiful buggy the small ones really love to do lap after lap. Two positions are possible for the frame. It's made of varnished beech plywood and rubber wheels. It measures (without frame): L 54 x W 36 x H 43 cm. 11/7/2005 (MSRP: $150.00; Age: 1 and Up)



Ball Track Roll N Roll by HABA USA/HABERMAASS CORP.



While winding their way down the wooden track, the colored balls shake hands with wooden goblins, making little bells ring and clatter over the chatter track. It's nonstop rolling fun. It measures: L 47 x W 19 x H approx. 40 cm. It includes 2 balls of one color and 2 balls of two colors. The size of the balls (4.6 cm) makes this game suitable for toddlers. 11/7/2005 (MSRP: $90.00; Age: 2 and Up)



Baby Farm Friends Bowling by INTERNATIONAL PLAYTHINGS LLC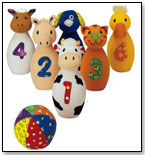 Baby Farm Friends Bowling from the Earlyears line includes six numbered pins with a soft weighted ball so baby can practice coordination and counting at the same time. The cushiony pins make soft sounds and resemble farm animals including a cow, pig, sheep, dog and duck. The colorful ball has its own distinctive chiming sound and the pins are distinctively numbered from one to six and are easy to stand up. The toy comes with a reusable zip bag, so when kids are done with it they can put it back. This toy won an iParenting Media Award. "Bright, colorful and classic, it's a must for any 12 month-old," Sue Tice, public relations manager for International Playthings, told TDmonthly.
— "We actually have baby bowling — soft cloth pins and balls — by International Playthings that does well," said Cheryl Pyles, manager at Toyland in Milford, N.H., when predicting hot-selling baby items for Christmas 2007.
— "It's all seasons for babies, and International Playthings for babies and toddlers," said Patricia Masing, co-owner of Tree Town Toys in Ann Arbor, Mich.
— Gwen Bowden, manager of Doodlehopper 4 Kids in Springfield, Va. told TDmonthly in late Spring 2011 that this soft bowling set was a best-selling toy in the infant & toddler category.
— Want this? As of 05/06/2011, this product was available for purchase at Doodlehopper 4 Kids. 11/21/2005 (MSRP: $22.00; Age: 1 and Up)



Tolo First Friends Car by SMALL WORLD TOYS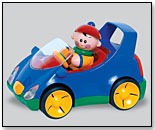 Kids will get a kick out of pushing their friends around. They push the First Friend down in the seat to hear the car start and the horn honk. The car chassis moves up and down as car drives forward. When the car comes to a stop, the brake lights flash and First Friend giggles. When kids press the horn, the lights flash. The movable wheels are soft and durable. First Friend included. 11/21/2005 (MSRP: $32.00; Age: 1 and Up)



Dudley Dump Truck by WOW TOYS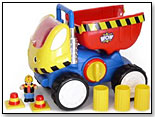 Dudley is a chunky and tough dump truck: He tips, he drives and he shakes, too. Turn the power switch for great tipping action, then drive off-site with the powerful friction motor and realistic engine sound. This eight-piece set includes barrels and traffic cones to collect and dump, a driver friend and a sturdy carry handle.
— "I love Wow Trucks," was the enthusiastic reaction from Elaine Hackney, owner of JP Boing's Toy Shop in Jamaica Plain, Mass.
— "They are big and chunky plastic infant toys that appeal to the adults for those reasons," observed Joanne Farrugia, owner of JaZams in South Pennington, N.J.
— Dudley is big, fun and noisy … but doesn't need batteries. "His cute and chunky styling is perfect for little hands," explained Tanya Laperouse of WOW. "Each toy also comes with fine accessories that can be interchangeable with the rest of the range, making for even greater worlds and adventures to discover." (

Watch Video) 11/21/2005 (MSRP: $40.00; Age: 1 to 5)



Baby Gund Comfy Cozy Spunky Blue Puppy by GUND INC.


Comfy Cozy Spunky Puppy is a wonderful snuggletime friend just waiting to be loved. Comfy Cozy Spunky Puppy has plush, baby blue and white fur on top and soft velour underneath. Each paw on the underside has a silky pad and the head doubles as a pillow, filled with soft stuffing and perfect for naptime. The approximate size is 24 inches and its surface is washable. Gund is a good seller for tiny tots at the Village Toy Shoppe in New Britain, Pa., said sales associate Sally Seeton. The plush blankets were a special favorite at Randall S. W. Toyes and Giftes in Pittsburgh, said manager Jack Lewis. 11/21/2005 (Age: 1 and Up)



Lamaze Chime Garden by LEARNING CURVE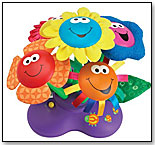 Cheery flowers brighten the day with their ringing tones. Kids can develop eye-hand coordination while playing with this colorful toy. This is a favorite at the Learning Express in Hampton, N.H., said manager Linda Doucette. 11/21/2005 (MSRP: $43.99; Age: 1 to 2)



Giggle Ball Toy Set by INFANTINO LLC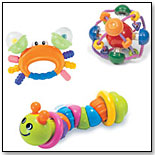 This colorful trio of fun toys is designed to captivate and amuse babies. It comes with a Bendy Bug, for babies 6 months and older, plus a Giggle Ball and Crab Rattle, both of which can be used by babies 3 months and older. 11/21/2005 (Age: 0 and Up)



Neurosmith Sunshine Symphony by SMALL WORLD TOYS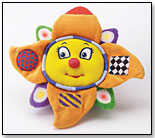 This plush toy puts classical music at a baby's fingertips. This huggable, plush activity toy plays beautiful classical music, while sparkling lights flash. It features four musical compositions, activated by a simple touch, and can also be used in a long-play lullaby mode. Fun tactile activities include a crinkle, squeak, beads and teether. It is a versatile crib, floor or take-along toy with high-quality sound. "I really like the Sunshine Symphony by Neurosmith," Manager Jane Worm of Crackerjacks, Inc. in Easton, Md., told TDmonthly when asked about 2006 holiday best sellers. It's a good value and makes a nice baby gift, seconded Michael Ziegenhagen, owner of Playmatters in Cleveland. 11/21/2005 (Age: All Ages)



Birdhouse Shape Sorter by MELISSA & DOUG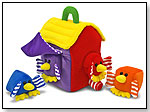 Each side of this peek-a-boo birdhouse features a window that houses a velvety bird that rattles, jingles, squeaks or crinkles, and can be sorted by shape or color. It measures 12" x 10" x 12", boxed. 11/21/2005 (MSRP: $20.00; Age: 1 to 3)



Bunny With Overalls by STEIFF NORTH AMERICA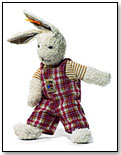 This cuddly 11" white cotton bunny wears a shirt and red-checked dungarees. He's machine washable, too. 11/21/2005 (MSRP: $28.00; Age: 0 to 3)



Catty by DJECO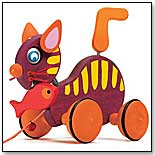 Catty is super sweet and very happy, because she carries a newly caught fish in her mouth. When kids pull her cord, her tail and ears move, too. She measures 30 x 23 x 15 cm. Djeco is a Paris-based company that makes beautifully designed toys of wood and other sturdy materials. 11/21/2005 (Age: 2 to 6)



Bellapista by EUROPLAY CORP.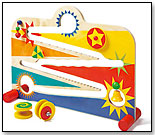 This modern classic disc track set, with a different pattern on each side, is made for little lovers of experiments. Discs with different designs roll down the slope. They push against other elements as they roll on their way and they, in turn, also start rolling. Exciting optical effects are what make this newly designed toy a classic. Bellapista measures 19-1/2 x 15 inches. 11/21/2005 (MSRP: $63.00; Age: 1 and Up)



miYim Annabelle Organic Lamb by GREENPOINT BRANDS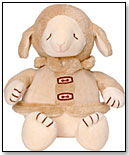 This 10" lamb made of OCIA-certified organic cotton, is one of the Peaceful Dreams Collection, which is one of four collections of miYim organic plush toys. She wears a little jacket with a faux fur lining. Because her eyes and shoe buttons are embroidered, there are no loose parts for little ones to swallow. Other Peaceful Dreams are Hugo the Puppy and Chester the Bear. They all have closed eyes, of course — the better to dream peacefully. The Peaceful Dreams Collection is new for November 2005. 11/21/2005 (MSRP: $34.99; Age: All Ages)



---
---


Copyright © 2021 TDmonthly®, a division of TOYDIRECTORY.com®, Inc.