March 7, 2021

January 2006 | Vol. V - No. 1


Advertising on Demand: Part I
Ad Dollars Go Online
"When a client has the opportunity to put an ad on AOL, MSN or Yahoo, and their coverage is nearly the same as a prime-time program, dollars are going to shift." — Brian McAndrews, CEO aQuantive Inc.

Print is dead. Television spots, bye-bye. Where are the ads? Go online.

The change has come, and the most efficient advertising dollars are being spent not on print ads, not on television ads, but on the Internet. If you want to sell toys, you have to go where the kids are: the Web.

Robert J. Coen, senior vice president and forecasting director at Universal McCann, announced that ad spending in the traditional channels has "stalled, despite a pretty good economy."

Steve King, worldwide chief executive at ZenithOptimedia, part of the Publicis Groupe, reduced his estimates for ad spending in the United States for this year and next. 2006 looks gloomy.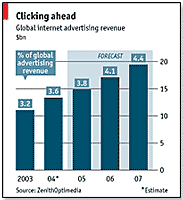 Except online.
King predicted a 15-percent increase in 2005 compared with 2004 and a 22-percent increase in 2006 compared with 2005 for online advertising. "Even more conservative advertisers are starting to use it regularly," King said of the online medium.
Proctor & Gamble, the United States' second-largest spender of ad dollars, has shifted focus in their spending. They are making their first large forays online. Anheuser-Busch recently announced the same shift. And the toy industry?
Mattel, as the industry leader, has been advertising online for years, but now they've stepped up their flow, even trying out some cutting-edge ideas like virtual product placement during streaming video of television shows and sporting events.
"Mattel asked us to do some product placement in some programming during the Christmas season," explained Princeton Video's former co-CEO, Roberto Sonabend. "They originally sent us 20 different products to promote throughout the season. Two days after they went on air, they said they wanted to just show Barbie, and we were able to do it." It's that facile.
Hasbro has shown a propensity for using new formats of online advertising with arenas as far away as Australia's ninemsn, according to Martin Hoffman, CEO of the company. "The question is no longer 'why online?' but 'how much online?'"
Smaller companies are finding the Internet to be very cost-effective in reaching their customers as well. From A (Automoblox (ToyShow)) to Z (Zapf Creation) and everyone in between (Jax Ltd (ToyShow), Teddy Bear Stuffers (ToyShow), Baby Bumblebee (ToyShow) and The Bead Shop (ToyShow)) — toy manufactures look to the Web for ads and even online "commercials."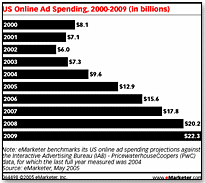 "We believe the Web site will ultimately replace the 30-second commercial as the central expression of the brand," said Brian McAndrews, chief executive of Internet marketing company aQuantive Inc.
Television accounts for roughly two-thirds of major companies' advertising budgets, and that could shrink to about one-half in three years, according to David Verklin, chief executive of online media buying company Carat Americas, a unit of Aegis Group Plc.
Charlie Rutman, CEO of Havas Advertising's media buyer, MPG North America, summed it up best: "Is the 30-second commercial considered as effective as it was five years ago? I don't think it is. That's why people have an appetite to look elsewhere."
Online is where it's at. Stay tuned to TDmonthly to find out how to take advantage of this paradigm shift in advertising.
What follows are products from toy manufacturers that took part in this article.
X9 Sports Utility by AUTOMOBLOX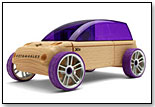 The rich purple roof and soft rubber tires appropriately dress the Automoblox King of the Road. With an increased ride height and extra-large rims, this ride rolls with the big boys. Increased storage capacity in the rear block allows this ultimate lifestyle vehicle to be equally big on adventure and style. (

Watch Video) 7/29/2005 (MSRP: $35.00; Age: 3 to 9)



New Baby Annabell With Tearing Function by ZAPF CREATION (U.S.) INC.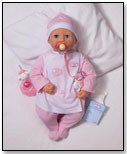 Zapf's newest 18" baby babbles, gurgles, giggles, sucks a bottle and "actually cries real tears," Virginia Uelze, marketing manager for Zapf Creation (U.S.), told TDmonthly. "It´s the first time we´ve mixed water with electronics."
— As of 05/13/2011 this product had 4.8 out of 5 stars from 5 reviews on Amazon.com.
— This baby was soft launched at the end of July 2005.
— Baby Annabell received the National Parenting Publication Association´s Oppenheim Toy Portfolio Gold Seal Award 2006.
— "Zapf does well," at the Hello Dollie Doll Shoppe in Albuquerque, N.M., according to owner Carmen Keicher. Sherry Grisham, owner of Yesterday & Today's Dolls in Corinth, Miss., agreed. (

Watch Video) 10/3/2005



Kazink! by JAX LTD INC.


Experience a whole new level of fun! Play a card from your hand, place a chip on the board. Stack up three of your chips and it´s a crown. Play two rows of three crowns and you win. Use your strategy to stop opponents and crown your chips first. (

Watch Video) 3/25/2005 (Age: 7 and Up)



Colors Shapes & Patterns Flashcards by BABY BUMBLEBEE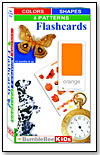 These cards can serve as a useful learning tool for young children, helping them to understand basic colors, shapes and patterns through recognition and comprehension. (

Watch Video) 9/13/2005 (MSRP: $29.99; Age: 1 and Up)



Fashion Angels: Living Dolls by FASHION ANGELS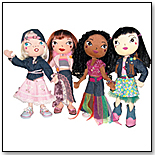 They're plushy with the cutest embroidered faces. They're poseable with a full body armature. They stand 15" tall and pose from head to toe. Don't tell anyone, but their 'dos are wigs and are interchangeable with each other. New 'dos sold separately. Last but not least, their wardrobe is to die for and the proof is in the details. They have great jewelry, accessories and shoes (made in a real shoe factory). The Fashion Angels are hip, sweet, intelligent and soulful. Pictured are Lulu, Bebe, Debo and Izzy. This product received a 2007 Oppenheim Toy Portfolio Gold Seal Best Toy Award.
— As of 05/13/2011 this product had 5 out of 5 stars from 2 reviews on Amazon.com. Cons: Wig may lose shape if not placed on the Fashion Angels wig stand. (

Watch Video) 8/30/2005 (MSRP: $36.00; Age: 8 and Up)



---
---


Copyright © 2021 TDmonthly®, a division of TOYDIRECTORY.com®, Inc.