March 8, 2021

January 2006 | Vol. V - No. 1


January Peeks
The TDmonthly Staff Pick Their Fave Toys of the New Year
Kicking off 2006 with a hee-yah, the TDmonthly staff has discovered a few amazing toys that deserve special mention. With these toys on store shelves, customers returning and exchanging last month's gifts may leave toy stores with a few extra products in tow. At the very least, they'll have reason to return at a later date.
Piano Wizard by ALLEGRO RAINBOW



Piano Wizard Premier combines the fun of a video game with the fundamentals of piano lessons. That means children can sit up to a keyboard today and play anything from Bach to Bon Jovi. What once felt like practice now feels like play. Children can choose from four different fantasy worlds to play in. They can change the speed, the instrument sounds, the skill level and more. And in addition to the MIDI songs that come standard with Piano Wizard Premier, thousands more can be downloaded from Internet libraries. The software can be sold with or without the keyboard. According to Allegro Rainbow's Brian Metcalfe, "The Piano Wizard Method teaches anyone to easily play piano in 4 steps. With Piano Wizard, the child is playing the piano the instant the game is started. They learn intuitively to hit the right note at the right time." Allegro is planning on releasing the highly anticipated Guitar Wizard. Launch date: 2003. 12/9/2005 (MSRP: $199.95; Age: 5 and Up)



The Zodiac by FRANCES LINCOLN LTD.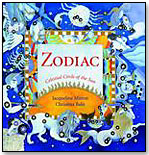 Everyone knows their own star sign, but how many can identify the constellations in the night sky and the stars that form them? Here is a beautiful illustrated book offering a factual, astronomical guide to the Zodiac and the celestial phenomena in which the Zodiac tradition is rooted. Illuminated by Christina Balit's dazzling illustrations, this book will appeal to horoscope-devotees, star-gazers and everyone fascinated by the reality behind the myths, whatever their age. (

Watch Video) 12/9/2005 (MSRP: $16.95)



Dragon's Egg by HABA USA/HABERMAASS CORP.


This super-soft dragon is way too cute to be scary. He hides and zips inside his decorative egg, and his handle straps smartly with hook & loop closure around a stroller or car seat handle. He goes everywhere baby does. 12/9/2005 (MSRP: $12.00)



P-Brains by UNCLE MILTON INDUSTRIES INC.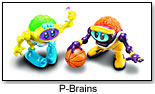 P-Brains collectible characters feature interchangeable electronic brains that let kids play mad scientist. Designed for collecting, P-Brains characters are sold in unlikely pairs — for example, Baby & Soldier. What happens when you switch personalities of a soldier with a baby? Hear the baby ask for his pacifier, switch brains with the soldier and suddenly the soldier is barking commands about his beloved binky! The P-Brains Series 1 Collection includes: Baby, Soldier, Teacher and Skateboarder. Series 2 features the following characters: Scientist, Caveman, Granny and Wrestler. 3/3/2005 (Age: 6 and Up)



---
---


Copyright © 2021 TDmonthly®, a division of TOYDIRECTORY.com®, Inc.