March 8, 2021

January 2006 | Vol. V - No. 1


A Growing Needs Niche
Toys That Address Special Needs Get Attention from Informed Parents and Retailers
Rokenbok, a successful remote control building toy manufacturer, was one of the first manufacturers to redesign a toy already on the shelf to meet special needs.

According to the number of people served by the Individuals with Disabilities Education Improvement Act, approximately seven

million children have special needs, representing more than $3.5 billion each year in toy purchases. Current data shows those numbers are growing.

The Arc, a non-profit organization advocating for persons with disabilities, has plenty to say to retailers and manufacturers, according to director of communications, Chris Privett. "We remind retailers that children with special needs is an audience that cannot be ignored. These families have an impact." Privett reports that it is estimated that more than 20% of Americans have some special need or disability. "Just from a pure dollars and cents standpoint, it makes sense. Beyond that, it is the right thing to do."

It may sound like a specialty store personal service, but Toys "R" Us is in their 11th year of publishing "Toy Guide for Differently Abled Kids," written by the National Lekotek Center, a leading authority on play for children with disabilities. The publication is available free at Toys "R" Us stores nationwide. The guide breaks toys down into 11 developmental categories and offers shoppers a "Top Ten Tips" list when shopping for children with special needs.

The guide uses Lekotek's AblePlay rating system, developed and launched last summer, to detail how each listed toy develops different skills and meets specific needs. It evaluates toys in four categories — sensory, physical, cognitive and communicative — and allows users to search for products accordingly.

Diana Nielander, Lekotek executive director, believes retailers and manufacturers would be foolish not to take the special needs segment seriously. "Beyond the top three players on either side, retail and manufacturing, it is very competitive and this is an enormous value added service."

The free guide, available on the AblePlay Web site, can serve retailers too. Toy descriptions of items can be kept in a binder as an excellent training tool for staff. As long as information is attributed to AblePlay, a retailer can use the fliers on aisle displays, guiding parents and grandparents to toys that meet the needs their child is developing.

Several manufacturers have noticed the value of being included in the guide. Marketing an old game from Taiwan, Lonpos, to the United States, Mic-O-Mic America (ToyShow) president, Tony Cross, took Lekotek up on their offer to have the game evaluated and received high ratings. Though the game was never marketed for children with special needs in Taiwan, it has won several awards and accolades for the cognitive skills the toy enhances in children with special needs since it was introduced this October in the United States.

Nancy Poffenberger at FunPublishing (ToyDirectory) said her color-coded piano helps young children play familiar songs very easily and has been a great hit with special education teachers, although that was not the original intent. FunPublishing has even developed a special page on its site for children with special needs, complete with educator testimonials.


Rokenbok, a successful remote control building toy manufacturer, was one of the first manufacturers to redesign a toy already on the shelf to meet special needs. They used more twist and push actions in a specially designed remote that was distributed free to several hundred sites serving children with special needs. Rokenbok partnered with Lekotek in this Project Toy Innovation, which was funded by the San Diego Foundation.

Nielander also told TDmonthly that the retail world has been focused on the growing Latino market in this country, which is estimated at around 13 percent. In the same magnitude, seven million children with special needs comprise 13 percent of the children in this country, and growing. The toy industry may have much to learn about serving this market and much to profit by it.

The following products serve children with special needs.
Hop 'N Pop by DREAM NOUVEAU LLC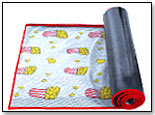 The Hop 'N Pop Activity Mat Set is the recipient of a number of awards and recognitions as it contains a uniquely designed mat that exercises kids' bodies and imaginations by stimulating their senses and promoting physical activity. This product is guaranteed to provide kids with hours of foot-stomping fun. The Hop 'N Pop mat itself is brightly colored and generously sized, with an eye-appealing footprint design filled with custom-made bubble inserts. The set includes 4 rolls of bubble inserts, also available in refill packs, and game suggestions. Kids of all ages love to jump around on the mat and hear the bubbles pop. Retail price ranges from $59.99 to $99.99. 12/20/2005 (MSRP: $79.95)



Balance Board Labyrinth Junior by CHALLENGE & FUN INC.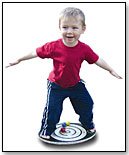 The Balance Board Labyrinth Junior allows children get to do a puzzle standing up. They balance on the board and shift their weight to maneuver wooden balls through the grooves, an excellent physical motor skill development game. 12/20/2005 (MSRP: $65.00)



Parents Magazine Bee Bop Band by BATTAT INC.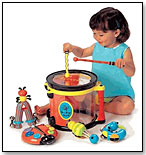 This colorful plastic drum is filled with insect-shaped instruments such as ant bells, bee maracas, a caterpillar tambourine, a ladybug xylophone and centipede drumsticks. 12/20/2005



Instant Piano Fun: Nursery Rhymes by FUN PUBLISHING CO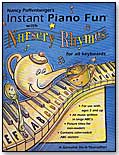 Designed for children who want to learn to play the keyboard or piano, it is color-coded with included ABC stickers, to place on the keyboard keys. These are then matched with the ABC letter music in the book. If a child can recognize his ABC´s, he can play the piano. With all of the published research findings on the importance of music in developing a young person´s brain, this book´s timing is perfect. 11/1/2005 (MSRP: $12.95; Age: 2 to 6)



Karz Smart Talking Truck by BAO LTD.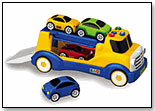 This truck can be a little bossy, giving instructions to children as to how many and what color to load next. The truck asks questions and recognizes what car a child loads, then gives encouragement or prompts a correction. (

Watch Video) 12/21/2005



Spy Gear Spy Light Hand by WILD PLANET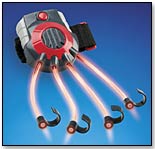 The Spy Light Hand provides illuminating power at fingertips´ reach. This kid-invented product is designed for spies of the next generation. The hand-mounted tool features four red glowing tubes with light-piping technology and ambidextrous usability. Wearing the Spy Light Hand allows kids to read secret messages in the dark. 9/22/2005 (MSRP: $4.99; Age: 6 and Up)



School Days by HAPE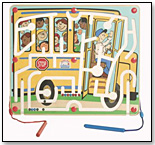 School Days, a magnetic marble maze, is a two-sided puzzle with colorful, familiar street signs and school objects. It encourages pretend play and communicative skills as well as entertains with the never-ending fascination of magnets. 12/21/2005 (MSRP: $39.95)



Diamond Bead It by KREINIK MFG. CO. INC.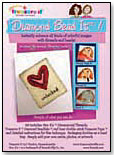 For less than $10, children use thread and double stick sheets to create art, using the thread to create a pattern of holes that they then fill in with sparkly beadlets. Their creative expressions develop communicative skills. 12/21/2005



Care Bears Smart CheckUp Bear by PLAY ALONG INC.


This bear comes complete with everything a child needs to recreate the role of doctor or nurse to tenderly care for his or her sick bear. The soft bear talks and comes with check up tools for giving shots and listening to its heart. 12/21/2005



---
---


Copyright © 2021 TDmonthly®, a division of TOYDIRECTORY.com®, Inc.