July 6, 2022

February 2006 | Vol. V - No. 2

---
Do-It-Yourself Fashion Keeps Crafts Cool
The Bead Shop and Others Spice Up Arts and Crafts Market
Knitting still rides a wave that shows no signs of cresting.

Make it, love it and wear it. Fashion crafting is fun for kids and profitable for retailers.

Nancy McNeil, a buyer for Hobby Lobby of Oklahoma, says that any learn-to-knit or crochet kit does well for them. Some of her suppliers include Quincrafts and Dimensions, both makers of crafting kits and supplies. John Cunningham, also a buyer for Hobby Lobby, says that jewelry-making kits are very strong. The materials are generally beads and come complete to make necklaces, earrings and bracelets for kids.

Hobby Lobby also has in-store craft classes that vary from store to store. According to Cunningham, the classes are designed at the discretion of the individual store.

At Michaels, crafting classes are held every Saturday. According to a Columbus, Ohio, Michaels store manager, who chose only to be identified as Mike, the classes are always successful. Birthday parties where kids make the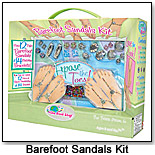 ir own T-shirts do well. The classes are designed by the corporate office.
The big box crafters frequently offer free project sheets, all of which feature products that can be made with supplies purchased in-store. Shoppers are entranced by the do-it-yourself possibilities and by the quality of the craft supplies. Lots of twinkle, sparkle, color and shine, and the promise of a wearable end project for self or a gift, make the package complete.
Sallie Bridgewater, of Knitter's Mercantile in Columbus, Ohio, teaches knitting to children, both boys and girls, as young as age 5, at her store and in three Columbus suburbs. At her store, she hosts an afternoon knitting group one day a week for kids to produce scarves ("Everyone's making a scarf," she said), wrist warmers and leg warmers for ballet students. Students at a local elementary school are all knitting a section of a scarf for the principal, because he paid for the materials. Knitting still rides a wave that shows no signs of cresting.
Summer's a great time for crafts too, with yarn and beads enhancing the ubiquitous flip-flop or Dr. Scholl-inspired wooden sandal.
At Byzantium, a bead and world crafts store also in Columbus, classes in beginning beading are limited to people aged 12 and up. Amber Gahn, an employee, said Byzantium offers a beginner's class once a week that includes techniques on stringing beads for a necklace and wire wrap to make earrings. The class runs three hours, costs $35.00 and includes materials.
MailJustForMe.com, a mail order company that expanded from customized mail for children into the direct sales of toys, carries an impressive array of all things crafty and wearable. Their selection of bead kits includes wooden, ceramic, seed and plastic beads and beads in a tube of glue. Children can make watches with the Watch It! kit, and In Your Hair hair adornments, just to name a few of the possibilities.
Science gets into the act with two Thames & Kosmos (ToyDirectory) science kits. Christa Raimondo of Thames & Kosmos customer service said that both the Creative Cosmetics and Perfume Science kits are doing very well. Creative Cosmetics was new this year so it's only in the top 15 for sales, but Perfume Science has done very well, coming in at number eight out of the top 10. Thames & Kosmos does the majority of its business with independent and specialty retailers.
Here's a sampling of kits that girls and boys can use to make fun fashion accessories.
Creative Cosmetics Experiment Kit by THAMES & KOSMOS

The kit includes 17 different cosmetics base substances that can be used to make personalized makeup, lip gloss, body lotion, face cream and shower gel. The full-color, 48-page book guides young chemists through the science and history of cosmetics and gives dozens of beauty recipes and techniques. In addition, it teaches how to care for skin, hair and nails to keep them healthy and radiant and builds a young person´s foundation in basic dermatology. 2/11/2005 (MSRP: $60.00; Age: 12 and Up)



Perfume Science by THAMES & KOSMOS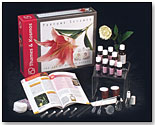 Perfume Science provides children an opportunity to develop a more sophisticated nose than most adults will ever have. The kit includes a complete perfumer's laboratory and will teach how the brain and the olfactory senses work together.
— "I sold all of my Thames & Kosmos Creative Cosmetics and Perfume Science kits," enthused Bettie Lee Moore, owner of Kaboom! in Leesburg, Va.
— "It'd be fun if everybody made their own bottle of perfume" at a slumber party, agreed Kate Tanner, owner of Kidstop Toy & Book Store in Scottsdale, Ariz. She says that beauty-related crafts kits are hot with girls at her store.
— "I don't care how advanced we want them to be, they still like putting on makeup and doing their hair," sighed Greg Bonner, owner of Heights Toy Center in Little Rock, Ark. Perfume and cosmetic craft kits were among his best sellers for "girlie" parties. 12/22/2005 (MSRP: $60.00; Age: 10 and Up)



Wooden Shoe Wanna Paint These? by FASHION ANGELS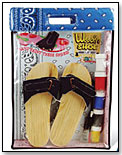 Wooden shoes take on the colors and pictures of a young artist's imagination with water-based paints. The paints will wash off to accommodate design changes. Clear nail polish is included to finish the final product. 12/22/2005 (MSRP: $23.99; Age: 6 to 10)



Watch It! by ALEX BRANDS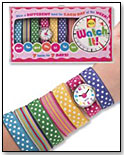 Kids can wear a different band every day of the week with these adjustable and durable ribbon bands. The quartz watch is water resistant. Kids can coordinate their watch bands with their outfits each and every day.
— "The ribbon watch from Alex did very well," Susan Sellers, buyer for Tree Top Kids in Washington, D.C., told TDmonthly. "You change out the ribbon" to get a whole new fashion statement.
— Rich Gordon, owner of Learning Express of Exton, Pa., said that he always looks forward to new craft kits from Alex.
— Make-your-own clothing items from Alex, including crochet and knitting, were top sellers for a majority of specialty toy retailers surveyed. 12/22/2005 (MSRP: $19.95; Age: 8 and Up)



Begin to Knit by QUINCRAFTS CORP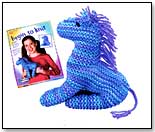 Kids can learn the basics of casting on and knitting. Children and adults can learn to make some great-looking projects. The kit includes instruction, knitting needles and enough yarn to complete one project. 12/22/2005 (MSRP: $9.99; Age: 9 and Up)



---
---


Copyright © 2022 TDmonthly®, a division of TOYDIRECTORY.com®, Inc.