March 8, 2021

January 2006 | Vol. V - No. 1


Holiday 2005 Sales Surprises!
Toys That Surpassed or Didn't Meet Sales Expectations
Santa came. The wrapping paper was strewn. Kids played. So what were the toy surprises this 2005 holiday season? TDmonthly Magazine spoke with experts on the manufacturing and retail side to see what blips appeared on the holiday radar this year.
Megatech International Inc.'s MegaChopper II RC Helicopter sold out of RadioShack stores across the country, as well as online RC stores and pretty much everywhere else. Gone! No one expected such a surge in buying. Jody Tollins, assistant manager of the Panama City, Fla., RadioShack, shook her head. "We couldn't keep them in stock," she said. "If I had had 50 more, they would have gone, too." A great toy that looked extremely fun in the commercial can be credited with some of the over-the-top success.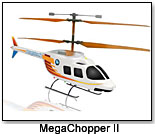 Playmobil's Knight's Empire Castle sold beyond expectation across the country. The FamilyFun Toy of the Year recognition was credited with catapulting it into larger-than-expected sales. Donald Viviens, owner of Wooden Head, a boutique toy store in Denver, thought that "sophisticated pretend play items seem to be a trend. Younger kids don't play video games so much, but want the action and visuals."
A surprise from quite a few retailers was the slow start to the "King Kong" merchandise. Many chalked it up to the less-than-expected ticket sales for the movie. The bright blip in that trend was the King Kong Electronic Fists by Playmates Toys Inc. Like the Toy Biz Hulk Hands with Electronic Sounds, these sold like gangbusters. Many expected the Kong toys to have "legs," much as the movie would.
Another surprise was MGA Entertainment's Bratz Rock Angelz, particularly the Tour Bus. Bratz sold well, but not as great as in previous years. As one retailer explained, "Girls still love them, but the age seems to be getting younger. They're being treated more as dolls than fashion icons."
Barbie's new "beau" seemed to have added greatly to the long-time fashion queen's sales, taking many by surprise. Mattel's Barbie Loves SpongeBob Squarepants appeared to be an odd twosome, but it sold great. Many felt it was the Bradgelina factor. "She's a longtime fave, and he's the latest thing. It's more than double the fun," laughed Debbie Anders, co-owner of Toys & Things in Chicago.
Spin Master Toys' Bella Pop Star Studio DVD had people coming in early for the next shipment at Toys "R" Us outlets across the country. Spin Master Toys itself was a surprise hit brand. From the Aquadoodle to the Karate Studio, Slurpee Maker to the Bella DVD's, Spin Master sold beyond expectation. It's definitely a company to keep an eye on in 2006.
Zizzle's Iz, touted as "the" electronic toy of the season by many top 10 lists, did well, but could not live up to the hype. As a manager at a tech-toy store in Seattle pointed out: "It's doing well, but it's more of a novelty than a trend. Izs are neither fish nor fowl, neither really big, nor really small — just … there."
So what did the experts glean from the year that was? "The kids decide despite the best laid plans of mice and toy executives," commented Brad Renfro, buyer for Wally Toys in New York City. "The latest generation of kids is more sophisticated about advertising. They make up their own minds."

What follows is more information on the products mentioned in this article.
Knights Empire Castle by PLAYMOBIL INC.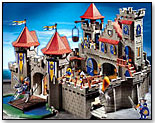 All the knights in all the kingdoms can duke it out at this magnificent castle … if they dare brave the treacherous moat. Residents of the castle can cross to the other side with the aid of a working drawbridge. The set also includes a king's throne, a functional hoist and — for kids who are eager to impose their own "time-out" — a mini dungeon, too. Characters available separately. 9/29/2005 (MSRP: $179.99; Age: 4 and Up)



Bratz Rock Angelz by MGA ENTERTAINMENT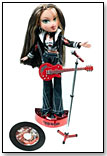 The latest installment in the Bratz line, these dolls are being released in conjunction with the "Rock Angelz" DVD movie, audio CD and THQ video game. Some accessories included are a guitar, microphone stand, an alternate outfit, some Bono shades, and several pieces of stylish rock jewelry. Also packaged with the doll is a bonus CD featuring two tracks from the upcoming album.


9/14/2005 (Age: 6 and Up)




Bella Dancerella by SPIN MASTER TOYS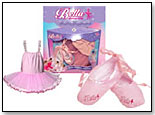 It's easy to practice ballet steps in style with a Bella Dancerella bodice, tutu, and matching pink slippers with beads and sequins.
— This costume compliments the Bella Dancerella Ballet Studio, a 2004 Top 100 Toy by Dr. Toy and one of the top five girl toys of 2005 according to the American International Toy Fair.
— Spin Master in conjunction with Disney is looking for a Bella Dancerella to play a dance instructor in an upcoming Cinderella movie.
— The Ballet Studio ranked in Amazon.com's top 25 costume sales in February 2005.
2/14/2005 (Age: 3 to 8)



Aqua Doodle by SPIN MASTER TOYS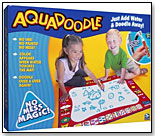 This set uses disappearing ink to allow children to draw over and over again on the same drawing pad. Start by wetting the included "magic" doodle pen. Once wet, the pen creates blue ink that disappears a few minutes later when it dries. The mat allows four kids to play at once, though there's only one pen included per set. Additional doodle pens, stampers and stamp pad accessories can be purchased separately. 3/2/2005 (Age: 2 and Up)



Black Belts Karate Home Studio DVD by SPIN MASTER TOYS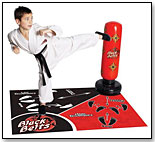 Become a Karate Master at home with the Black Belts Karate Home Studio. Learn blocks, punches, stances and kicks all in a fun and safe way. It comes complete with a 30-minute action-packed video, training mat with easy step-by-step instructions and an inflatable heavy bag to master the moves. Both DVD are VHS are available. 11/9/2005 (MSRP: $24.99; Age: 5 to 9)



Slurpee Maker by SPIN MASTER TOYS

Looking for a sugar high at all hours of the day? The solution comes in the form of this 7-Eleven Slurpee maker. Kids add ice to their favorite drink, push a button and enjoy a Slurpee that even Homer Simpson would enjoy! 3/3/2005



iZ by ZIZZLE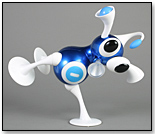 iZ from Zizzle is a 9", three-legged fusion of toy and music. The unique character, which will initially be available in red, green and blue, provides a broad-aged audience a multitude of play opportunities. Kids start by pressing his stomach to start a beat. Once they find a sound they like, they move to iZ's right ear to add a little rhythm to the equation, and turn his left ear to find a musical lead. An easy-to-use tempo control makes the sounds limitless as players create tunes never heard before. iZ's eyes even independently rock out to the innovative tunes created, bouncing up and down independently of each other. Also, a special "flicker" switch dangling above the hysterical creature's head adds sound effects and "scratch" to really kick up the jam! iZ also speaks his own special "jibberishy" language to add the most amazing commentary to any tune.
— Jan Cummings, assistant manager at the Tucker, Ga., Toys "R" Us said: "They are the hit of the season. We got them in, sold them out, got them in again … and they're selling out. Everyone likes them."
— Amazon.com ranks this as one of the hot toys for Christmas 2005.
— The company is headed by the same team that developed and marketed Furby, one of the best-selling toys of the past 10 years. 11/2/2005 (MSRP: $39.99; Age: 5 and Up)



MegaChopper II RC Helicopter by MEGATECH INTL. INC.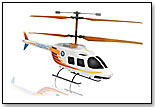 Megatech's MegaChopper II is one of the most stable, 100 percent assembled indoor/outdoor ready-to-fly helicopters ever offered. The precision synchronization of its CBR-Drive (Contra Balanced Rotational Drive), keeps the twin rotors rotating in harmony. Accordingly, the MegaChopper II performs rock-steady hovering right out of the box. Also adding to the MegaChopper II fantastic easy-going flying characteristics is centrifugal stabilization offered by the weight fly-bar; a feature normally found on expensive model helicopters. Fly day and night with operating navigational lights.
— RC Helicopters from Megatech have "a good price point and are easy to fly," Debbie Wurzburger, owner for 22 years of The Toy Chest in Pikesville, Md., told TDmonthly. 12/28/2005 (MSRP: $89.99; Age: 10 and Up)



Barbie Loves SpongeBob Squarepants by MATTEL INC.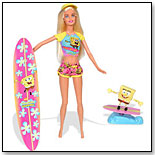 The trendiest character in Bikini Bottom, Barbie loves making a splash with all her favorite friends from the SpongeBob SquarePants TV show. Now Barbie, SpongeBob and Patrick can have a spectacular time under the sea. Barbie comes dressed in stylin' surfer clothes looking cool as ever. This set comes with a Barbie doll, visor, SpongeBob outfit, cardboard surfboard and SpongeBob SquarePants figure. Doll measures approximately 11.5 inches tall. 12/28/2005 (MSRP: $9.99; Age: 3 to 12)



King Kong Electronic Fists by PLAYMATES TOYS INC.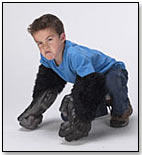 A sure hit for any King Kong fan, this role play set includes two hands and extending arms with sound – walking, roaring, screaming and jungle noise. The right hand has flexible fingers and the left hand is fisted. (

Watch Video) 3/3/2005



---
---


Copyright © 2021 TDmonthly®, a division of TOYDIRECTORY.com®, Inc.