April 19, 2021

---
Educational Toys
These Products Won't Be Seen at the 2006 Toy Fair
The following products are from manufacturers you won't find at the 2006 Toy Fair.
Learning the Alphabet and Its Sounds by EDCON PUBLISHING GROUP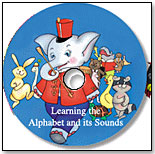 This product includes a CD and 26 picture charts — one for each letter of the alphabet — with 24 activity sheets. A song and poem for each sound introduces children to the alphabet and allows them to sing along. 12/29/2005 (MSRP: $29.00; Age: 3 to 5)



Tanner's Manners: "Cool Kind Kid" Audio CD by TANNER'S MANNERS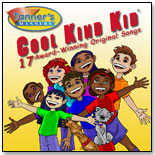 This award-winning CD containing 17 original songs is designed to offer a fun way for children to learn manners. It teaches basic social skills and releases parents and teachers from nagging. Kids can enjoy singing along at home or in the classroom, without even knowing it's educational. The album is written and produced by Steve Megaw and performed by Steve and the "Cool Kind Kids." Each song teaches a different social skill. This CD has won 10 national awards, including Teachers' Choice, Parents' Choice, Toy and CD of the Year, and The National Parenting Center's Seal of Approval. 12/17/2004 (MSRP: $15.95; Age: 2 to 9)



Pocket Snails Aquaphonic Adventure - DVD by SOARING STAR PRODUCTIONS, LLC

Pocket Snails Aquaphonic Adventure takes the Pocket Snails and their friend Jake on a new and exciting educational adventure, where they'll make some new underwater friends, ride in a submarine and scuba dive their way to learning the sounds of the letters. It helps teach letter sounds, vowels and letter recognition. "We combine an engaging storyline, original upbeat music and amusing animation to encourage and enthuse children in their educational and literary development," Kate Beale, vice president of Soaring Star Productions, told TDmonthly. The DVD was named one of Dr. Toy's 100 Best Children's Products and 10 Best Audio/Video Products for 2006. It also received Dr. Toy's Smart Play/Smart Toy Product of Excellence Award, is approved by Parents' Choice Foundation, and received Learning Magazine's 2007 Teachers' Choice Award for the Family. 11/29/2005 (MSRP: $15.95; Age: 3 and Up)



Mythmatical Battles — Celtic/Greek by 4R INC.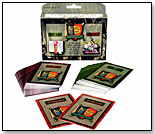 As the first educational dueling card game, Mythmatical Battles uses classic mythology from diverse cultures to teach multiplication facts. The product is available in two versions: Celtic/Greek and Norse/Egyptian. The mythology puts a new twist on flash cards, which is why Dr. Toy and others have honored this game. It's the perfect game for kids obsessed with collecting cards but bored by memorizing multiplication tables. 12/20/2005 (MSRP: $15.99; Age: 8 to 12)



I Did My Homework! by JAZWARES INC.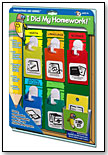 With "I Did My Homework!" children master the task of recording, organizing and completing their homework correctly just by following the easy steps built into the system. Kids are motivated to do their homework; they earn rewards and become more independent in the process. Parents can use the suggested system or tailor it to their child's school schedule. The kit includes various stickers, reward tokens and incentives to make learning fun and rewarding for the child, as well as stress-free and rewarding for the parent. This recently won an iParenting Media Award. 12/20/2005 (MSRP: $17.99; Age: 6 to 10)



I Did My Chores! by JAZWARES INC.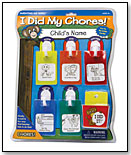 This is a cool and fun way to teach kids to do their chores. The colorful Chore Board with pegs, bright colored chore cards and reward tokens, are completely visible in a blister package. Easily displayed, the package has a convenient easel back so it will stand on a shelf or hang on a pegboard. The quality is sturdy and attractive with strong color graphics to attract the consumer. Even in the prototype phase, this product attracted unprecedented interest from retailers and cataloguers, and promises to be a best seller very quickly. It's fun for the whole family and kids earn rewards in a new entertaining form. (

Watch Video) 12/20/2005 (Age: 4 and Up)



Learning Chinese and English Together by CLEVER-ELEPHANT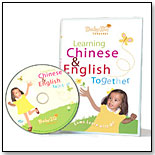 "Learning Chinese and English Together" provides a great way to introduce young children to language. Captivating, colorful images in concert with spoken and written words engage young ones and prompt them to refine and expand their language skills. The program contains three versions: Chinese and English Together, Chinese Only and English Only. The Chinese and English Together version allows the viewer to learn each word as a translation from one language to the next. Once the meaning of each word is understood, the Chinese Only and English Only versions allow the viewer to concentrate on one language at a time. It´s an innovative approach to learning language which allows the viewer to choose the method that makes learning easiest for them. The Dove Foundation gave it their highest rating and it received the 2005 Smart Play Smart Toy Product of Excellence Award from Dr. Toy. 8/12/2005 (MSRP: $19.95; Age: 1 and Up)



Braincandy, My 5 Senses by BRAINCANDY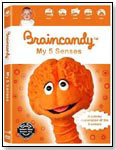 "Braincandy, My 5 Senses" is the first DVD in a series of six, whose content focuses on young children learning about themselves as they learn about the world. The Braincandy recipe encourages active experimentation rather than passive drills and repetition. Braincandy uses a creative combination of engaging puppet characters representing the five senses introducing the host, Bruce Brain, "real" kids engaged in captivating, sensory oriented activities, and innovative animations that show how the senses work. A variety of multi-genre, "kidified" music forms a textured backdrop that gets young children up and moving! Ideal for children ages 6 months to 4 years old, the DVD/video lays the foundation for independent thinking as well as social and emotional development. Winner of 10 toy industry awards and endorsements, including Dr Toy's "100 Best Toys for 2005" and the "Top 10 Audio/Video Products" for 2005. (Read Review) (

Watch Video) 8/15/2005 (MSRP: $19.99; Age: 0 to 4)



Teaching Tees by LEARNING CREATIONS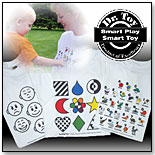 These T-shirts are designed for parents and caregivers of infants, toddlers and preschoolers to wear around the children to stimulate their curiosity and knowledge. The T-shirts are printed with visually appealing and educational graphics so that children learn from the images when their parents and caregivers wear the shirts around them. The Teaching Tees Early Learning Set includes three designs printed on high quality 100% cotton T-shirts: "Shapes, Colors and Contrasts," "Facial Expressions" and "The Alphabet." "Teaching Tees Early Learning Set" has won a Dr. Toy's Smart Play/Smart Toy Product of Excellence Award for 2005. When sold individually, each shirt sells for between $12.95 and $14.95. 8/22/2005 (MSRP: $32.95; Age: 0 to 5)



Hello Kitty USA! by ABRAMS BOOKS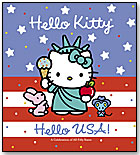 In Hello Kitty Hello USA!, fans visit all fifty United States with Hello Kitty and her friends. After giving a piano recital at a White House gala in Washington, D.C., Hello Kitty is invited by people all over the nation to visit them. On her trip, she learns each state's capital and motto, its official flower and bird, as well as important landmarks and fascinating trivia. Whether sailing in Rhode Island, riding a rollercoaster in Ohio, rock climbing in South Dakota, skiing in Colorado, or hula-dancing in Hawaii, Hello Kitty soon decides that she loves the United States of America-every one of them! This is a great way for young readers to learn about the USA and have fun with Hello Kitty. The brightly designed book concludes with a map of all fifty states. 1/4/2006 (MSRP: $12.95; Age: 4 and Up)



Sing, Nightingale, Sing! by KANE/MILLER BOOK PUBLISHERS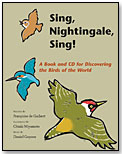 Sing, Nightingale, Sing! lets readers learn about plumage, biology, behavior and more. It's the perfect way to explore the birds of the world and discover their unique voices, because after reading about any of the 60 different birds in the book, kids can then listen to its song on the enclosed CD. So the next time someone asks, "What was that?" they'll be able to answer, "That was a Black-Billed Magpie. Obviously ..." Written by Françoise de Guibert and illustrated by Chiaki Miyamoto, this 48-page full-color hardcover book includes a CD of bird songs. 12/15/2005 (MSRP: $13.95; Age: 5 to 9)



Tieramid CircleSet by BULLS-EYE CREATIVE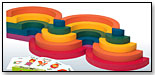 Tieramid CircleSet offers a multifaceted educational toy system. Its main feature is a unique 22-piece set of circular puzzle blocks. They fit together to make a cylinder that is 4.5" high and 7.5" wide with non-toxic coatings featuring six brilliant colors. It also includes a full-color deck of 48 Tieramid Pattern Cards (Volume 1). Each Pattern Card has an image that represents a possible configuration of the blocks. The cards have three levels of difficulty and are also multilingual. 1/5/2006 (MSRP: $50.00; Age: 3 and Up)



Jetset 19 by EGGGAME.COM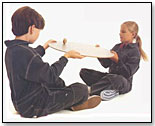 The maker of the world-famous Original Egg Game has come out with the Jetset 19, a board that is the perfect size for kids' travel packs. Taking this toy on the road folks will be the perfect icebreaker for a World Party as they share science with their peers. The board comes with two fossil eggs in a pouch. 1/10/2006 (MSRP: $20.00; Age: All Ages)



Student Home Learning System by FOGWARE PUBLISHING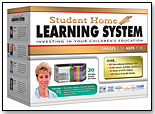 Fogware's Student Home Learning System is the most complete advancement tool of its kind. Fogware's Learning System will amaze kids and parents with its easy-to-use, vast variety of contents, including 200 educational software titles. There are 20 hours of DVD video and more than 100 hours of audio books. A key ingredient in students' academic recipe for success, with its top-of-the-line quality, this MAC- and XP-compatible Learning System is the only one that's needed. 1/9/2006 (MSRP: $149.99; Age: 7 to 18)



Snappy Little Halloween by SILVER DOLPHIN BOOKS


Kids will be ready for some silly Halloween surprises as young readers meet a colorful collection of would-be Halloween haunters. Featuring 10 tremendous pop-up treats, playful rhymes lead little ones on a hilarious hunt for creepy characters. This 8½" x 10½" book includes 20 pages full of pop-ups with full-color illustrations throughout. 1/11/2006 (MSRP: $12.95; Age: 3 to 5)



---
---


Copyright © 2021 TDmonthly®, a division of TOYDIRECTORY.com®, Inc.