April 15, 2021

---
Dolls and Plush
These Products Won't Be Seen at the 2006 Toy Fair
The following products are from manufacturers you won't find at the 2006 Toy Fair.
Outlook Grim: Voo Doo Valerie Doll by SLG PUBLISHING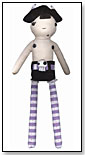 Designed by series creator Black Olive, this is the perfect gift to give someone with an axe to grind. Pins not included. Packaged in a poly bag with a header card, this is a limited edition series. 12/29/2005 (MSRP: $18.95; Age: 12 and Up)



The IMA Hero Teddy Bear Collection by STARRISE CREATIONS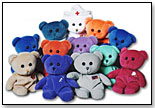 Even as the market swells with new toys of electronics and gadgetry, there is still a place for the loveable plush teddy bear to excite and inspire the imagination of children of all ages. The IMA Hero Teddy Bear by StarRise Creations is an adorable 8" plush/bean bag bear that introduces kids to historic and heroic figures like Abraham Lincoln and Wolfgang Mozart. Each bear has an inner bag for beans, safety grommet eyes and stitched nose and smiling mouth. The Collection includes 12 bears in all.
12/23/2004



Dragon by CZECHMARIONETTES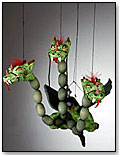 This dragon (or more accurately 3 headed hydra) marionette is about 18 inches long from the tail to the head. Its head is made from a unique plaster-like compound. The neck and body are wood and the boxed weight is approximately 2.2 lbs. 12/9/2005 (MSRP: $64.99)



Berry Beautiful Dolls by PLAYMATES TOYS INC.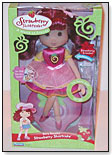 Berry Beautiful Dolls are the only scented soft body dolls that allow girls to enjoy the world of Strawberry Shortcake in a doll that's easy for them to hold and cuddle and take with them everywhere they go. They're 12" long with brushable hair and berry pretty ballerina princess fashions. The dolls will be available in Spring 2006 in Strawberry Shortcake, Crepe Suzette, Lemon Meringue, Raspberry Torte and Blueberry Muffin. 1/4/2006 (MSRP: $8.50; Age: 3 and Up)



Starter Pack by MENTCHEE



The Mentchee Starter Set is your perfect choice for trying out this unique plush collection. Included in the set, is a denim backpack pouch, 3 adorable mentchees, a character strip and a free introductory newsletter. Each doll is unique and shows its trait with its name personalized in the back. These cozy playmates are great for play and display. This set is ideal for specialty stores that want to present wholesome unique collections to the consumers. The 21 dolls are available for resale by piece, however this set offers a higher price point and a motivation for kids to add to their collections. 11/11/2005 (MSRP: $13.99)



Emily Goes WIld by NORTH AMERICAN BEAR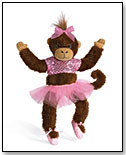 Emily Goes Wild is a whimsical brown plush monkey who is "tutu" cute in a removable ballerina outfit for added play value. The 14" Emily doll is part of a larger collection of north american bear Emily Goes Wild children's accessories and plush gifts that includes fashion accessories and more playful dolls. Emily gift items are inspired by the new children's picture book classic "Emily Goes Wild," written by Betty Lou Phillips. 1/4/2006 (MSRP: $20.00; Age: 3 and Up)



Giant Plushies by LUCON KIDS INC.

The softest, plushiest giant friend a child will ever love. These oversized characters are made of cuddly plush and stuffed with a child safe bean bag. Kid sized and durable enough for sitting, lounging, playing or simply hugging. Size: 42". It comes as a lady bug, turtle or frog. 8/16/2004



Maja Bill Puppen Dolls by MAJA BILL PUPPEN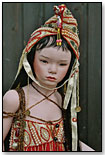 Each Maja Bill doll is designed, modeled, painted and clothed by the artist herself. These beautiful original dolls are made of porcelain. They have human-hair wigs, handmade glass eyes. Their bodies are jointed and are available either as a weighted poseable soft body or a full porcelain body. Every doll is accompanied by a certificate. They're available as one of a kind or in limited editions of no more than 10 pieces. Prices start at $3600. 1/9/2006 (MSRP: $3600)



Dunny Los Angeles Series by KIDROBOT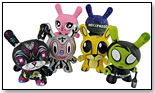 A series of 3" mini Dunnys has been designed by some of the most talented designers working in the designer toy field – and they're all from Los Angeles. Artists involved are Gary Baseman, Joe Ledbetter, Fawn Gehweiler, Nic Cowan, Thomas Han, Blaine Fontana, Buff Monster, Michael Motorcycle, Tara McPherson, Chad Phillips, Tim Fiskup, Shepard Fairey and Coop. The figures are limited to 200 to 9600 of each design. And if that weren't enough, 401 tickets will be randomly placed in LA Dunny Series boxes. 400 will be redeemable for a limited edition Dunny exclusive to the LA series and which can only be gotten via one of the tickets. The one grand prizewinner will win 1 each of every Dunny released in 2006.These mini Los Angelinos will be ready to launch on Feb. 2, 2006. 1/9/2006



Marbotz by XOBOTZ TOYS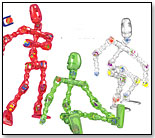 The Marbotz kit comes with everything you need to make your own robot out of marbles. The plastic pieces are joined together with the marbles so kids can use their imagination to construct their own models. Marbotz are easy to put together and have won the 2005 Creative Toy Award from Creative Child Magazine. (

Watch Video) 1/4/2006 (MSRP: $19.95; Age: 6 and Up)



Pink Catillac Fingerpuppet Set by ANGEL GATE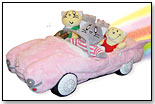 This set of five fingerpuppets ride in a plush, pink cadillac. The cat characters, Big Jim, Lady Jane, This One, That One and The Other One, which the fingerpuppets are modeled after, derive from the award-winning children's book by Jane Seymour and James Keach, called "This One 'N That One." 1/11/2006 (MSRP: $29.99)



Ragamuffins by CRISPINA DESIGN WORKSHOP LLC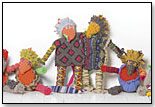 Crispina got through college with the proceeds from these creatures, her original design. We reintroduce the old-time best seller with 3 species: Dino, Potbelly & Stand Up. Ragamuffins are completely hand sewn from recycled wool sweaters in our Housatonic Studio, each one with an individual appearance & personality. They range a bit in size (like most beings) & sell best if you have a good selection in stock. (They're child-friendly, with adult supervision.) Crispina products have been featured in The New York Times, Country Home, Traditional Home, Country Living, Organic Style, and many other prominent publications. Crispina has reclaimed more than 150,000 lbs. of discarded clothing to create heirloom-quality blankets and rugs: spinning straw into gold. New styles include Dog and Possum. 1/20/2006 (MSRP: $55.00; Age: 3 and Up)



---
---


Copyright © 2021 TDmonthly®, a division of TOYDIRECTORY.com®, Inc.