April 17, 2021

---
General Toys
These Products Won't Be Seen at the 2006 Toy Fair
The following products are from manufacturers you won't find at the 2006 Toy Fair.
Bubbles the Cow by CELEBRIDUCKS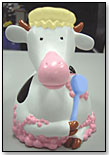 Celebriducks, the creator of the first-ever celebrity rubber ducks of the greatest icons of film, music, history and sports, is releasing its first cow duck, Bubbles. She's all decked out for the tub with shower cap, loofa sponge and plenty of bubbles. The first edition is only 1,008 ducks, and more than half are sold out. Bubbles will appeal to both duck and cow lovers. The ducks are all individually numbered. 12/29/2005 (MSRP: $11.99; Age: All Ages)



Marbotz by XOBOTZ TOYS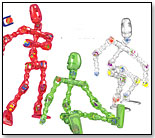 The Marbotz kit comes with everything you need to make your own robot out of marbles. The plastic pieces are joined together with the marbles so kids can use their imagination to construct their own models. Marbotz are easy to put together and have won the 2005 Creative Toy Award from Creative Child Magazine. (

Watch Video) 1/4/2006 (MSRP: $19.95; Age: 6 and Up)



Mystic Force Dragon Morphin - Dragon by BANDAI AMERICA INC.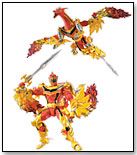 Coming in early 2006, the 6.5" Mystic Force Dragon Morphin Figures are always ready for battle. Each Ranger easily morphs from red, green, yellow or Knight Wolf Warrior Ranger mode into Red Fury, Green Minotaurus, Yellow Thunder or Dark Fury Dragon mode (shown here). Each has its own special weapon and cool accessories. 1/4/2006 (MSRP: $10.99; Age: 4 and Up)



CYCLOPS SR1 Spy Car by MCLAUGHLIN's LIQUIDATION CO.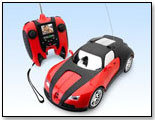 The CYCLOPS SR1 is the first and only radio controlled toy that combines all the coolest features of a true spy car into one elusive vehicle! Kids can spy on their friends while seeing and hearing all the actionthrough the ISR1's on-board miniature wireless video camera and microphone. They can then battle it out in spy-vs-spy style with the vehicle's built-in infrared lasers and color LCD display with built-in crosshair scope. It can even be played on a TV or camcorder. This product includes: Built-in miniature wireless video camera, Color TFT LCD display, On board wireless microphone, Infrared laser tag, Built-in crosshair scope, Video and audio out to TV/camcorder, Headphone and A/C power jacks, Ultra-bright white headlights (remote controlled), High/low speeds (selectable), Brightness and volume adjustments. 1/4/2006 (MSRP: $125.00)



8" Wing Span Balsa Airplane by COLLEGIATE CONCEPTS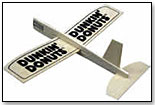 Since the early '30s, easy-to-fly balsa gliders have proven to possess a universal appeal for both youngsters and the "young at heart." Easy to assemble and simple to fly, these planes are available in several models, including a rubber band wind-up motor plane, the biplane can be printed with a logo, slogan, or message to promote your business or campaign. Custom-printed balsa airplanes make excellent promotional items, Halloween or community event give-aways. 1/5/2006 (MSRP: $0.60)



2006 FIFA World Cup Figurine by BLUE SHIELD PTY. LTD.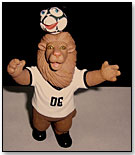 Made of nontoxic rubber, this ferocious feline commemorates the 2006 FIFA World Cup Germany victory. Blue Shield manufactures nontoxic, often brightly colored rubber figurines and images for gifts or collecting. Some of their products commemorate entertainment icons, while others celebrate sports stars. The FIFA World Cup Germany series comes in six other models. This one is a limited edition. 1/5/2006 (Age: 3 and Up)



Elite Spinet Toy Piano and Bench — Model 2505 by SCHOENHUT PIANO COMPANY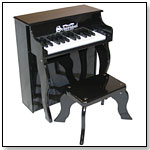 The Elite Spinet is a musical instrument of the highest quality. Chromatically tuned, the lovely chime-like notes are produced by little hammers striking precision-ground, German steel music rods (versus the conventional taut wires used in full-sized pianos). Schoenhut's patented Learning System, with its play-by-color teaching method, makes playing simple and fun. A removable color strip fits behind the keys to guide small fingers from chord to chord. The chart also works on adult keyboards, since keys on Schoenhut toy pianos are of corresponding width. The accompanying Songbook contains a collection of familiar tunes. 1/5/2006 (MSRP: $135.00; Age: 3 and Up)



Color Morphing Pyramid by GIFTWORKS BY CLEGG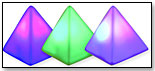 A plastic novelty item with multi-color LEDs that softly glows and color morphs through shades of red, purple, blue, green, yellow & orange, the Color Morphing Pyramid can be switched on for a lightshow and a mini-mood enhancing break! On-off switch at the base. Replaceable 2 SC5 lithium batteries included. It's a toy, it's a gift, it's a decorative item … and it's a lighting product that'll brighten any kid's room. 1/9/2006 (MSRP: $4.99; Age: 6 and Up)



Magnet Mailer™ by SUNSHINE GIRL CREATIONS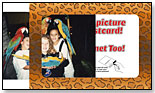 These unique gifts turn any 4x6 photo into a personalized picture postcard and magnetic fridge frame all in one. Simply slide a 4x6 photo into the unsealed end of the postcard, seal it shut with the removable peel strip and it is ready to be sent through the mail. The embedded magnet enables them to instantly stick to any metal surface. These unusual frames come in over 40 designs. They make wonderful keepsakes to send to grandparents and other family members. 12/9/2004



TV Robot by METAL HOUSE JAPAN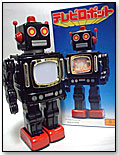 Powered by two size D batteries (sold separately), this robot walks and the light on its head flashes. The robot also moves its head, arms, and of course, legs. After walking for a while, the robot will stop, and the TV will show a rocket blasting off. Then, the TV will go off, and the robot will begin walking again. 1/11/2006 (MSRP: $91.53; Age: 15 and Up)



---
---


Copyright © 2021 TDmonthly®, a division of TOYDIRECTORY.com®, Inc.