April 11, 2021

---
Infant and Toddler Products
These Products Won't Be Seen at the 2006 Toy Fair
The following products are from manufacturers you won't find at the 2006 Toy Fair.
Barrigon Bear by TRIS & TON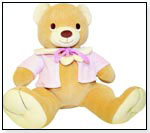 Barrigon Bear is available in different sizes (20, 30 and 80 cm. when sitting). Soft and sweet, he's the type of bear that babies adore. Barrigon Bear is part of a new collection that is having a great success in Europe, especially due to innovative and colourful design. The whole collection comprises decoration products for the baby's room, as well as soft toys, rattles and lovely daily objects such as pacifier carriers, nappy bags or changing bags. The teddy bear's jacket is available in pink, blue, orange, green and red. Pictured is the 30-cm Bear. 1/4/2006 (MSRP: $11.20; Age: 0 to 3)



ABC Blocks by FUN FURNISHINGS


Both boys and girls will enjoy the primary colors with the letters "A" through "D" on each of the cubes. The manufacturer increased the density of the foam to provide firm support for "kids" of any size. Lightweight, yet very sturdy the blocks make a great seat, table or toy.Each cube measures 15 ½ inch square and is made from high density fire retardant foam. The fabric grade canvas cover is removable for cleaning. 11/1/2005



Buttermilk Farm by CHILD TO CHERISH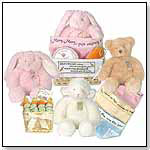 Plush characters, each with its own unique personality, are accompanied by soft Veggie Rattles and lush Velour & Sateen Blankies and Blankets, all tucked into a wicker gift basket. The blankets and the textured cloth basket liners will be embellished with embroidered nursery rhyme themes. The Buttermilk Farm product line will be a perfect compliment to merchandise side by side with the already well established Child To Cherish brand of children's keepsake gifts. It's part of the Baby Shower Ready gift basket line and sells for between $15 and $40. 12/29/2005 (Age: 0 and Up)



Symphony Light & Motion(tm) Mobile by TINY LOVE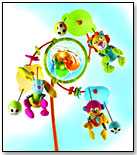 A celebration of music, nature sounds and movement, this mobile combines light and liquid effects to stimulate a baby's development, as well as filling them with a sense of calm and contentment. The mobile centerpiece contains colorful liquid in a leak-proof disk that moves within intricate shapes and glows peacefully when the night-light is turned on. Cuddly animal figures with eye-developing colors hang from three swivel arms that move easily from side to side. 1/5/2006 (MSRP: $49.95; Age: 0 to 1)



Gymini Duet by TINY LOVE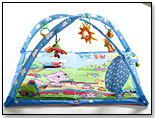 This innovative double-sided play mat provides baby with age-appropriate developmental activities. One side displays a basic color scheme and images suitable for 0 to 3 months, while the other surrounds a 4 to 10 month baby with intricate colors, images and engaging activities. Parents will be happy to know that the play mat flips easily from side-to-side and comes with an additional padded cloth for quick diaper changes. Pull-toys hang from the soft, bendable arches to help baby strengthen her arms, neck and shoulders. Baby can also play classical music and nursery tunes, while watching a light show activated by touching the Lights and Music pad. Other features include a large mirror, jittering car toy, peek-a-boo ladybug/squirrel and a textured sand and grass box. This product received a 2007 Oppenheim Toy Portfolio Gold Award. 1/5/2006 (MSRP: $65.95; Age: 0 to 1)



Gymini Melody Maker by TINY LOVE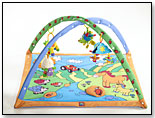 This play mat features a baby-activated musical triangle hang toy with dangling, mobile-like butterflies. It also comes with a peek-a-boo mirror, a tractor design with honking horn touch pad, a peek-a-boo caterpillar under a rock, a crinkly touch porcupine design and textured touch areas. 1/5/2006 (MSRP: $49.95; Age: 0 to 1)



Bright Starts Tropical Fun Around We Go! Activity Station by KIDS II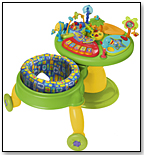 The award winning Tropical Fun Around We Go! Activity Station is the only product of its kind designed to grow with baby through the toddler years. Babies safely navigate around the outside of the sturdy activity table in the "cruise control" seat, exploring over 20 toys and activities, which include 2 music and lights stations, a pat mat featuring fun ocean sounds and an electronic piano with upbeat music. Additional activities include clickers, spinners & rattles and a removable, dishwasher-safe snack tray. Once baby learns to walk independently, easily remove the seat to convert Around We Go! into a traditional toddler play table. Its open design allows room for two children to share table activities, fostering fun sibling interaction. (

Watch Video) 1/6/2006 (MSRP: $89.99; Age: 0 to 3)



---
---


Copyright © 2021 TDmonthly®, a division of TOYDIRECTORY.com®, Inc.