May 19, 2022

---
Toys in Motion: Robotics
---
Robotics
Robotic Bat by SILVER DOLPHIN BOOKS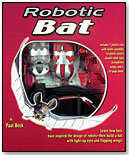 Critics back in the 1500's thought Leonardo da Vinci had bats in his belfry when he drew plans for a flying machine that looked and worked like the wings of a bat. Scientists today, however, know there is a lot to be learned from these incredible animals. Because bats' brains are built for "seeing" with sound, scientists are now studying this special bat skill to build robots that use echolocation to navigate in the dark. Kids will love exploring the mysterious world of the planet's only flying mammal in this cool book packed with amazing information and awesome illustrations. Then they'll get a chance to build their very own robotic bat — complete with light-up eyes and flapping wings! The model can hang from a post and attach to a door, or stand on a perch. (

Watch Video) 4/20/2006 (MSRP: $17.95; Age: 8 to 12)



Binary Player Robot by OWI INC.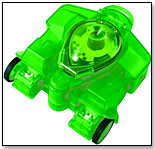 A two-wheeled mini-robot, the Binary Player Robot has its internal program stored on a black-and-white disk that´s user programmed, so it can do tricks and patterns. It's easily assembled with basic hand tools and is both fun and educational. (

Watch Video) 12/22/2004 (MSRP: $34.95; Age: 10 and Up)



---
---


Copyright © 2022 TDmonthly®, a division of TOYDIRECTORY.com®, Inc.