April 23, 2021

May 2006 | Vol. V - No. 5

---
New Toys Transform Pools Into Water Parks
Inflatable Pool and Lake Toys Get Bigger
"In the past five years, we have seen an overall increase in the variety of pool toys available from manufacturers." — Terry Black, PoolRafts.com

Remember when inner tubes and flimsy rubber rafts pretty much summed up the toys that everyone took to the pool and lake? Those days are no more. Now consumers can find everything from inflatable jet skis to pirate ships to battery-operated fish that join in on water fun.

"In the past five years we have seen an overall increase in the variety of pool toys available from manufacturers," Terry Black, owner of online storePoolRafts.com, told TDmonthly Magazine . "Customers are constantly seeking out new items for their pools."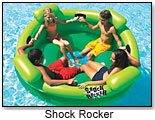 While the traditional pool lounges are still popular, Black said many of those are being designed with brighter colors and new shapes. Also, bigger seems to be better. The Shock Rocker, a four-person lounger, for example, is one of Black's best-selling items.
Terri McKee, manager of PoolToy.Com Inc., said that large items, such as Poolmaster's Home Waterpark Rainbow Water Slide, have made a big splash with consumers. The slide, which anchors onto the edge of the pool, includes a rainbow arch with a water tube that provides a crisscross spray as kids slide down.
Items for the littlest swimmers are big hits as well, a number of retailers commented. My First Swim Ring, which has a place for baby to sit on one side and pieces that hook around an adult's waist on the other, sells well, Black said.
McKee and Mark Heitz, owner of Toysplash, both mentioned that the Baby Spring Float by Swimways Corp. is an item many parents buy. That float includes two extra-large floatation chambers that give added stability and security. It pops open and inflates in seconds. When deflated, it fits into a carry bag for portability and storage. It comes in an adult-size as well.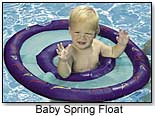 Pool games are also customer favorites. The variety includes basketball, seahorse shoes and a floating ping pong table. An added plus is that the games are now constructed better, helping them last longer and withstand the slam dunks of pro pool ball players, McKee told TDmonthly.
One of the sports products Swimways plans to introduce this spring is the Pool Hoops Pirate Treasure, which includes three twist-and-fold kid-sized hoops shaped like a pirate's map, shipwreck and treasure chest. Kids swim through each hoop and dive down to collect gold coins at the bottom of the pool.
Swimways sees the potential for continued interest in sports-related pool toys and has a dedicated product category focusing on them, noted Monica Jones of the company's marketing department.
"People fit into two categories — those who like to rest and relax in the pool and those who like to stay moving," she said. "We sell a lot of sports equipment for organized play in the pool, including volleyball, basketball, skip disks, sports balls and the new Subskate."
The pool toy business seems to be hot — and not just in the summer, as McKee noted when describing the high volume of products her company sold during the Christmas season. And as the winter continued, sales remained high, she added.
The fact that pools have moved from being a luxury item to something that average families can afford helps the pool toy industry thrive. Just fly over Sunbelt areas, such as Phoenix, where it seems there's a pool in every backyard, and it's easy to see why the selection of swim toys continues to grow.
"I would love to be a kid right now," Heitz said. "There are so many cool things now, whereas when we were kids, there was an inflatable raft we played with."
Below are descriptions of some of the hottest-selling cool pool toys.
Gator Go by AVIVA SPORTS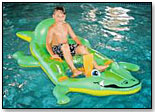 This inflatable, alligator-shaped pedal boat will take kids for a fun float around the pool. It's approximately 30'by 7'. 3/3/2006 (MSRP: $42.96; Age: 3 and Up)



Lil Gator Ride On Toy Pool Float by INTEX RECREATION CORP.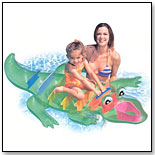 This 69" by 24" toy features a strong built-in handle and will provide hours of fun for little swimmers. 3/3/2006 (MSRP: $4.95; Age: 3 and Up)



Kiddie See Me Floatie Pool Toy by INTEX RECREATION CORP.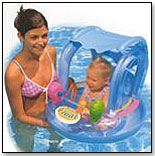 This inflatable toy features smooth leg holes, two air chambers, an inflatable sunshade and two rattles on the handle bar. It is for babies up to 25 pounds.
— "We sell a lot of inflatable pools by Intex," commented Tricia Cooper, buyer for Le Jouet in Metairie, La.
— Toys that keep kids buoyant were also popular at Toys & More in Houston, said owner Zia Rizvi.
— Intex pools and floating devices are among the top sellers on amazon.com. 3/3/2006 (MSRP: $6.95; Age: 0 to 2)



Iplay Baby Activity Pool Play Center by INTERNATIONAL PLAYTHINGS LLC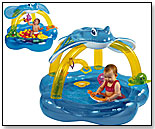 This inflatable baby activity and play center can be filled with play balls or water. It has seven attachable pool toys, including a turtle with jingle ball, a wrap-around baby crab and a jingle fish. It has a star-shaped pool base and a floating, child-safe seashell-shaped mirror. 3/3/2006 (MSRP: $26.95)



Swimline - Water Wheel by INTERNATIONAL LEISURE PRODUCTS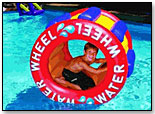 Kids can enjoy freewheeling around the pool in this inflatable water wheel that will take them rocking and spinning. 3/3/2006 (MSRP: $59.95; Age: 6 to 12)



Waterpark Rainbow Water Slide by POOLMASTER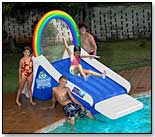 This slide is made of 18-gauge vinyl with multiple-chamber construction. A colorful rainbow arch emits a crisscross spray at the entrance to the slide, providing water for the sliding surface. The front of the slide anchors over the edge of the pool. 3/3/2006 (MSRP: $169.95; Age: 3 and Up)



Jolly Roger PT 400 by SEVYLOR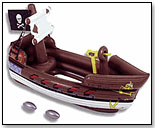 This pirate ship can support approximately 135 pounds. It comes with a catapult, squirt gun and two inflatable cannon balls. The water gun can shoot across most swimming pools. 3/3/2006 (MSRP: $79.95; Age: 3 and Up)



Rainbow Reef Fish by SWIMWAYS CORP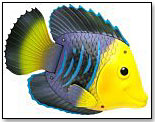 These 10" by 6.5" fish come in nine different styles. Each one is sold separately. Battery-powered fish have lifelike swimming action. 3/3/2006 (MSRP: $19.95)



Spring Float by SWIMWAYS CORP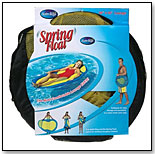 This float pops open and inflates in seconds. It also deflates and stores flat. 3/3/2006 (MSRP: $39.99; Age: 8 and Up)



Baby Spring Float by SWIMWAYS CORP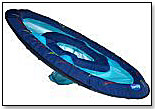 A baby-sized version of the popular Spring Float, this raft includes two floatation chambers that give added security and stability. 3/3/2006 (MSRP: $29.50; Age: 0 to 2)



Swimline - Lasershark Ray Gun Squirter by INTERNATIONAL LEISURE PRODUCTS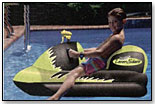 Ride on a jet ski while squirting water from the attached laser gun. The gun has a constant supply of water because it draws it directly from the pool. 3/3/2006 (MSRP: $24.95; Age: 6 and Up)



---
---


Copyright © 2021 TDmonthly®, a division of TOYDIRECTORY.com®, Inc.