"Over the last 15 years, there have been many ups and downs, but the most difficult process was coming up with that next 'new' and 'hot' product and following ever changing trends." — Darryl Abromowitz, CEO
The Merrick Mint
has earned status as a licensed sports coin company. From humble beginnings in vending machines, founder Darryl Abromowitz went on to establish himself as an acknowledged expert. Today, he is introducing a novelty candy line that has already won accolades.
In 2005 this line was voted one of the best new and upcoming products at the Chicago Candy Show. Licensing and specific themes make Merrick's goods outstanding, beating competitors who offer generic baseballs or footballs with no substance. And, while Merrick creates over 500 products a year, the company's bestsellers remain colorized coins. Many items are even educational, such as an interactive "create your own trading card" sticker series for young children.
Although Abromowitz makes it look easy, he has in fact traveled an untraditional road to success. After only two years of college, he left to work with his father in construction, selling products at sports and mall shows on the weekends in the New York tristate area. At 21 he opened the Mad Vending Company with his younger brother Matthew. They worked from the basement of their parents' house placing and servicing baseball card vending machines until Abromowitz dropped out of construction to sell baseball cards full time.
"This wasn't generating enough money, and we kept seeing how much money the card manufa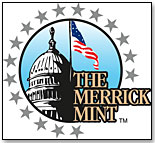 cturers were actually making," he said.
They developed their own line of trading cards, featuring a Ken Griffey, Jr., numbered limited edition with 23kt gold borders. Diamond Comic Distributors (ToyDirectory) purchased 10,000 sets of three cards for $60,000 in 1990. From here, Merrick has gone on to sell over one million gold cards that feature licensing with more than 40 athletes.
In 1998, trading cards were at an all time high but on the decline. "After eight years the business just came to a halt. So, we decided to get i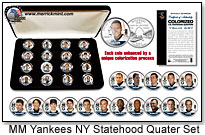 nto the coin industry by developing the first ever colorized U.S. Coins of Sports Athletes."
The initial release was a U.S. Silver Eagle of Ken Griffey, Jr., their first gold card player. The Merrick Mint soon signed multi-year licensing deals with the NFL, MLB and NHL as well as NASCAR, Lebron James, King Features and Baseball Legends. These licenses have been extended through 2010.
"This was a tough challenge seeing as the leagues were cutting back on licensing and consolidating due to hardships with the trading card industry," he explained.
In 2006, Abromowitz anticipates that Merrick's novelty candy line will be a hit in candy and convenience stores, retail outlets where their merchandise has not been available in the past. "We never really pushed this product because of time constraints and incorrect sales people. This is a whole new field for us, but our product line outshines the competition."
In addition, this year the company will release foil packs that include a coin of professional hockey, football and baseball players. Merrick will also introduce coins for all popular universities. Team stamps, enabling fans to put their favorite player or logo on their mail, will be Merrick's next project.
The Merrick Mint is looking for distributors. They sell to specialty, wholesale and mass-market retailers.
What follows is more information on several of the popular Merrick Mint products.