May 9, 2021

April 2006 | Vol. V - No. 4

---
Dolls Go Soft for 2006
Cuddly Babies and Weird Plush Rule
"Parents get frustrated with dolls that fall apart … so they look for the more unique product and seek out specialty stores." — Rich Gordon, Learning Express
When retailers report grown men buying plush dolls for themselves, you know something's up. Squeezable is in for 2006, 20 specialty toy retailers who carry dolls told TDmonthly. Though most still report dolls as their "weakest category," five are actually expanding their lines with cuddly new offerings from Pretty Ugly, Corolle (ToyShow), Manhattan Toy (ToyDirectory) and Madame Alexander.
"We're anticipating bigger sales from Ugly Dolls," Kevin Hart, co-owner of Toy Store in Atlanta told TDmonthly Magazine. "There's been a pretty broad appeal to boys and girls, and the age group can't even be pinpointed. I've literally seen people buying them as baby gifts and adult men buying them for themselves."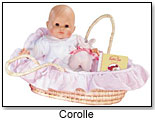 "We don't do a huge doll business, but we do a nice job with Corolle, and honestly see the potential of doubling that business this year," shared Rich Gordon, owner of Learning Express of Exton, Pa. His Corolle sales grow because, "Parents get frustrated with dolls that fall apart … so they look for the more unique product and seek out specialty stores, and Corolle fits the bill perfectly."
"We had a very strong year with dolls," agreed buyer Susan Sellers from Treetop Kids in Washington, D.C. Her top sellers were Lila from Corolle and Sweet Sound Baby by Small World Toys. Thirteen of 20 specialty retailers said that they were banking on Corolle for 2006.
Buyer Betty Nobles from the Village Toy Shop in New Hartford, N.Y., said that Lee Middleton did well for her in 2005; she's looking forward to a new line of play babies, due out in July.
"We've been into play babies for a few years now and we're just trying something new for the year," Becky Richardson, director of marketing for Lee Middleton, told TDmonthly. The dolls will retail for $13 and up, depending on size.
Götz's Precious Day and Maxy Muffins are three retailers' favorites for the 2006 race. "This year, Götz has updated all of the outfits on the Precious Day Girls," said Susan Tice, public relations director for International Playthings.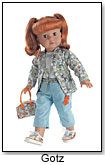 Dee Dee Culotta, owner of Victoria's Toy Station in Baton Rouge, La., had found Manhattan Toy's Cuddle Dolls — Miss Dessa, at a Dallas event in January. "We've sold out already … People have loved her." Idanna Smith, owner of Juggles in Wakefield, R.I., agreed.

Despite the dolls being sold at Target (and rumors of a move to Toys "R" Us), six retailers are counting on Miss Dessa's soft "sisters" — the Groovy Girls — to keep on trucking. "There's a whole brand new line of Groovy Girls," enthused Jeanne Orlando, manager of The Purple Bear in Guilford, Conn. "We've already received it and we love it."
But Gladys Griffin, owner of Main Street Toy Shop in Columbus, Ga., lamented that her "Groovies have died. So I'm thinking of going into the Trixies and see how they do."
The new Trixieville line has two other retailers on the fence. Tricia Cooper, buyer for Le Jouet in Metairie, La., ordered them "because fairies are big"; she's hoping that pixies will be, too.
The other new line that retailers are tentatively circling is the Fashion Angels 17" standing plush by The Bead Shop (ToyShow). Barbara Vininsky, owner of Jack & Jill in Montreal, Quebec, however, had no reservations:
"What's going to be strong? Fashion Angels," she told TDmonthly. "With the addition of the clothes, I see it as a fourth-quarter item." As far as predicting hits in her store, Vininsky said she's "almost never wrong."
Here are the (mostly) soft dolls that retailers are counting on to bring in hard cash for 2006, as well as some of the other dolls that the TDmonthly camera crew caught on tape at New York International Toy Fair and the Western States Toy and Hobby show in Pomona, Calif.:

Mon Premier Playcrib by COROLLE DOLLS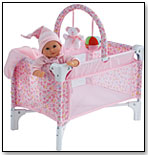 Created expressly to meet the needs of little moms on the grow, Corolle's new Mon Premier Bebe collection now includes a play crib ensemble. Designed to feature the same valued qualities of real-life bedding for babies, the Mon Premier play crib ensemble includes soft padded sides, see-through mesh netting and overhead mobile-style toys. This true-to-life play crib ensemble allows little girls the opportunity to enjoy the same rest and play time routines with their own baby dolls that they once experienced with their own parents. The crib, new for 2006, is scaled for Corolle's award-winning 12" Calin and Tidoo dolls. "I love the new dolls and the clothing in the Mon Premier line," recommended Rich Gordon, owner of Learning Express in Exton, Pa. (

Watch Video) 12/20/2005 (MSRP: $36.00; Age: 1 and Up)



Chouquette Blonde by COROLLE DOLLS



Chouquette Blonde is one of Corolle's award-winning Chouquette family. She is 14" with blue sleeping eyes and beautiful rooted hair that can be brushed and styled over and over by little girls three years and up. She comes with her own brush. 2/21/2006 (MSRP: $45.00; Age: 3 and Up)



Fashion Angels: Living Dolls by FASHION ANGELS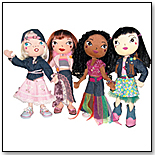 They're plushy with the cutest embroidered faces. They're poseable with a full body armature. They stand 15" tall and pose from head to toe. Don't tell anyone, but their 'dos are wigs and are interchangeable with each other. New 'dos sold separately. Last but not least, their wardrobe is to die for and the proof is in the details. They have great jewelry, accessories and shoes (made in a real shoe factory). The Fashion Angels are hip, sweet, intelligent and soulful. Pictured are Lulu, Bebe, Debo and Izzy. This product received a 2007 Oppenheim Toy Portfolio Gold Seal Best Toy Award.
— As of 05/13/2011 this product had 5 out of 5 stars from 2 reviews on Amazon.com. Cons: Wig may lose shape if not placed on the Fashion Angels wig stand. (

Watch Video) 8/30/2005 (MSRP: $36.00; Age: 8 and Up)



New Baby Annabell With Tearing Function by ZAPF CREATION (U.S.) INC.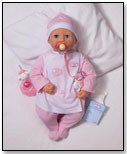 Zapf's newest 18" baby babbles, gurgles, giggles, sucks a bottle and "actually cries real tears," Virginia Uelze, marketing manager for Zapf Creation (U.S.), told TDmonthly. "It´s the first time we´ve mixed water with electronics."
— As of 05/13/2011 this product had 4.8 out of 5 stars from 5 reviews on Amazon.com.
— This baby was soft launched at the end of July 2005.
— Baby Annabell received the National Parenting Publication Association´s Oppenheim Toy Portfolio Gold Seal Award 2006.
— "Zapf does well," at the Hello Dollie Doll Shoppe in Albuquerque, N.M., according to owner Carmen Keicher. Sherry Grisham, owner of Yesterday & Today's Dolls in Corinth, Miss., agreed. (

Watch Video) 10/3/2005



Cuddle Dolls - Miss Dessa by MANHATTAN TOY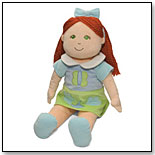 A lifelong companion, Miss Dessa is understuffed and ultrasoft. She features a sleeve on the back of her dress for extra-huggability. She's 16" long and suitable for kids 18 months and older. 3/27/2006 (MSRP: $20.00)



Baby Sweet Sounds by SMALL WORLD TOYS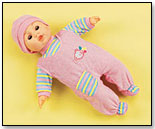 Baby Sweet Sounds has 15 functions and sounds. This cute, realistic baby doll features 8 different sounds and 7 unique interactive functions for hours of role-playing fun. The doll feeds from a milk bottle, babbles, burps, laughs, tickles, has sleepy eyes and cries — with just a series of simple squeezes, pats and more. The baby doll comes with a washable outfit with easy-to-use fasteners, plus accessories. She teaches cause and effect, promotes social development and develops manual dexterity. 3/27/2006 (Age: 3 and Up)



Götz Precious Day - Elisabeth by INTERNATIONAL PLAYTHINGS LLC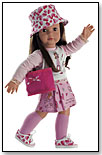 The 18" Precious Day dolls feature a soft torso with fully articulated vinyl arms and legs. Each doll has moving eyelids so the doll can be either awake or asleep and long rooted hair that is excellent for children to wash, brush and style. Brunette Elisabeth is ready to go out on the town. She is stylishly dressed in a long sleeve cotton tee, printed mini skirt, knee-high tights, pink purse with beaded handle and hat with matching sneakers. 3/27/2006 (MSRP: $59.99; Age: 3 and Up)



Götz Maxy Muffin — Brunette by INTERNATIONAL PLAYTHINGS LLC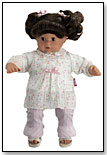 "Götz is known for their high quality in all aspects of the doll from the inside stuffing to the clothes on the outside. One of the features they are most known for is their hair. It is rooted [stitched] directly into the scalp in such a way that it resembles real human hair," said public relations director for International Playthings, Susan Tice. "This technique allows for a fuller head of hair that is more durable and can withstand many washings and stylings." The Maxy Muffin dolls are 16.5" soft-bodied dolls that are great for hair play. In fact, these dolls even come with a high-quality brush and two ponytail holders. The brunette Maxy Muffin for 2006 is dressed in a beautiful lightweight pink flowered tunic with pink striped pants. Her pigtails are full and curly. 3/27/2006 (MSRP: $44.99; Age: 3 and Up)



Just-Like-Mine! Doll or Stuffed Toy Car Seat by JOOVY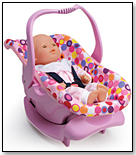 This fun children's toy with a 5-point harness and latch promotes role-playing and car seat awareness because it's just like the real thing. The crash-tested car seat can also be removed from its base for indoor and outdoor play. Joovy doll baby seats are made at a real baby car-seat factory. Kate Tanner, owner of Kid Stop Toy & Book Store in Scottsdale, Ariz., was looking forward to these realistic toy car seats; they'll be ready for retail in May 2006. 3/27/2006 (MSRP: $39.99)



Candy Is Dandy by VOGUE DOLL COMPANY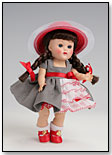 Candy Is Dandy is a reissue of an original Ginny Doll circa 1954. Vogue Doll has recreated the original Ginny face and body molds as first introduced in 1950. She wears a fashionable silver-gray polished cotton dress with white organdy ruffles and red trim. Her ensemble is completed with a red straw hat, red leatherette shoes and red satin bows. A limited edition of just 350 pieces, Candy Is Dandy has been nominated for a DOTY Award from DollReader Magazine. Launch date: July 2006. 3/20/2006 (MSRP: $65.00; Age: 4 and Up)



---
---


Copyright © 2021 TDmonthly®, a division of TOYDIRECTORY.com®, Inc.