So far, Norooz Productions has sold some 20,000 "First Norooz" DVDs, which are available in Farsi and English ...

Dustin Ellis, the son of an Iranian mother and an American father, distinctly remembers feeling different from other school kids while growing up. They'd bring peanut butter and jelly for lunch and thought his traditional Iranian kabob sandwich was weird. Things got much worse during the 1979 Iran hostage crisis when Iranian militants stormed the United States Embassy in Tehran and held 70 Americans captive for 444 days.

"Suddenly that kabob sandwich became like a scarlet letter," said Ellis, who also never quite understood why Americans didn't recognize the important event Norooz, the Iranian New Year. He decided to put the question to rest and give today's Iranian-American children something he never had by creating a feature-film length cartoon.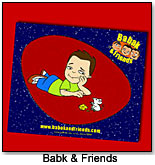 "Babak and Friends: A First Norooz" tells the story of Babak, an Iranian-American boy who feels torn between two cultures, not fitting into either, until he learns about Norooz, the much beloved holiday with 3,000-year-old roots. Ellis wrote and directed the movie, which features the voices of such renowned Iranian actors as Shohreh Aghdashloo, Ali Pourtash and Parviz Sayyad. It is available on DVD through Norooz Productions, the Los Angeles-based company Ellis founded with his wife, Mastaneh Moghadam, and two other partners in 2004.
Drawn from Ellis' own experiences, the cartoon seeks to convey the message that "you shouldn't be embarrassed to be Iranian, you should be proud of it," Ellis said. "It does wonders for your self-esteem to know that you're part of a much bigger history."
A cartoon-fanatic as a kid, Ellis worked in animation production at Warner Bros., Universal, Nickelodeon and other studios after receiving a degree in filmmaking from Cal State Northridge. His dream was to make a movie, however, so he sold his home in Topanga and moved into a rental in the San Fernando Valley in order to fund "The First Norooz."
One big surprise with "The First Norooz" has been the positive reaction of non-Iranians, such as the film's animators. "They never guessed that there was this really nice Iranian celebration," said Ellis, who describes Norooz as Christmas, Easter and the Western New Years all in one. "Our original target was Iranian kids, but we realized that the film had great educational value for non-Iranians."
So far, Norooz Productions has sold some 20,000 "First Norooz" DVDs, which are available in Farsi and English, come with a parallel storybook, are sold online and are available at Iranian markets. The company also just released its second book, expects to release the first of many Babak cartoon sequels this summer, and hopes to sell toys of Babak and his friends, as well. It is also developing cartoons featuring Arab, Korean and African children living outside of their home countries.
Ellis is optimistic about the growth of Norooz Productions. He points to the hugely successful Bratz dolls and notes that MGA Entertainment Inc. founder Isaac Larian is an Iranian immigrant whose dolls have non-Western features.
"I think there's a much larger market for ethnic-looking products than even we realized," Ellis said. "We learned [from the success of Norooz Productions' products] that all we need to do is to get our product out there and let people see it. Then things fall into place."
What follows is more information on Norooz products.