"I like the people who come in and really sell me on a toy. Some of these guys only have one product, and it's like a religion to them." — Trey Watkins, Watkins' & Sons

John D. Rockefeller supposedly said that the path to wealth lay in doing "one thing better than anyone else." In the toy industry, that "one thing" is a toy. But can one great toy lead to big bucks? What does it take to be a one-product company? What are the pros and cons, the tips and tricks to making it work?

TD

monthly Magazine

talks with manufacturers, inventors and retailers to find out if one product can make you number one.

"It's more difficult to get a rep," explained Barbara Goldman, president of Newsline Publications Inc., which makes the successful It's News To Me Newsflash! Cards.

Michel Alverez, founder of WonderChess LLC (a single product company that took that single product, WonderChess, and successfully created a line around it) concurs and went into detail as to why.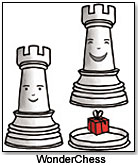 "1) The manufacturer reps want a line — the best ones usually won't rep you (or rep you well) if you don't have a line. 2) The costs to set you up as a new supplier is the same for single or multiple [products]. 3) You can't afford any POP displays or gain the shelf space branding. 4) You can't mix/customize for the retailer — make product family packages and specials."

But it's hardly impossible. Many companies have maintained their single-product-ness, while others have leveraged that first, branded product, into opening up the marketplace for many of their other toys and games.

It didn't hurt Coca-Cola. It's all in what you do with the product.


Amos Carlen, co-inventor and co-owner of Who'd You Rather? Inc., introduced his toy the Who'd You Rather? game with "great media support. We hired a publicist. The amount of media space, rather than paying for it, was big. Really good exposure in newspapers and radio stations — got a couple of retail accounts and stores and built from there. We were fortunate in that sense. Retailers get really picky about price and look etc. ... I personally think they wield way too much power in the marketplace right now and our whole thrust is trying to find ways of making money that are not dependant on the retail market."

Goldman found that it all starts with the manufacturer: "If you can create it, you can sell it." She said that manufacturers have to be responsible for their own creative marketing, even after lining up sales representatives. "I would sell them on my own experiences selling it, and how that would open their markets. Home-schooler nights, teachers' nights. Bundle them together with other, similar products."

And always remember the "personal" touch. A single product manufacturer has the advantage in that department: They can focus on giving retailers and reps the best possible experience with their product.

Barbara Jerome, the mom who created NAMiTS: "We did try to give very personal support to the retailers, and spoke with them directly about the selling points for our NAMiTS games."


Trey Watkins, owner of Watkins' & Sons in Houston, finds that, "I like the people who come in and really sell me on a toy. Some of these guys only have one product, and it's like a religion to them. Others come in, have a zillion products, and nothing fires them up. I'll go with the fired up single product guy every time."

Michel Alverez is one such proselytizer: "I ensure they understand my passion and our product's benefits. As the Inventor/Founder/CEO, I place customers first and foremost. I meet them at the trade shows or at their stores in person and personally guarantee their satisfaction in both the product and the service. I communicate with them often and directly whether they are large or small retailers. If we receive a new award or a nice testimonial/review, or more press coverage — we share it, to remind them that we are focused on increasing consumer traffic to their stores."

But there are pitfalls to banking everything on one roll of the dice. Mindy Mentchee, creator and founder of Mentchee LLC, had to close her business. One lives or dies on a single product line. The rewards are stellar, but the failures are complete.


Read below to find out more information on products from one-product companies.