"What we carry can go either way. We do have some gender-specific toys, but mostly they're neutral." — Matthew MacDonald, Wooden You Know

Last month,

TD

monthly

came across an article published in the Washington Post that claimed it's harder to find toys for girls than it is for boys. The reasons given were that many top toy company executives are men, and that girls stop playing with toys at an earlier age. But is this true?

We noted that all of the manufacturers interviewed for the Post article were men, the majority of whom work at companies known for male-geared products. In addition, these manufacturers depend upon sales at the big-box retail level, looking to stores such as Toys R Us, Target and Wal-Mart. So we turned to specialty retailers and manufacturers for their perspective.

"I don't know about the mass market situation; but I can say with no reservations, that when we have boy products, we get lots of thanks from the retailers," wrote Pamela Drake, president of Pamela Drake Inc. "Apparently it is difficult to find boy products! Contrary to what you read."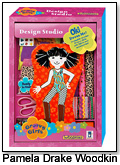 Mark Slusarz, vice president of sales and marketing at Schylling Toys, agreed. "Retail customers have requested more boy-oriented products consistently." He added, "I think the specialty toy market is more gender neutral because the majority of the retailers are female."
Whatever the reason, specialty retailers TDmonthly spoke with agreed that where customers buy toys makes a big difference in the kinds of toys they'll find.
"The mass market focuses on electronics and hand-held items, whereas girl products are tactile crafts and building projects," said Donald Borho, co-owner of Wondrous Things in Hudson, N.Y. "What we carry in the specialty market are do-it-yourself and decorating projects."
"I read an article that said when girls age 4 to 12 were asked what they wanted to play with, the number-one answer was crafts you could wear or room décor — and that's a huge market!" said Where'd You Get That!? owner Michele Gietz, based in Williamstown, Mass. "It's what they are looking for that has changed."
What's really changed, then, may be our definition of a toy, rather than children's desire to play. We no longer consider video games "games," yet they emerged from the toy market. The same may be true for other toy categories.
"Girls are more involved in jewelry, craft sets," stated Dave Ekwall, owner of The Wooden Toy in Wethersfield, Conn., and then paused, "but craft sets are something that go on forever. At that point, is it still a toy, or a hobby?"
At the specialty toy store level, even the strict assignment of one kind of toy for each gender gets called into question. At Adam Frost's Ossining, N.Y.-based store, The Wooden Wagon, "customers come from alternative types of education, like the Waldorf School, and there's not so much patterning. Boys learn knitting and weaving, for instance, and boys are taught to play with dolls," he said.
Lots of crossover in the end users of gender-geared products takes place, leaving it difficult to pin down whether boys or girls actually have more products to choose from. Specialty retailers agreed that encouraging play with all toys, regardless of gender, increases sales and widens the customer base.
"What we carry can go either way. We do have some gender-specific toys, but mostly they're neutral," said Matthew MacDonald, owner of Wooden You Know in Maplewood, N.J. "I would see at Target [for example] definitely more of a slant."
So, there may be hope for playful girls yet. Gietz even said she has been able to turn girls as old as 11 onto toys such as dolls from Only Hearts Club.

"Our dolls are real dolls, not fantasy," said Rouben Terzian, chairman and creator of Only Hearts Club, explaining why his dolls attract an older audience. "They don't have make-up, they don't have collagen lips, they don't have tattoos. The older kids get, the more they relate to reality."

What follows is more information on products that complement this article.