This month, TDmonthly Magazine's Expert Mom is on sabbatical, so the staff grabbed the toys and got down to the business of play. We put the experience of our collective childhoods to use as we tore open the packages and took a look at the toys up close and personal. Here are our thoughts about the toys and how kids might react to them.
Little Scrapbook in a Box by S.E.I.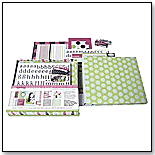 Age: not specified.
Gender: Boys and Girls
Price: $24.99
First Impressions
This scrapbooking kit is very nicely packaged with attractive muted colors and pleasing design. Everything you need to create an entire scrapbook (sans pictures) is included in one box. It is a perfect gift for graduations, baby showers or any event that's worth commemorating.
Developmental Stage
For children, putting together scrapbooks may help develop their visual-spatial skills. This particular kit demands some manual dexterity, so it would probably be best for kids 8 and up with some adult supervision.

Skills Reinforcement
There is a lot of room for creativity in this little package. For those who like to have guidelines, a sheet that includes instructions on putting together pre-designed pages is included.
Playability
An entire scrapbook can be created using the materials provided, so the product will take a while to finish. The memories capturedby this scrapbook will last a lifetime.
Recommendation
This is more of a project than a toy and more suitable for tweens, teens or even adults. Since everything is prepackaged, it is tempting to follow the included directions and create identical albums. My suggestion is to throw that piece of paper away and use the provided materials to make the album entirely your own. It would be a more rewarding experience.
Scrapbookit Baby's Story by Avalanche Publishing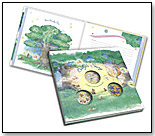 Age: not specified
Gender: Boys and Girls
Price: $19.95
First Impressions
This adorable baby's book gives parents lots of guidelines for putting together a remembrance of their child's first year. There are plenty of spaces for baby's first photos, photos of Mom and Dad, and a water-color family tree. Friendly illustrated animals run through the pages so that baby will enjoy reading her first hagiography as soon as she's able.
Developmental Stage
Although adults are usually the ones to assemble baby books, since this one is filled with sheets of animal stickers and silly sayings as well as glue-on 3-D stars, big brothers or sisters should also want to give Mom a helping hand. If they already have their own baby book, they can take particular satisfaction in making sure that their newest sibling has nicely decorated pages and lots of filled-in information, for later comparison.

Skills Reinforcement
Children who help Mom or Dad put together this remembrance book for Baby will exercise their fine-motor skills. They'll also have a sense of satisfaction, knowing that they contributed to a keepsake that will be handed down through generations.
Playability
All the stickers and stars make it a fun project for kids of almost any age. The tiny pieces, though, mean that no one under 4 or so should get their hands on this little book without adult supervision.
Recommendation
This would be a great project for a big brother or sister to help out with while mom and dad are frantically trying to deal with the new bundle of joy. Since first children usually are the only ones in a family who have a completed baby book, making an album that's child-friendly is a smart idea. Little kids will have a real sense of accomplishment in helping with this book … and may even want to add some of the stickers and stars to their own baby books!
Margaret by Action Publishing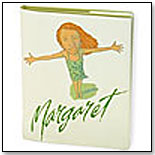 Age: 3 to 12
Gender: Girls
Price: $12.95
First Impressions
Margaret is a simply illustrated book about a girl of simple pleasures. She brings the sun up to make sure it's shining. She says hello to the moon and the stars to make sure they're still there. Most of all, she enjoys the world of nature that surrounds her and her own place in it.
Developmental Stage
This book about a free-spirited girl sends a lovely message of connection and empowerment to young girls. The book is simple enough for very young readers but will also appeal to older girls.
Skills Reinforcement
Little girls can practice their reading skills while following Margaret's empowering adventures with nature. Older girls can ponder her philosophy of responsibility toward nature.
Playability
With clean, simple drawings and lots of white space, this book should probably be kept out of the youngest hands, which might be tempted to fill in the "blanks" with their own crayoned creations. But girls of all ages should appreciate Margaret's simple approach to life and her easygoing nature with Nature.
Recommendation
Margaret is just the kind of book that one "girl" — aunt, mother, grandmother or friend — should give to another.
My Mei Mei by Penguin Putnam

Age: 4 and up
Gender: Boys and Girls
Price: $16.99
First Impressions
Beautifully illustrated by a Caldecott winner, this book tells the story of the author/illustrator's own growing family from his eldest daughter's point of view. Antonia begins to long for a "mei mei" — little sister — to join the family. Adopted herself, she then experiences the adoption process of a new little girl in the family. Strangely enough, the real little baby is nothing like the "mei mei" that Antonia had once imagined!
Developmental Stage
A great story for kids who are adjusting to new family members, "My Mei Mei" helps kids articulate their jealousy and love for their little siblings. Antonia is at first resentful that her mei mei is not as pliable as the dolls and stuffed animals who were her stand-ins. But as she learns to accept the little girl, Antonia finds that being a big sister is even more rewarding than she could imagine. This story is helpful both for younger siblings — who may wonder why their elders are sometimes impatient with them — and for older siblings, who have to learn to accept the new baby with all its wonders and flaws.
Skills Reinforcement
Parents can use "My Mei Mei" to help their kids express feelings about themselves and their siblings. The simple, identifiable story is perfect for reading along.
Playability
"My Mei Mei" is the kind of book that an older sibling might want to read to a younger sibling or child. Since Antonia learns about acceptance, the older child can help teach the younger some of the simple lessons in the story.
Recommendation
Although "My Mei Mei" is a story about an adopted family, the feelings and experiences of the children and adults are universal. "My Mei Mei" is a perfect book to help children cope with a growing family, the feeling of being left out and the reality of a new little brother or sister with whom they will share their lives.
WavyWand by Alight Technologies, LLC (ToyDirectory)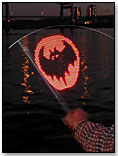 Age: 6 & up
Gender: Boys and Girls
Price: $30.00

First Impressions
I was immediately impressed with the technology behind the WavyWand. At first I thought that only words could be displayed, but the WavyWand can draw images as well as create animations. The WavyWand Web site even offers free technical support to help with more complex designs, and Alight plans to offer free software to upload designs via USB.
Developmental Stage
Adults might appreciate the technology, but kids just like to play! My nephews played with WavyWand and enjoyed spelling out their names, followed by the positive reinforcement of seeing the words reflected in the air.
Skills Reinforcement
This toy helps build hand-eye coordination as well as spelling and vocabulary skills. The WavyWand encourages creativity and fosters imagination
Playability
With so many different combinations, anyone will have fun mastering the different functions of the WavyWand.
Recommendation
I would highly recommend the WavyWand because of its versatility and uniqueness. It can be used at sporting events, parties and concerts. It could even be used as a roadside assistance tool with its built-in LED flashlight and bright display. Both kids and adults will have fun with the limitless possibilities.
Mighty World: Diego the Firefighter byINTERNATIONAL PLAYTHINGS INC.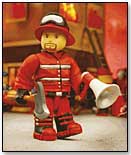 Age: 3 and up
Gender: Boys
Price: $3.99

First Impressions
This is an excellent choice to inspire imaginative play and role-playing in children. What's more, Diego implies multilingual, cross-cultural learning, which is another plus. Diego is a sturdy play figure who comes with a fire ax, bullhorn and fireman's helmet (which comes off). It's just the right size for the littlest ones and detailed enough for bigger kids.
Developmental Stage
This is a great way for young children to be able to role-play. Diego is very much the fireman without being tied to any particular television or movie license, which enables a wider range of imaginative play. Each of his accessories allows for further expansion upon his capabilities and story roots. Simply by moving the rolls around kids can come up with new stories over and over again. It's a great tool for building vocabulary and listening comprehension. Children follow the story closely because they created it, and they can answer all the questions regarding it.
Skills Reinforcement
This toy helps build skills in role-playing, imaginative play and cross-cultural awareness.
Playability
This toy is very easy for children to use: It's a figure that's obviously a fireman. They can pretend to be firemen themselves, or add it to their other play figure groups and "interact". It's the perfect size for taking to friends or in the car, and the Mighty World line is a huge world for Diego to be part of. Children love to play with it in groups and by themselves.
Recommendation
I like Diego. He's a little angry-looking, but he's a fireman which is a serious job. Boys will love him and girls probably, too, although probably not nearly as much. A female firefighter would help (maybe Donna?) to keep girls' attention. This toy seems very durable and children can come up with numerous stories to go with it. The only caveat is that when Diego's helmet is taken off, his head shape and "slot" (for the hat to fit into) make him look a little odd.
UglyDoll Card Game by Gamewright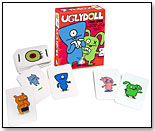 Age: 6 and up
Gender: Boys and Girls
Price: $10.00
First Impressions
The bright red box with two giant goofy-looking uglys on it piques my interest. It screams "fun" and "weird," two of my favorite adjectives that I like to scream. The brief instructions on the back of the box quickly convey that the game will be fast-paced and competitive. This will appeal to those with short attention spans. Kids will enjoy shaming their sworn enemies after prevailing under challenging circumstances with comments like "hey nanny-nanny."
Skills Reinforcement
Players compete to be the quickest to grab up UglyDoll cards when three of a kind are overturned from a sort of card soup lying in the middle of all players. This helps build hand-eye coordination. If playing the game while sitting on the ground with legs crossed and nothing to rest their backs against, players could also improve their balance. And players will probably even learn snarky comments from each other when rubbing each others' faces in their losses. For instance, "Face!" That's a good one. Or even "Face off!" That's a good one, too.
Playability
Can you say "I want to play Gamewright's UglyDoll Card Game all day long instead of going to work?" Can you say it 10 times fast? I bet not. The game gets even more challenging when players are forced to call out the names of each individual UglyDoll character before picking up that character's card. It keeps things good and ugly, just the way I like it. And it only takes about 15 minutes to play a round, an added bonus.
Recommendation
Heck ya you should get this game and put it on your store's shelf! Kids will totally want to buy it. People who work for a living will want to quit their jobs and play it all day long just like I said above. Kids will want to stay home from school and do nothing but play the UglyDoll Card Game. Especially kids and adults who already own UglyDolls.