April 15, 2021

July 2006 | Vol. V - No. 7

---
Papo and Schleich Kick Hasbro off the Shelf
Kids and Retailers Choose Imagination Over Hype
"It is incredible to see the amount of involvement and imagination kids put into [Papo]." — Lee Ann Stern, Village Toy Shop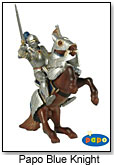 With reporting by regional correspondents Pennie Hoover and Marie Rossiter.

Boys and dads sweep shelves clear of Papo and Schleich knights, and then drop to the floor for a jousting match before bringing the figures home, 13 of 19 retailers told TDmonthly Magazine. The emptied space isn't being filled by traditional licensed figures, though — Batman and Spider-Man have been mostly banned to the big box stores, they said. And in one Southern town, make-your-own Stikfas (ToyShow) figures are a hit with boys age 9 to 18.
"There has been movement to unlicensed products lately," Laura Brauer, general manager for Cloud Nine Toys in Sudbury, Mass., told TDmonthly. She said that licensed figures had dominated in previous years, owing to blockbuster movie releases. But this year, "Sales are about 50/50 for the licensed products versus unlicensed."
"We only carry a small amount of licensed figures: Batman and Super-Man, mostly," agreed Lee Ann Stern, general manager of Village Toy Shop in North Easton, Mass.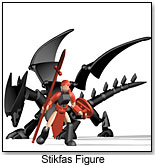 "I found Papo … maybe three years ago, and it was an immediate hit," said Trish Garlock, owner of Treasured Child in La Grange, Ky."Four-year-olds love them and the tweens don't play, but they display and collect."
"Papo sets — especially the knights — are huge," added Stern. "It is incredible to see the amount of involvement and imagination kids put into this item."
"We've come out with 85 new figures this year, and they've all been received positively," said Larry Hotaling, president of Hotaling Imports (ToyShow), which distributes Papo in the United States. "We've developed quite a following in our four and a half years on the market."
Papo's success has inspired other companies, including Schleich and Safari Ltd (ToyShow). At the American International Toy Fair 2006, German company Bullyland Toys introduced a new line of knights and dragons.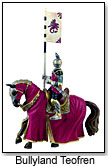 "Schleich is doing a nice job offering collections," said Brauer. "There's more play value and kids can keep building on it." Michele and Ken Gietz, owners of Where'd You Get That? in Williamstown, Mass, agreed.
At Dolls by Jerree in Kingsport, Tenn., kids exercise their imaginations even more by making their own Stikfas action figures, said Neysa Lamon, the owner's daughter and co-worker. "We just started carrying Stikfas this year and they're doing great with 9- to 18-year-olds."
Customers decorate the figures with paint and markers, or even add features with Sculpey modeling clay and fire them in a conventional oven. During her interview, a 10-year-old boy came into Lamon's store asking to buy more Stikfas. (view article)

Only two toy stores — both from the Deep South — carried licensed action figures exclusively. Lord of the Rings, Star Wars, Batman, Superman, Spider-Man and Power Rangers were their best sellers.
Jeff Gurley, owner of The Lollipop Shop in Jonesborough, Tenn., sells a lot of Batman, but it's all retro: a die-cast Batmobile and articulated die-cast Batman and Robin figures by Corgi.
"They always do well, with or without a movie," he told TDmonthly. His customers for the toys are 60 percent men and 40 percent boys.
Garlock, however, is not a licensed action-figure fan: "If you see it advertised on TV, I'm not going to have it," she stressed. "I tried Lord of the Rings and that was a disaster."
Lamon is hoping for better luck with the Lord of the Rings and Star Wars figures by Sideshow Collectibles (ToyShow).
"Any of the McFarlane lines do really well: Twisted Fairy Tales, Dragons," added Dawn Fischer, owner of Borderland Relics in Mobile, Ala. "It's kind of hard to do action figures, since it's so hard to compete with Wal-Mart. Hobby stores have to be more eclectic."
Here are some of the eclectic knights and other figures that retailers said are pushing the Dark Knight and his cohort out of specialty stores:
Crusader - Lyson by BULLYLAND TOYS INC.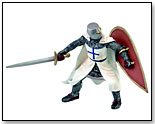 This stalwart knight is ready to conquer, with drawn sword and a fighter's stance. Part of Bullyland's new line of knights and fantasy figures, he debuted at the 2006 International Toy Fair. 5/2/2006 (Age: 3 and Up)



Flying Red Dragon by BULLYLAND TOYS INC.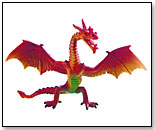 This angry dragon has spread his wings and is ready to breathe fire over any kingdom that gets in his way. He's one of Bullyland's new action figures for 2006. (

Watch Video) 5/2/2006 (Age: 3 and Up)



Papo — Dragon Man by HOTALING IMPORTS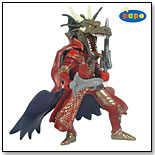 New for 2006, this half-man, half-beast is ready to beat — or eat — any knight who dares challenge him. With wings, armor, sword and teeth, he's a formidable enemy indeed. 5/2/2006 (MSRP: $4.99; Age: 3 and Up)



Papo – Knights Crusader by HOTALING IMPORTS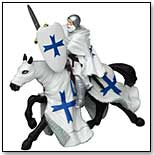 Dressed in white and emblazoned with a cross, this knight is ready to defend his faith. His horse is also dramatically draped. Each is available separately. Launch date: 2006.
— "Papo... across the line. Our Knight Papo figures are our best-selling stand-alone figures," said Alex Witten of Sparks Toy & Hobby Shoppe in Smithfield, R.I. Eighteen of 34 retailers TDmonthly spoke with in spring 2007 cited Papo as best-selling action figures in their stores.
— Retailers reported sales of Papo Knights averaging 50 to 100 units a month.
— "Papo's design, quality and play value continue to inspire children and even adults with the imaginary world of Papo," said Larry J. Hotaling of distributor Hotaling Imports. (

Watch Video) 5/2/2006 (MSRP: $4.99; Age: 3 and Up)



Papo – Red Horse With Unicorn by HOTALING IMPORTS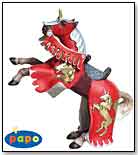 Dressed in fiery red and a unicorn headplate, this new horse is reared up and ready to go. All he needs is a knight, available separately. 5/2/2006 (MSRP: $4.99; Age: 3 and Up)



Papo – Leather Mask by HOTALING IMPORTS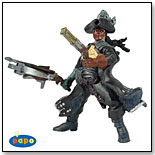 Knights will want to steer clear of this masked bandit. Heavily armed, his garments tossed by the wind, he's ready to take on all comers. He's new for 2006. 5/2/2006 (MSRP: $4.99; Age: 3 and Up)



Aragorn as Strider the Ranger 12-inch by SIDESHOW COLLECTIBLES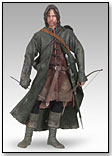 This authentic representation of Viggo Mortensen as Aragorn from "The Fellowship of the Ring" includes a fully articulated male body with over 30 points of articulation, costumed by a long duster, ranger belt, boots and more. He is completed with highly detailed accessories such as a sword scabbard including utility knife scabbard, a bow and arrows, a bed roll and more. 3/7/2006 (MSRP: $65.00)



Sigma Male Egyptian by STIKFAS/SAIZON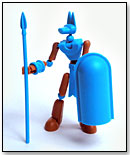 A new slim and slightly taller Sigma body type is featured in the Egyption pack. Accessories included provide a wealth of opportunity to re-create the age of the Pharaohs. This Egyptian was launched in May 2006. 5/2/2006 (MSRP: $9.00; Age: 8 and Up)



Batmobile Roadster With Figure by CORGI USA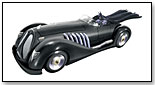 A dramatically sculpted Batman figure sits in the driver's seat of this limited-edition 1:18 Roadster. Finished in custom metallic black, the 11.5" x 4.5" vehicle features a hood that lifts up to reveal the engine. A rear compartment lifts to reveal Batman's weapons and gadgets. Batman is a favorite of men who collect, said Jeff Gurley, owner of the Lollipop Shop in Jonesborough, Tenn. "They've always wanted something and now they can buy it! They buy either what they once had or once wished they had." 5/26/2006 (MSRP: $43.99)



Spider-Man by CORGI USA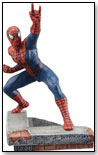 Corgi USA acquired the license from Marvel Entertainment Inc. to produce exclusive high-end collectible metal figurines of some of the hottest characters in the comic book world. Corgi's 1:12-scale (approx. 6") metal Spider-Man will stand the test of time. Produced in very limited quantities, he and other highly detailed figures will be priced to encourage consumers to collect the complete line. Each character will be produced in 3D along with alter ego figures and adversarial characters so collectors can build a comprehensive collection. Other figures will include Captain America, Hulk, Thor as well as other heroes and villains. Launch date: February 2006. 12/9/2005 (MSRP: $50.00; Age: 14 and Up)



Knight With Red Shield and Horse by SAFARI LTD.®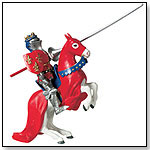 These figures are part of the Knights and Dragons series and are sold separately. Both collectibles are hand-painted and accurately detailed. 5/23/2006 (MSRP: $4.50; Age: 4 and Up)



Duke of Britain Knight & Horse by SAFARI LTD.®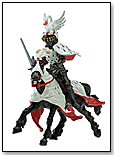 These figures are part of the Knights and Dragons series and are sold separately. Both collectibles are hand painted and accurately detailed. They´re constructed of durable, long-lasting polyvinyl. Both the knight and the horse measure 4" tall and are designed to fit together. (

Watch Video) 11/1/2005 (Age: 4 and Up)



Knight's Castle by SCHLEICH NORTH AMERICA, INC.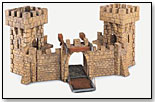 Jousting knights and horses need a place to gather, rest and strategize. This modular castle has two 16.5" towers with crenellations so archers can let fly and then hide, a drawbridge and an authentically medieval look. Made of textured plastic, the castle comes as an easily assembled kit. Towers and other pieces are available separately so that kids can add to the castle as their collection of knights and horses grows.
— Karen Barwick, owner of Boomerang Toys in New York City, expected the Knight's Castle to be a great Christmas seller.
— The knights and horses that fit in this castle have been cited by almost every retailer surveyed as the hottest collectible item among boys ages 4 to 12.
— "The Knight's Castle is a winner for us," said Sam Armstrong, CEO of Schleich North America. "It's a product everyone is chasing right now. We're getting containers in every week, so it's just a question of keeping of up with the demand." 10/27/2005



Prince on Reared Up Horse by SCHLEICH NORTH AMERICA, INC.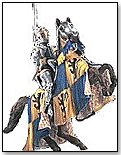 A knight in full armor sits on a horse wearing full tournament jousting regalia. Made on a scale of 1:20, this knight is approximately 5.2". The realistic depiction reveals folds in the cloth cape and gives off a metallic sheen, though the figurine is made entirely of plastic. 10/26/2005



1/4 General Grevous by SIDESHOW COLLECTIBLES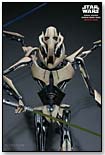 As seen in the final installment in the Star Wars Saga — "Star Wars Episode III: Revenge of the Sith," General Grevous is a nearly unstoppable cyborg with the sophisticated mind of a killer and a body that blends flesh and metal together. The 1/4-scale Premium Format General Grievous Figure was meticulously sculpted to capture every detail of Grievous' techno-organic body from the organs captured in his clear green chest cavity to the marbled surface of his armor. The figure itself is a composite of metal, plastic and polystone and engineered to provide the optimum stability and durability. The detailed paint application utilizes elaborate marbling and metallic techniques that breathe life into what little is left of his organic being. Each of the General's four robotic limbs wields a Jedi lightsaber, each a trophy from his fallen prey. Included is an environmental display stand with artist and edition information on the base bottom. The figure stands approximately 25" (635mm) by 18" (457mm) by 18" (457mm) with lightsabers. 12/7/2005 (MSRP: $449.00; Age: 8 and Up)



Legolas Greenleaf by SIDESHOW COLLECTIBLES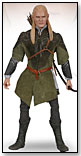 Sculpted by Andy Bergholtz, this 12" authentic likeness of Orlando Bloom as Legolas features a fully articulated male body with 30+ points of articulation. The detailed costume includes an undershirt, mirkwood tunic, pants and boots. He's accessorized with a mirkwood bow, five arrows, a quiver with knife sheathes and two knives. Legolas features interchangeable hands, including a bow grip left hand, sword grip right hand and an arrow grip right hand. The display base is decorated with the Lord of the Rings logo. 5/26/2006 (MSRP: $54.99; )



---
---


Copyright © 2021 TDmonthly®, a division of TOYDIRECTORY.com®, Inc.