Every couple years brings a resurgence in (Betty) Boopism.

SpongeBob cereal. Jimmy Neutron soup. Star Wars toothbrushes. Life has become one big licensed product. Many of the best selling toys are based on the latest hit movie or the #1 television show. But what about those toys based on something off the beaten track? Do they sell? Are they a good match for specialty stores? You betchum Red Ryder. (That phrase is from the brand that spawned the longest running licensing agreement in history. Can you guess which one?[1]).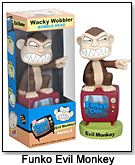 Betty Boop, for example, never goes away. She was first introduced in a 1938 cartoon by Max Fleischer (who later introduced that other icon, Popeye). Every couple years brings a resurgence in Boopism. Sababa Toys makes a Betty Boop Uno. NJ Croce makes a bendable figurine. FunKo makes a bobblehead. Urban Station makes an alarm clock. And Celebriducks' very first duck was … you guessed it: Betty Boop.
"Betty Boop is an icon," explained Craig Wolfe, owner of Celebriducks. "It is interesting, as we could have picked basically anyone to start the company with about 10 years ago, but we chose Betty."
Remaining one of the company's best selling products, Wolfe said her smart, sassy persona attracts all age groups. One of the first female cartoons in history to exhibit depth of character, she is both coy and independent. In a word, Wolfe said, "She is timeless."
Little Apple Dolls, created by Yurie Urie, are almost the inverse of Betty Boop. Dark to her light, these eerie dolls with faces not fully formed are inspired by Japanese horror classics and dark anime fantasy. They are both monstrous and beautiful. And they are a hot item.
On a more steak and potatoes note, one of the best-selling die-cast licenses is not Porsche, not Ferrari, but … John Deere. All-American farm equipment is great for kids and adults alike. "Kids like the things they know," Peg Scholtes, owner of Capital Kids LTD in Madison, Wis., pointed out.
Michele Gietz, co-owner of "Where'd You Get That?" added, "The John Deere collection is also coming out with some great stuff for the younger kids — with faces on them, etc. They have a wide range for kids of all ages."
Bill Walters, managing director of agriculture and off-road replicas for RC2 Corporation, explained that the "John Deere products are selling very well." This year, RC2 will announce a line of John Deere infant products through its Ertl division, and it will continue to produce die-cast farm-related vehicles as it has done for over 60 years.
One manufacturer that's poised for license expansion is Kid Robot, the creator of unique art toys and character-driven creations. Wild Brain, a leading boutique animation studio, recently purchased a majority stake in the company, thereby opening the door to future television and movie deals.
Yet Paul Budnitz, Kid Robot's founder and president, said products will continue to be sold only at the specialty retail level in order to preserve their high quality. "If major chains can deal with that someday, and the high price-point, it could happen on a very limited scale, but I doubt it at this point," he said of eventually selling into the mass market.
Want to diversify and conquer? Look to licenses off the beaten track. You may find some excellent sellers that stand out from the "seen-it-already" crowd.
[1] Based on the Red Ryder comic strip, TV series, movies, etc. — the Dairy Manufacturing Company Inc. licensed the Red Ryder trademark in 1939 and still makes Red Ryder Air Rifles to this day.
— "Mostly adults buy these," noted Tory Middlebrooks of Lulubell: A Toy Bodega in Tucson, Ariz. "They're usually collectors of art toys."
— Another retailer pointed out that collectors start young. These Bots make a good start.
— The Bots were launched in Summer 2005.