April 17, 2021

June 2006 | Vol. V - No. 6

---
Top-10 Most Wanted Toys for Little Girls
The 4-to-8 Crowd Chooses Groovies, Crafts and Critters
With reporting by regional correspondents Marie Rossiter, Pennie Hoover, Viriginia Davis and Terrie Lazzell
Arts, crafts and collectibles are still going strong with little girls, retailers across the country told TDmonthly regional correspondents. Groovy Girls was one of the most popular product lines, but their soft heels were being nipped by teeny Calico Critters. One retailer claimed that journaling had passed hands from older tweens down to their younger sisters … could this be a trend?
Baby Play Park by Calico Critters by INTERNATIONAL PLAYTHINGS LLC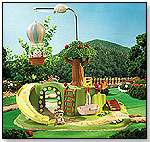 This new environment gives the babies of Cloverleaf Corners lots of adventures as they slide down the slide, crawl through the tunnel, run over the bridge and climb to the top of the hill. Best of all, there is a hot air balloon they can ride above the park. The park itself comes with everything needed to start playing — including two twin-sized Critters!
— "Calico Critters have been an exceptional thing...my highest increase in sales the last three years," Yamil Castillo, owner of The Red Balloon Toy Store in Salt Lake City, Utah, told TDmonthly in April 2008.
— "Calico Critters consistently sell. There is just something that appeals to adults and children as well," Donna, manager of The Treasured Child in LaGrange, Ky., told TDmonthly in April 2008.
— Three of 50 retailers, who spoke with TDmonthly in April 2008, singled out Calico Critters playsets as best-selling playsets. (

Watch Video) 3/28/2006 (MSRP: $44.99)



It's All About Me! by KLUTZ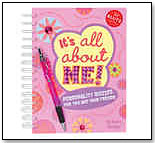 This book of personality quizzes for tweens and their friends prompts them to ask such soul-searching questions as, "What Kind of Cookie Are You?" Kids can jot down the answers on a 70-sheet note pad and then compare the results. There are true/false, finish the doodle and flow chart tests to suit all moods and quirks. The flexible book covers also come in different colors: serene green, hot pink and all-about-you blue. It's written by Karen Phillips.
— "Crafts, particularly Klutz books, are very popular," said Laura Brauer, general manager of Cloud Nine Toys in Sudbury, Mass.
— "Klutz just keeps selling, no matter where we have a display. As long as we keep it stocked, it sells," raved Michele and Ken Gietz, owners for 15 years of Where'd You Get That in Williamstown, Mass.
— "We don't carry much in this area, but we do have Klutz products that they like," said Kim Walter, manager of Giggles in Stoughton, Wis. 5/10/2006 (MSRP: $14.95; Age: 8 and Up)



The Funky Bead Chest by BEAD BAZAAR/KID JOURNEYS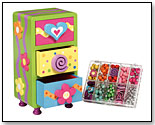 Kids can hide all of their treasures in this stylish, hand-crafted Funky Bead Chest. It's the perfect place to store finished bead creations and other accessories. All the drawers in this adorable chest are fully lined. The Funky Bead Chest contains tons of beads, plus lots of string and charms. The bead chest is a great permanent keepsake and it is one of Bead Bazaar's iconic items. It adds a touch of style to any room, is 9" by 5" by 4" and can be used to create three different accessories. It won an Oppenheim Toy Award in 2006.
— "Bead Bazaar is my best-seller for girls that are into crafting," Christina Callan, owner of Interactive Toys Crafts & More in Cle Elum, Wash., told TDmonthly.
— "I'd probably say bead kits. We get them from Bead Bazaar," was the response from Tristan Hewitt, manager of Dragon's Toy Box in Seattle, when asked about customer favorites in his store.
— Moore Porsaid, president of Bead Bazaar, shared his thoughts with TDmonthly: "[The Funky Beach Chest is] a painted and hand-crafted bead kit. You can create jewelry with it as well as [store] a finished product. Girls can also add their own jewelry to it if they like." 3/17/2006 (MSRP: $19.99; Age: 4 and Up)



Webkinz Puppy by GANZ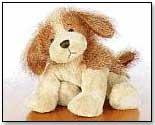 This soulful pet is computer savvy, too. He has a special code on his neck that lets kids log onto the Ganz website, find his online counterpart, and begin to build a special room just for him, with points gained from answering trivia questions.
— "The Webkinz have done really well," said Rob Slye, owner of Toys Ahoy in Barrington, R.I.
— Lee Ann Stern, general manager of Village Toy Shop in North Easton, Mass., said that the toy was selling extremely well.
— In May 2006, TDmonthly reported that Webkinz had been selling extremely well for Easter with both boys and girls up to 10 years old. (view article 1946) 4/27/2006 (MSRP: $9.95)



Beaded Mirror by CREATIVITY FOR KIDS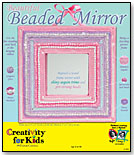 Embellish a wood framed mirror with sequin trims and pre-strung beads. Mirror measures 9" by 9" and includes an easel back, ribbon and hanging hooks for display. Reverse the mirror and use it to frame your favorite photograph.
— "Creativity for Kids art kits" were the top seller for little girls at Ambassador Toys in San Francisco, said one long-term employee.
— Creativity for Kids arts and crafts kits do well, agreed Rob Slye, owner of Toys Ahoy in Barrington, R.I.
— Arts and crafts are almost always cited as a strong category for girls of all ages among the retailers that TDmonthly surveys. (

Watch Video) 4/20/2006 (MSRP: $17.99; Age: 8 and Up)



Girl on a Horse Journal by PEACEABLE KINGDOM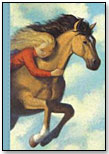 A dreamy girl on a flying horse graces the cover of this 6" by 8" hardbound journal. Inside are 200 lined pages just ready to capture tweens' innermost thoughts.
— "So many of these kids want to be writers and published authors," the Gietzes, owners of Where'd You Get That? in Williamstown, Mass., told TDmonthly. Horse images and other designs were among the little girls' favorites.
— Journals are often mentioned by retailers as being big in the tween years, too.
— Peaceable Kingdom offers a variety of kid-friendly journal designs that should appeal to the next young breakout writer. 5/10/2006 (MSRP: $6.95)



Princess Taylor Angelique Fairy w/ Mystique by ONLY HEARTS CLUB GROUP LLC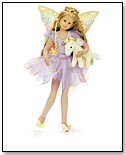 Her shimmering wings let her fly through the air with her princess unicorn friend, Mystique. The doll and outfit include a baby unicorn.
— Princess toys were a big seller among 4- to-8-year-old girls at Gepetto's Toy Box in Oak Park, Ill, said owner Eric Masoncup.
— "Princess anything" does well, concurred Holly Owellette, owner of Learning Train Toys in Sun Prairie, Wis.
— The Only Hearts Club Princess line is brand new and features four characters, including a mermaid and a bride. Each Princess carries her own special pet. The Only Hearts Club is now available at Target.
—Joanne Callander, the designer for the Only Hearts Club dolls, has always created her own OOAK fairy dolls, treasured by collectors the world over. She told TDmonthly, "I believe in fairies and so do children. Children and adults who believe in fairies take better care of the earth." 3/29/2006



Fairytale Princess Pinafores by CREATIVE EDUCATION OF CANADA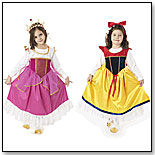 The Snow White pinafore reverses to Sleeping Beauty for little girls with lots of imagination. The Snow White side is made with a yellow satin skirt and blue velvet bodice trimmed with fancy gold braid and satin ribbon. The Sleeping Beauty side is made with a satin skirt and an organza bustle trimmed in gold braid and lace. The bodice is made from velvet and satin embellished with fancy gold trims. Winner of the 2010 Children's Choice Award by the Canadian Toy Testing Council.
— "Dress up, mostly princess," is what grabs little girls' fancies at Cheeky Monkey Toys in Menlo Park, Calif.
— Dress up is hot, agreed Breck Hewitt, co-owner of Dragon's Toy Box in Seattle.
— For girls who need a break from the princess routine, Creative Education also offers fairy, flapper, ballerina and medieval costumes. 1/16/2006 (MSRP: $64.99)



Fashion Angel Feather Head Pens by FASHION ANGELS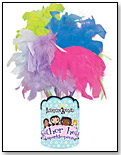 These pens are made of the finest turkey feathers, dyed in the prettiest colors. The pens feature a cool, twisted transparent barrel: the diva's favorite. Pens are packed in a transparent tub. Fashion Angels recently changed its name from The Bead Shop. (view article 1968)
— "The Bead Shop is fantastic!" raved the Geitzes, owners of Where'd You Get That in Williamstown, Mass. "They really understand what girls want."
— Arts and craft kits are little girls' favs, asserted Jordan Walden, manager of Finnegan's Toys and Gifts in Portland, Ore.
— Other Bead Shop/Fashion Angels items that retailers mentioned as selling well for girls 4 to 8 included knitting and crocheting kits. 5/10/2006 (MSRP: $3.00; Age: 6 and Up)



---
---


Copyright © 2021 TDmonthly®, a division of TOYDIRECTORY.com®, Inc.