April 16, 2021

June 2006 | Vol. V - No. 6

---
Picking Popular Licenses Proves a Guessing Game
Licensed Products: Win Some, Lose Some
"We look at licenses that speak to generations." — Anne-Marie Felician, JAKKS Pacific Inc.
Traditionally, kids reach for characters from popular TV shows, movies and comic books to extend play in those fictional realms. However, not every storyline transitions into a successful product line. So how do manufacturers and retailers predict hit licenses?
Anita Frazier, industry analyst for NPD Group, said, "Figuring out what makes an 'it' property is very difficult, if not impossible, to predict." Imperative, she said, are creative elements that can be developed into unique items. "The premise, characters, etc. all have to resonate with kids as well. There has to be the perfect storm for a true merchandising hit.".
And since licensed toys represents about 25 percent of annual toy dollar sales in the United States, according to NPD, it remains an important part of the toy industry.
Michael Riley, vice president of marketing at Bandai America Inc., said that much toy success depends on choosing the right licensor. "They can work together to create a seamless brand story that translates both to TV as well as at retail," he said.
Jill Bazos, vice president of marketing for Sababa Toys, said that deciding which license to use encompasses many factors. The license must be relevant to the toy, have staying power and be well-received by the target group and the trade (though not yet hot or you're already too late).
Anne-Marie Feliciano, director of corporate communications at JAKKS Pacific Inc., said her company looks at the target audience of the license and then whether it's a book, TV show or movie.
"We look at licenses that speak to generations," she said. So far that has meant working with such superhero licenses as Superman and Batman. And this fall JAKKS will debut a line of Rocky products to coincide with the release of the new movie.
In addition, JAKKS is banking on an edgy urban license with rap artist and music mogul Snoop Dogg. Dog toys, beds, leashes, apparel and treats in the line will ship later this year.
Cynthia Money, vice president of consumer products at VIZ Media, noted that like the Snoop Dogg products, "what makes our business so exciting is that every once in awhile a brand will come out of nowhere, built on consumer demand."
Money suggested that retailers need to evaluate what their customers are interested in and work with the licensor to understand the brand. "Many times a brand may work at one retailer or channel of distribution and not another," she said.
At both Toys "R" Us in Fort Wayne, Ind., and Wal-Mart in Bluffton, Ind., store managers said that while it's still too early to know what licensed products will hit this holiday season, "Cars" items are all the rage.
"People are buying the die-cast cars now," Toys "R" Us manager Steve told TDmonthly well before the June 9 film release date.
Wal-Mart toy department manager Ira Lautzenheiser agreed. "Normally the toys really move right after the movie is released," he said. He also expects strong sales from "Superman" licensed products this summer.
The following is more information on popular and new licensed products.
Mystic Force Dragon Morphin - Dragon by BANDAI AMERICA INC.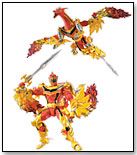 Coming in early 2006, the 6.5" Mystic Force Dragon Morphin Figures are always ready for battle. Each Ranger easily morphs from red, green, yellow or Knight Wolf Warrior Ranger mode into Red Fury, Green Minotaurus, Yellow Thunder or Dark Fury Dragon mode (shown here). Each has its own special weapon and cool accessories. 1/4/2006 (MSRP: $10.99; Age: 4 and Up)



Xiaolin Showdown Crouching Cougar Vehicle by TOY PLAY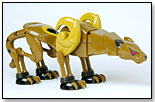 Kids can take their Xiaolin warriors for a spin in this Crouching Cougar Vehicle. The first Xiaolin Showdown line debuted in spring 2006. Fans will love the fall 2006 collection even more. 2/22/2006



Megaman Ultimate 10" Articulated Figure: Megaman by JAZWARES INC.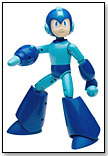 The 15th anniversary of the popular Megaman video game series inspired these original Megaman action figures. Each figure is fully articulated and about 10" tall. All figures come with a buster that fires and a removable chest piece.
— "Megaman NT Warrior" ("Rockman EXE" in Japan): a TV show, a video game, a way of life, the Megaman toys have gone far beyond their media counterparts, and continue to do well. The latest 10" action figure is a good example, as is the whole 15th Anniversary line.
— Sheila Hornsby, manager at the KB Toys in Columbia, S.C., reported "excellent sales" of the 10" Megaman figures.
— The 15th Anniversary figures are "doing well for us," according to Robert Zachary, owner of Z-Toys in Detroit. "I've always liked the Rockman/Megaman toys; they don't look like anything else out there. 3/29/2006 (MSRP: $9.99; Age: 4 and Up)



Battle B-Daman: Electronic Lava Knight DHB Blaster by HASBRO INC.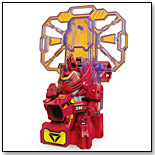 Kids can power up any B-Daman battle with the cool Lava Knight DHB Blaster featuring electronic lights and sounds that take the mêlée to the next level. They can try different gaming options to test playing skill, such as DHB Triad or DHB Tag, two awesome variations on radical B-DaBall action. The B-Damans toys are not from an outright movie but a Japanese anime show. They are getting wickedly popular now while the show has not yet become mainstream.
— "I've been a fan since the very first toy came in from Japan," explained Douglas Mattigan, owner of Mattigan's Madness in Portland, Ore. "People don't realize they're from a show, they just like them."
— "I think the Battle B-Damans are a fresh look from everything else out there, and kids can collect them and play with them without following a 'trend,'" said Deborah Solvang, manager of Dusty's Toy Box in Denver.
— "These things are addictive," laughed Tony Stalling, co-owner of Little Things in Cleveland. "You start playing with them, and you can't put them down." 3/29/2006 (MSRP: $12.88; Age: 8 and Up)



Monopoly: Family Guy Collector's Edition by USAOPOLY


Not your ordinary family, The Griffins have joined with America's favorite board game to create a no-holds-barred land grab — and it's each man, woman and child for him- or herself. Set in Quahog, fans get to wheel and deal for 22 unique locations in Peter Griffin's hometown. Geronimo's Palace, Cleveland's Deli and Pawtucket Pats are just a few of the locations up for sale, not to mention the sovereign nation of Petoria. This collector's edition features never-before-seen Family Guy illustrations and six collectible pewter tokens.
— "Tween girls like a lot of the classic games — especially board game," said Laura Brauer, general manager for Cloud Nine Toys in Sudbury, Mass.
— Games are big with big girls, agreed Holly Owellette, owner of Learning Train Toys in Sun Prairie, Wis.
— "Games still work" for girls of that age, concluded Paul Faustine, owner of Red Dragon Toys in Brunswick, Maine. "Games are still on an increase and have been for the last year or two — the games that a youngster can play and don't drive parents nuts," he added. 4/12/2006 (MSRP: $35.95; Age: 8 and Up)



Sesame Street Table Topper® All-in-One Meal Kits by NEAT SOLUTIONS INC.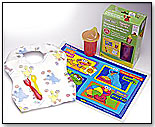 Table Topper All-in-One Meal Kits cleverly combine all the essentials for feeding baby, age 6 to 36 months, while away from home into one convenient, easy to carry assortment. Each kit includes a Table Topper disposable stick-in-place placemat, a Tummy Topper disposable bib with crumb catcher and a disposable fork and spoon all enclosed within a disposable sippy cup with no-drip spout. The cup contains the bib, placemat and utensils and is wrapped in protective plastic to keep the kit sanitary and incredibly simple to transport. Parents just toss a cup into their diaper bags and go. Everything mom needs for a germ-free meal is neatly contained and ready for use. The product has won the iParenting Award of Excellence and the Juvenile Product Manufacturers Association "Most Innovative Product" Award. At retail a 4-count pack costs $ 4.99 and a 6-count pack costs $8.99. 4/13/2006



Napoleon Dynamite Talking Doll by KAMHI WORLD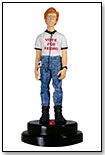 Sculpted by Paul Brook, the high-quality PVC figure stands 7 3/4" tall on his sound platform. Each talking doll comes individually packaged in a clear plastic tube that contains additional artwork from the movie. Batteries are replaceable. Top quality 57mm speaker and integrated electronics produce fantastic sound quality at just the right volume. The doll recites 18 different lines from the movie, "Napoleon Dynamite."
— "Napoleon Dynamite": Released in U.S.: June 11, 2004. Total U.S. Gross: $44,540,956. A surprise cult hit, Napoleon has made his way into the American psyche, and now the toy makers are scooping up the lucre. Kamhi World's Napoleon is the fastest-selling of the bunch according to retailers.
— "All of a sudden, stores are selling out of the Napoleon doll and calling us," explained Jay Kamhi, owner of Kamhi World, Clearwater, Fla. "It's really amazing. This may be due to the upcoming release of the collector's edition of the DVD movie."
— "BLOCKBUSTER! NUMBER-1 SELLER — CAN'T GET ENOUGH ..." shouted Brett Dewey, "Oh, wait; that was December. After Christmas we saw a dramatic drop-off in Napoleon D sales. He's still selling but has gone from our number one property to a much slower mover." 2/22/2006 (MSRP: $14.95; Age: 12 and Up)



DC Comics Trading Card Game – Superman Starter Set by UPPER DECK ENTERTAINMENT

Award-winning DC Comics Trading Card Game gets an extra boost this spring with the new Superman-themed starter set. Gaming and comic fans have the opportunity to join Superman and his friends in their never-ending battle against evil. The DC Comics TCG incorporates Upper Deck's game engine that represents epic Super Hero battles in a TCG format. The game is specially designed to be played at every level of competition, from casual games to professional-level tournaments, and can be played in a variety of different formats with any number of players. The game was voted The Best New TCG in 2004 by Inquest Gamer Magazine and received the 2005 Gamers Choice Origins Award. 1/27/2006 (MSRP: $9.99)



Justice League Alex Ross Series 1 Superman by DC COMICS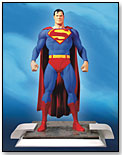 This valuable action figure was designed by artist Alex Ross and features multiple points or articulation. It comes packaged on its display base and in a four-color window box.
— This is Diamond Comic Distributor's top action figure, based on actual sales from March 2005.
— The BBC has polled moviegoers and discovered that Superman is the most popular superhero of all time.
— "Superman Returns" is listed by IMDb's MOVIEmeter as the seventh most anticipated movie of 2006. 4/29/2005 (MSRP: $11.95)



---
---


Copyright © 2021 TDmonthly®, a division of TOYDIRECTORY.com®, Inc.