May 16, 2021

June 2006 | Vol. V - No. 6

---
Excitement Builds for Construction Toys
Manufacturers Teach New Tricks to Old Blocks
"We're drawing attention from the younger kids, but also up to the teenagers, because [UberBots are] more fun than a violent video game." — Dane Scarborough, Uberstix
Former engineers and architects are trying their hand at building on a smaller scale.

TD

monthly Magazine

spoke with 12 manufacturers
—
several of them brand new
—
to find out how their toys stack up to the competition.
"I'm originally an architect and used my 3D design skills to develop Q-Ba-Maze (ToyDirectory)," inventor Andrew Comfort told TDmonthly.
Q-Ba-Maze is a modular construction toy based on the cube. A variety of entrance and exit configurations let builders create elaborate marble runs that permit a handful of simultaneous, discrete runs.
A prototype debuted at Toy Fair, but don't worry if you don't remember his booth: "I just walked around with a marble-run hat on my head," said Comfort.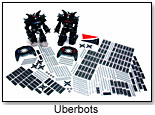 Dane Scarborough, inventor of Uberstix (ToyDirectory), would need extra-high ceilings for that: "With the multi-colored UberArch architectural series, you can build up to 20 feet," he told TDmonthly.
In addition to fun, his kits stress evaluation and innovation.
"The Science Project kits come with lab sheets," explained Scarborough. "Kids build things, note what occurs, make improvements and run more tests."
He anticipates his biggest hit will be the RC building toy, UberBots. Kids build and evaluate, but in between they battle, with up to six competitors on six different RC frequencies.
"We're drawing attention from the younger kids, but also up to the teenagers, because it's more fun than a violent video game," said Scarborough. "Preorders are already off the charts!"
The Engino building system from the European Union lets kids build with bigger and fewer parts.
"All of the assembled components have flush surfaces that may be covered by materials such as cardboard or fabric," said Engino CEO Costas Sisamos.
The triangular rods are expandable and connect on both ends. The new sets will be available starting late September 2006.
Little kids need to build and learn, too, and there are plenty of new options for them.
"Superstructs are based on the classic rod and connector style building system invented by Charles Pajeau in 1914," said David McCloskey of Waba Fun (ToyShow). "Superstructs foam and plastic pieces are vibrant and large, which makes them easily grasped by young builders. And the pieces are all dishwasher safe for easy cleanup."
McCloskey said their new kit, Superstructs Makin' Tracks "has already received a 2006 'Smart Play / Smart Toy' award from Dr. Toy."
Sue Dennison of Roy Toy, said her company also improved on a classic, with their log-cabin building set.
"Our square, flat design was prompted due to the instability of the "round" logs," Dennison told TDmonthly. "It is this unique design that also gives our building sets more of a realistic appearance. A log cabin actually looks like a log cabin and a fort looks like a fort."
For kids who want to build forts big enough to "live" in, several companies can help.
"Soft, inflatable Aerobloks allows realistic-looking life size structures to be built in minutes without concern for safety," explained Dick Liou of Tinker Minds.
Kids can make their own playhouses, boats, castles and forts, while learning cooperation.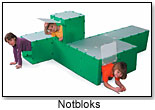 "To build large structures kids must negotiate, allocate responsibilities and then follow through the necessary sequence of building," pointed out Liou.
FunClub Toyz LLC (ToyDirectory) offers another life-size building set, which debuted in 2005.
"NOTBLOKS are lightweight, weather-resistant panels," Lee Madden of FunClub told TDmonthly. "Each NOTBLOKS kit contains approximately 2 dozen panels, which allows for many configurations."
Some little builders aren't into buildings, per se, but other sets let them create everything from helicopters to flying foxes.
"The Mic-O-Mic (ToyShow) range of construction toys utilizes a patented system of plugs and flexible clips," Tony Cross, president of Mic-o-Mic Americas, told TDmonthly. "Uniquely, there are no written instructions - just some pictures of how the toy looks at a few construction stages so the brain must figure out how to build it."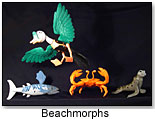 ZOOB building kits by Infinitoy also have a patented design. "The pieces were inspired by the nucleotides that make up DNA. It is used by architecture firms, mechanical design firms, oil drilling companies, and even NASA to model parts," explained Jeff Pinsker of Infinitoy. "ZOOB has five shapes that snap together 20 different ways so kids can build anything that they want to build."
If they want to build zany animals, River Dolphin has a new bucket of Zoomorphs that will be ready for Holidays 2006.
"Our Big Deluxe Tub set will include 100 pieces to make 10 characters," said founder Mark McFarland. "In addition to a reusable tub, the kit will include an educational booklet, a play mat and a very simple game that the whole family can play together with the 'Morph pieces."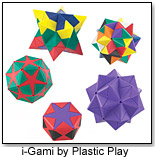 Another unique construction line that hasn't even come out yet is I-Gami by Plastic Play Inc. (ToyShow)

"The inventor loved origami, and we realized that there hadn't been any unique construction toy that works on a totally new principle," said Plastic Play owner Gerry Pascoe. "This toy is based on the principles of origami, but it's much easier."

Plastic pieces with up to six "living hinges" allow kids to bend, fold and snap them into "any 3-dimensional object that you can imagine," continued Pascoe. "I-Gami makes lightweight objects that hold together so kids can hang them in their rooms."
To get kids building in a new way, here are the products that manufacturers think will be their holiday hits for 2006:
Uberbot by UBERSTIX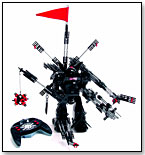 With the Überbots construction and RC kits, kids spend most of their time designing and building offenses and defenses and then testing their assumptions on the field of battle. If they are knocked down three times, they return to their lab and redesign to come back stronger. The more kids play, the more sophisticated their designs become. Dane Scarborough, inventor of Überbots and Überstix, told TDmonthly, "Build a boat and it floats or sails; build a UFO and it really flies; build a skyscraper and your ceiling may get in the way. More than one retailer told me that placing the order felt good because Überstix are designed to work with recycled items, including water bottles, Popsicle sticks, McDonald's straws, paperclips, etc. … This feature allows kids of all economic backgrounds to build big." The kit builds two Überbots with 250 Überstix, two controllers and two flags. Each Überbot will operate on a different RC frequency, with up to six Überbots capable of battling simultaneously. The kit can also be purchased with rechargeable batteries. (

Watch Video) 3/20/2006 (MSRP: $149.95)



Safarimorphs by RIVER DOLPHIN TOYS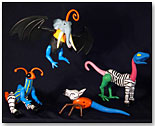 50 rugged plastic pieces snap together easily to form endless poseable creatures. In this set kids can make a Zebra, Jungle Butterfly, Flying Fox, Lizard and Elephant or morph them to make all sorts of fantasy creatures. Several extra pieces are included so you can create even more poseable creatures. The heads have hinged jaws. All Zoomorphs sets are interchangeable. 4/27/2006 (MSRP: $20.99; Age: 3 and Up)



ZOOBMobile Racer by INFINITOY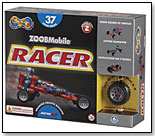 Infinitoy has re-invented the wheel with its ZOOBMobile Car Sets. Each set comes with ZOOB pieces, instruction guides and sturdy wheels with rubber tires that snap onto ZOOB pieces. As a bonus, the wheels are notched so that they can work like gears. The ZOOBMobile Racer includes 37 ZOOB pieces, four wheels and two instruction guides with models such as a three-wheeled racer, a Lunar Rover, and a dune buggy. This model debuted within the last year.
— "Zoob race cars … [we sell] maybe two or three per day," Greg Bonner, owner of Heights Toy Store in Little Rock, Ark., told TDmonthly in April 2008.
— "Zoob race cars are our best right now. We sell about one a week," Steve Ricks, owner of My Story House Toys in Roswell, Ga., told TDmonthly in April 2008.
— In April of 2008, four of 50 retailers who spoke with TDmonthly singled out this item as the best-selling construction toy in their stores. 5/22/2006 (MSRP: $14.99; Age: 6 and Up)



ZOOBMobile Car Designer by INFINITOY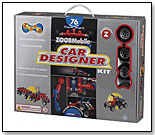 The ZOOBMobile Car Designer Kit includes 76 pieces, 12 wheels, and three instruction guides that include all the models from the Racer Set plus special models like a 12-wheeler flatbed truck. It debuted within the last year. 5/22/2006 (MSRP: $24.99; Age: 6 and Up)



ZOOBMobile Cruiser R/C by INFINITOY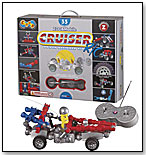 The Cruiser R/C comes in three parts so kids can snap it together, add pieces between the sections to create a dragster or a limousine, or build on the chassis after they snap the sections together. The set includes 55 ZOOB pieces, 4 extra wheels (for a total of 8), and instructions for all of the models in the Racer.
— "We sell approximately six per month," said Diana Gisolfu, co-owner of Sisters Kids in Springfield, Mass., in Fall 2010. One other of 33 retailers interviewed by TDmonthly said that Zoob was their only RC or hobby line. (

Watch Video) 5/22/2006 (MSRP: $39.99; Age: 6 and Up)



Brooklyn Bridge paper model kit by PAPERLANDMARKS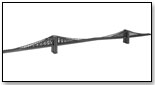 Kids can make a finely detailed replica of the famous New York bridge easily from pre-cut cardboard parts, either in steel or copper color on a 1/1000 scale. The size when assembled is 39 x 1,5 x 3,2 inches / 100 x 4 x 8 cm. The level of difficulty is "medium." The kit debuted in May 2006. 5/22/2006 (MSRP: $16.99; Age: 10 and Up)



Superstructs Makin' Tracks by WABA FUN LLC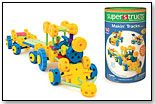 Superstructs Makin' Tracks gives young engineers everything they need to build a colorful train, rugged outback explorer, hard-working tow truck and much much more. It comes with large, vibrant pieces and a visual construction guide that make for easy building and plenty of happy travels. With 160 pieces, children will never run out of ideas or possibilities. Makin' Tracks has already received the 2006 "Smart Play/Smart Toy" award from Dr. Toy. Launch date: June 2006.
— "Superstructs by Waba" was cited as a best seller by Jane Beck, owner of B.J. Beck's Toys in Cedarburg, Wis.
— Two of 39 specialty retailers told TDmonthly in spring 2007 that Waba was makin' tracks with sales in their stores.
— "The Superstructs Makin' Tracks was actually designed together with kids. It involves stay-together models and is also designed for post-build play," said Owner David McCloskey of Waba Fun. 5/22/2006 (MSRP: $44.95; Age: 3 and Up)



UberPult™ - Science Project Series™ by UBERSTIX


Kids can build a functional catapult and learn the physics that make launching objects through the air possible. The catapult itself only requires 90 of the kit's 181 pieces, leaving plenty of extra pieces to upgrade and explore new design options. As part of the company's Science Project Series, this kit includes a Lab Sheet to test and record a series of suggested experiments."Our construction system is much more diverse than other products, offering integration with other construction sets (Lego, K'nex, Zoobs, Zomes) as well as with recycled materials (Popsicle sticks, McDonald's straws, egg cartons, water bottles). This offers limitless possibilities for children (and adults) to build structures taller than themselves. [Our products] are not available in the mass-market stores," COO Julie Bell of Uberstix told TDmonthly. The Uberpult received the 2007 Parent to Parent Adding Wisdom Award in both Toys/Games and Educational Products categories. It also received The Toy Man Online 2007 Seal of Approval, Award of Excellence and eChoice Award. Launch date: September 2006.

(

Watch Video) 5/22/2006 (MSRP: $21.99; Age: 8 and Up)



UberArc by UBERSTIX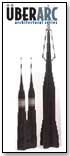 The UberStix in this set are variously colored and composed of varied materials. The Stix have been designed specifically for constructing "fantastic representations of buildings and bridges or your own designs," inventor Dane Scarborough told TDmonthly Magazine. "They don't look like toys. They look very industrial, modern or gothic — whatever the builder's intention is. The product debuted at Toy Fair 2006 and will ship in July 2006. Sets range in price from $99.99 to $300.00.


Build representations of existing skyscrapers, bridges & other structures
Create prototypes of your own designs
Basic building techniques are provided which show you how to create load-bearing walls, curves, arches etc.
For Architects, Engineers, Students and anyone that loves to build!
Architectural Colors Include:
Black, ship Metal Gray, Sandstone, Clear, Clear-Green, Clear-Blue, Steel, Aluminum, Brick Red & Concrete Gray. New colors released each year. 5/22/2006




i-gami – Starter Kit by PLASTIC PLAY INC.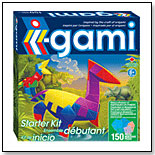 Kids can fold, snap and bend super-hinged plastic pieces into any shape they want, and the finished plastic pieces will hold their shapes. Based on the principles of paper origami, the starter kit has 150 plastic pieces in five different styles. An intermediate set of 350 plastic pieces ($30.00) and an advanced kit of 590 plastic pieces ($45.00) are also available. 5/22/2006 (MSRP: $19.99; Age: 8 and Up)



i-gami – Color Harmonies by PLASTIC PLAY INC.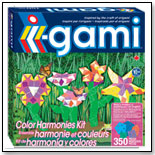 This colorful plastic origami kit is designed with girls in mind. Young builders can fold, snap and bend super-hinged plastic pieces into any shape they want, and the finished plastic pieces will hold their shapes. A basic starter kit, intermediate kit and advanced kit are also available. 5/22/2006 (MSRP: $29.99; Age: 10 and Up)



---
---


Copyright © 2021 TDmonthly®, a division of TOYDIRECTORY.com®, Inc.