April 19, 2021

June 2006 | Vol. V - No. 6

---
Kids Get Cooking With Toy Food
Wooden Veggies and China Teapots Keep Tables Well Set
"I find that the boys are buying a lot of kitchen stuff." — Terry Myers, Kaleidoscope Toys
When it comes to pizza, tiny tots prefer theirs wooden, retailers told

TD

monthly Magazine

. Kids picked the hard stuff over plush when going for fake veggies, cakes and fruits. Cooking and kitchen sets are also good sellers with small buyers, but tea sets are usually a "Grandma gift," all agreed.
In Wappingers Falls, N.Y., Toys and More co-owner Jean Zoeller said that in pretend play food and kitchen products, "Melissa & Doug has the market cornered." The best sellers? Pizza and birthday cake held together with Velcro (until little chefs wield a toy cutting device).
"The Melissa & Doug birthday cake and pizza are the best," agreed Terry Myers, owner of Kaleidoscope Toys in Round Rock, Texas, and six out of eight retailers agreed with her. "I also do pretty well with the fruits and vegetables from International Playthings. People like that Velcro."
But Manhattan Toy's (ToyDirectory) softer Take and Make Cake and Take and Make Pizza are also hits, said Angela Toljan, owner of Wayland Toy and Stationery in Providence, R.I.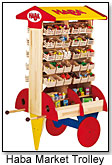 "Haba (ToyShow) makes a food cart that always sells well," she added. She parks the cart in the store and kids shop for child-sized wooden fruits and veggies with their mini canvas tote bags.
Lea Culliton, vice president of sales and marketing for Habermaass Corp. (Haba), explained that the Market Trolley is a high-end item that "does very well in certain stores. We also have a small tabletop display and a freestanding display."
Haba's newest addition is a Fried Egg, she told TDmonthly. "It has been very well received, since the child actually breaks the plastic egg open and the egg white and yolk fall out."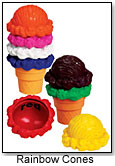 Brand New World (ToyDirectory) makes fruits and vegetables that aren't cuttable, but peelable. "They're totally fabric and vinyl and they unzip so the kids can see inside," said Kathy Palker, vice president of sales and marketing for Brand New World. "They're easy to clean and disinfect."
"I find that the boys are buying a lot of kitchen stuff," noted Terry Myers, owner of Kaleidoscope Toys. "Among their favs are Learning Resources' educational counting cupcakes and stacking rainbow ice cream cones, she said.
Once they've bought their produce, kids can whip up a feast on KidKraft's all-in-one kitchen set.
"The large kitchen in pastel colors with a refrigerator, stove and sink is the most popular," commented Andrea Keyes, manager of Dilly Dally's LLC in Rogers, Ark.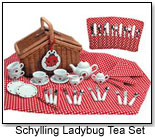 As far as after-dinner tea, Amanda Toups, manager of Magic Box Ltd. in New Orleans told TDmonthly, "I'm all out of the porcelain tea sets and baskets by Alex. Schylling makes a tin tea set, ToySmith and Small World Toys make great porcelain sets, and Creativity for Kids has a "paint your own" tea set."
"The lady bug tea set from Schylling does really well," said Beth Howard, owner of Cat and Fiddle in Jenks, Okla. "It's cute and it's something not pink."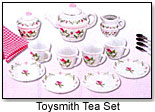 Three other retailers mentioned Schylling's pink butterfly porcelain set in a basket with cloth tablecloth and napkins as their best-selling tea set. Melissa & Doug's wooden tea set is also a top seller.
"Grandmas buy tea sets because it's such an old fashioned thing," concluded Howard. "Every little girl has to have a tea set. That and paper dolls."
Here are the kitchen, food and tea sets mentioned by retailers and manufacturers as being among their best selling:
8 pc. Peeling Fruits and Vegetable Sets by BRAND NEW WORLD



Brand New World is pleased to introduce their new Peeling Fruits and Vegetables Sets. Peel a banana, unzip an orange or shuck an ear of corn — just like the real thing! Made of durable easy-to-clean vinyl, these realistic produce open through a variety of clever methods to reveal their insides. Kids will love their fruits and veggies once they have this much fun. A four-piece Peeling Fruits set and a four-piece Peeling Vegetables set are also available separately. 5/12/2005 (MSRP: $39.95; Age: 2 and Up)



Wooden Tea Set by MELISSA & DOUG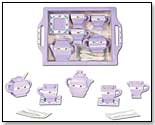 This set of 15 pastel-colored wooden tea pieces comes fitted in a tea tray. The sturdy kit includes a teapot, sugar bowl with lid, creamer, two tea cups and saucers, two plates and three spoons. 7/15/2005 (MSRP: $25.99; Age: 3 and Up)



Tea Times by AWESOME KIDS



Time for tea, anyone? This set of tiny plastic tea cups and plates come with a table cloth-like playmat and serving tray so kids can practice entertaining guests. "This set is always on our top 10," said Pete Borger of Awesome Kids. 5/30/2006 (MSRP: $25.95; Age: 2 to 8)



Bake Time by AWESOME KIDS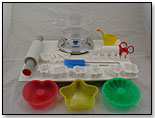 These pots and pans can actually go into the microwave oven. Kids can bake right along with mom and even use her ingredients in cooking. This is a great box for the homemaker to be, and includes a Magic Book CD. 5/24/2006 (MSRP: $25.95; Age: 2 to 8)



Cook Time by AWESOME KIDS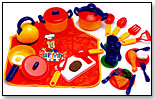 Just what every Awesome chef should have to begin a career in the kitchen: Pots, pans, plates, glasses, serving pieces, and silverware, all in rich colors. Several pieces of plastic food put the finishing touch on this array, which is one of the most popular Awesome Kids boxes. The set includes a Magic Book CD and a giant 32" x 21" playmate. 5/24/2006 (MSRP: $25.95)



Fried Egg by HABA USA/HABERMAASS CORP.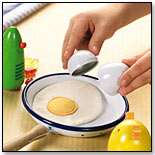 Kids "crack" open this plastic egg and out spills a plush white and yolk. They can make breakfast for their other plush toys while mom and dad take a much-needed rest. 5/24/2006 (MSRP: $5.00; Age: 4 and Up)



Apple by HABA USA/HABERMAASS CORP.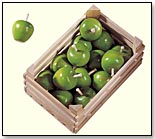 These delectable looking Granny apples are made of polished wood. The apples are sized just right for little fingers. Add a wooden fruit crate for a great gift. 5/24/2006 (MSRP: $2.00; Age: 4 and Up)



Can of Chips by HABA USA/HABERMAASS CORP.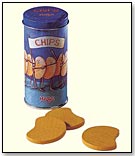 These wooden potato chips are extra crunchy. They come packaged in a decorative metal tin, ready to be dropped in a little kid's shopping bag. 5/24/2006 (MSRP: $6.40; Age: 4 and Up)



Let's Pretend – Microwave Oven by EDUCATIONAL INSIGHTS INC.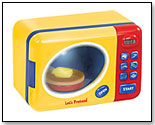 This little microwave has tasty features, such as six timed food settings with pictures (popcorn, pizza and hot chocolate). The turntable actually rotates the food. The clear door lets kids see what's "cooking" inside, said Pat Sarka, vice president of creative development at Educational Insights. 5/24/2006



Garden Fresh Fruits and Veggies by INTERNATIONAL PLAYTHINGS LLC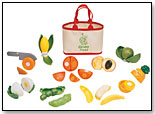 These pretend play food fruits and veggies are a great way for toddlers to learn about the rewards a garden can bring. Each lifelike fruit and vegetable can be pulled apart, peeled, or sliced as if it were the real thing. This soft plastic food set includes lettuce, pineapple, orange, banana, pea pods, cauliflower, onion, peach, an ear of corn and a plastic knife for "cutting" fruits and veggies. The included canvas tote has a mesh bottom. 5/24/2006 (MSRP: $16.99; Age: 2 and Up)



BUTTERFLY TEASET BASKET by SCHYLLING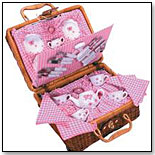 Children who love watching nature can now keep it close to them with this lovely butterfly porcelain tea set in a basket. Thirty pieces come packed together, including cutlery, a tablecloth and cloth napkins. Teacups measure 1¼" tall. 5/24/2006 (MSRP: $24.99; Age: 8 and Up)



Children's Tin Tea Set by SCHYLLING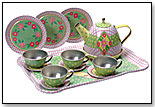 Made of tin, this classic tea set is great for little hands. Set includes 4 plates, 4 cups and saucers, a teapot and a serving tray. 5/24/2006 (MSRP: $14.99; Age: 3 and Up)



Mini Barbecue Grill Set by SCHYLLING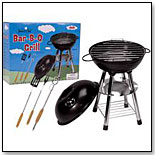 Kids can get grilling with this mini barbecue set. The set comes complete with tongs and spatula for flipping those delicious wooden burgers. Please note: For pretend play only. 5/24/2006 (MSRP: $29.99; Age: 8 and Up)



Kitchen by KIDKRAFT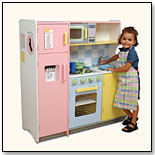 KidKraft's kid-sized kitchen provides fun and fantasy for open-ended imaginative play in the heart of the home. Pink refrigerator and freezer are finished with frescoed water and ice dispensers. There are knobs on the sink and the oven. The microwave oven has see-through doors. The kitchen even includes a clock and a phone (with caller ID), and a notepad on the side panel.
— Over 15 percent of retailers named Kidkraft as the company whose products would grab the attention of most consumers during the holiday season.
— "The big kitchens and dollhouses by Kidkraft are always great sellers," Tracey, co-owner of Whippersnappers in St. Simons Island, Ga., told TDmonthly.
— Four of 58 retailers who spoke with TDmonthly named Kidkraft's big kitchens as impressive holiday items. 5/24/2006 (MSRP: $199.99; Age: 3 to 8)



Build-a-Burger by SMALL WORLD TOYS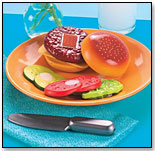 Kids can now create an American classic – the hamburger! This 8-piece plastic set includes all the fixin's for the best burger ever: hamburger patty and bun, sliced tomato, sliced pickle, lettuce leaf, cheese slice and plastic knife. Each piece has Velcro on both sides for easy stacking. If kids take a look on the back of the box, they'll learn fun facts about burgers plus be able to review the food pyramid. 5/24/2006 (MSRP: $9.45; Age: 3 and Up)



Mini Tea Set by FABER-CASTELL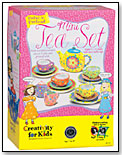 This 17-piece ceramic tea set comes with four cups, four saucers, four plates, a teapot, a creamer and a sugar bowl. Girls can paint the tea set with any pattern or design using ceramic paint. A tea party is a timeless activity enjoyed by both children and adults. Older girls will enjoy painting this miniature set as a collectable for their room or as an accessory for their doll collection. 5/24/2006 (MSRP: $14.99; Age: 7 and Up)



Spielstabil Little Gourmet – Bakery Set by HABA USA/HABERMAASS CORP.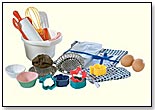 In this set, packed in a handy carrying bag with zipper, the baking utensils are completed by professional garments for the little bakers: an apron that has a front pocket and a neck ribbon with Velcro closure and a padded oven mitt for taking the little cakes out of the oven. The set has 12 pieces plus 30 paper baking molds. There's a stirring bowl, rolling pin, 5 cookie cutters, 4 utensils and metal baking mold. "The entire line of dishes is microwavable and dishwasher safe," said vice president of marketing for Habermaass, Lea Culliton. 5/24/2006



Pretend & Play Healthy Foods Snack Set by LEARNING RESOURCES INC.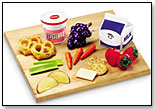 Kids can serve up good health with these fun, nutritious snacks. This set of 18 plastic foods encourages children to make healthy food choices and includes fruits and vegetables, milk, cheese, yogurt, pretzels and crackers all packaged in a vinyl lunch sack. The set is also great for teaching everyday vocabulary to English language learners. The milk carton measures 2.75" x 3.25". The foods are made of durable, non-toxic plastic. 5/24/2006 (MSRP: $18.95; Age: 3 to 8)



Smart Snacks Sorting Shapes Cupcakes by LEARNING RESOURCES INC.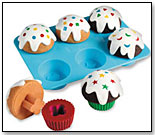 This two-time award-winning set is great for developing fine motor skills and shape recognition. The six colorful two-part cupcakes pull apart to reveal a hidden shape that fits tightly into the matching pan. Shapes include square, triangle, clover, half-moon and circle. Cupcakes measure 2.5" by 2.25". 5/24/2006 (MSRP: $15.95; Age: 2 to 5)



---
---


Copyright © 2021 TDmonthly®, a division of TOYDIRECTORY.com®, Inc.