"I'm building the Dames Point, Mom!" — Victoria Ledford, age 11
This month, the home-schooled tween girls got what they like best: plenty of building materials. The Costines already have an entire LEGO village in their home. But the
K'NEX Real Bridge Building
set got all hands replicating the world's most famous bridges. It was a huge hit with parents and kids both for fun and learning. The new
Uberstix Uberdragon
construction toy was also appreciated and
TriKing Games' Anachronisms
scored with the younger brothers.
Participating were former art teacher Lynn Costine with Sarah (12 years), Anna (11), Emily (9) and Will (7); former business owner Julie Petoia with Cabot Lee (11), Talia (10) and Malynne (8); Susan Ledford, editor of the Homeschoolers Resources Directory, with Victoria (11) and Joe (6); former corporate workshop manager Shawna Hughes with Alexa (10); and former fashion consultant, current radiology student Allison Seagle with Sara (11). (Click here to view the full results of the survey: Homeschool Families Rate Toys.
Uberdragon
by
UBERSTIX
(
ToyDirectory
)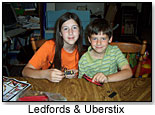 This brand new building kit made partly of recycled materials caught the girls' fancies. The kit allowed them to build a catapult, a dragon and a number of other items.
"We first built a catapult because my kids are really interested in catapults," said Costine.
"I liked that you could make a lot of things," enthused Cabot Lee.
"Toys that expand upon spatial skills are very hot at our house right now," noted Ledford.
"So that's how cross beams work!" said Victoria.
"They should include some examples of how crossbeams are utilized in real life," noted her Mom.
"Here's my dragon's head!" pointed out Joe.
Drawbacks included directions that weren't 100 percent clear and the lack of a container in which to keep the pieces. Uberstix, however, prides itself on using compact packaging to minimize its impact on the environment.
"My kids built a couple of structures using the Uberstix with the K'NEX kits," added Costine, whose kids are mad for building.
"We didn't know you could do that!" lamented Cabot Lee.
Costine is also interested in the Uberbot RC Robot kits.
"Uberstix has a lot of potential for imaginative use outside of what the directions show you to do with them. They can be used with other items to make projects," noted Hughes.
Examples of objects that work with Uberstix include K'NEX, McDonald's straws, recycled bottles and Popsicle sticks.
Real Bridge Building and Building Bridges Set by K'NEX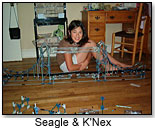 "The educational value of these kits is tremendous; the children are learning about physics while developing spatial skills, and they had a ton of fun!" raved Ledford. "The Teacher's Guide was very comprehensive, including everything from background information on bridges to Internet research and resources."
Petoia's girls were just as enthusiastic: "We had a large play date over here about a week ago. In the middle of it, Talia convinced a friend to play the bridge building set. While 12 other children ran through the house and yard, Talia and her friend sat at the table and built for an hour," said Mom.
"Alexa particularly seemed to like the fact that this set directly related to something she had seen in the real world," noted Hughes. "Within the hour the set was delivered, it was open and Alexa had started building on her own. She said it is the best K'NEX set she ever had and it has also taught her some things she hadn't realized about bridges."
What didn't the kids like about K'NEX?
"Nothing!" said Malynne. "It was fun!"
"I'm building the Dames Point, Mom!" said Victoria.
"Mom, I can do it by myself!" cried an elated Joe, 6.
In addition to the instructional booklet, the mothers loved the containers that could keep track of the kit once it was disassembled.
"We were recently in Charleston and New York and all of the kids could identify the different kinds of bridges," said Costine.
"K'NEX was a huge hit with the entire family at our house. The hard part was waiting 'til the children had finished their play so Dad could jump in," summed up Ledford.
"We haven't had time to do all the projects in the book, due to time constraints, but I know we will do them all because it is such a wonderful learning tool," affirmed Hughes. "Alexa would be very likely to request more K'NEX sets like this."
Anachronisms by TriKing Games (ToyDirectory)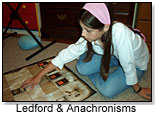 The girls and their moms loved the look of these detailed historical cards. But it was the little brothers — Will and Joe — who were most enthusiastic about the game.
"The quality cards in this game had interesting information that drew in the children's interest," noted Ledford. "I also liked the fact that it covered several different cultures."
"The pictures on the cards were cool!" agreed Malynne.
"My son liked these 100 times better than my daughters did," Costine told TDmonthly . "It's kind of like the whole Pokémon and Magic thing, except from a historical slant. I don't know why they appeal more to boys. This company's made an excellent attempt to put girl characters in the set, but most are still male and most focus on swords and fighting."
"My favorite character was Sainte Jeanne D'Arc," said big sis Cabot Lee.
"My favorite character is Miyamoto Musashi," added Victoria.
"I want to be Achilles!" cried her brother Joe.
The big drawback to the game was that "there was so much to remember!" sighed Cabot Lee.

"Even my 11-year-old had a difficult time understanding the instructions and needed help from Dad," commented Ledford. "Putting the instructions on the playing mat doesn't work well when learning the game."
Hughes noted that the paper playing board wouldn't stand up to repeated play.
"The cards are very sturdy and well made. The dice are large. The cards are very nice looking, but it took too long to figure out how to play," concluded Hughes. "If you didn't have to keep referring to the directions to figure out what to do it might be more fun."
"If you have a child like Will who really likes the card things, I'd be much more likely to buy this than Magic or Pokémon," concluded Costine. "But if I bought it for him, it would be as a toy, not as something educational."
Here are the toys that taught the homeschoolers this month, plus a few extra toys by the same companies: