April 14, 2021

July 2006 | Vol. V - No. 7

---
Metal Detecting
Die-cast From a Collector's POV
"As far as the manufacturer is concerned, Ertl does one of the best jobs of making the models affordable and available at all levels." — Nick Rodgers, Diecast Direct Inc.

There's die-cast, and there's Die-cast.

TD

monthly Magazine

talked with some of the expert's experts in the die-cast collecting realm to find out what's hot, what's not, and what's just scrap metal.

"Jada is probably the hottest brand at the moment," explained Joe Falco, owner of Joe's Diecast Shack and ask-it man for a popular message board for collectors. "They continue to hit the nail on the head with their urban style, with the D-Rod$, and in particular the COE Truck, both in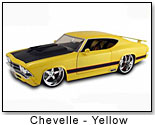 1/64 and 1/24. Collectors love them for displays, and customizers just love them for the possibilities. A close second for Jada is the Big Time Muscle series."
Rusty Hurley, editor of First Peek Diecast Zone, points to the Jada's offering of figures that go with cars, "notably movie and TV cars" as being a trend. "There are three real growth areas right now. First, the limited edition muscle cars. Shelby Collectibles, the new 1/18 diecast maker, is really making an impact. The second big trend has been the upscaling of the market. Limited edition models retailing at $200 or more are not rare these days. Companies like Exoto, CMC, PMA-Minichamps and Auto Art are all charging more for their models and focusing their attention on super-detailed models. And, of course, the niche accessories."
"Classic Cars and Muscle Cars," concurred Nick Rodgers, marketing manager for Diecast Direct Inc. "Hundreds upon hundreds of baby boomers are retiring every day somewhat young and somewhat wealthy. They remember the cars that they grew up driving and the cars that their parents had, and they would like some sort of a memorabilia to give them a spark of that memory. As far as the manufacturer is concerned, Ertl does one of the best jobs of making the models affordable and available at all levels. They own the line called Johnny Lightning; their mid-scale muscles might be the best model for the price if you want quantity and quality."
In keeping with the Muscle Car items, Stewart Nickel, owner of Die-Cast Dispersal, said: "The Ertl items we carry cover more of the niche areas rather than the mainstream muscle cars, etc., that comprises their core offering. As with any niche, you have some people that follow these items very closely and others that have no interest. But in general, most Ertl items sell OK and some are very popular."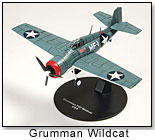 Nick Rodgers also pointed to the military/aviation niche as being popular.
Steven Howland, owner of Diecast Airplane, explained in more detail: "There are a number of new manufacturers making very exciting models. Witty Wings is one. They are the first to get an F/A-18E to the market, and it has been very popular. IXO Models has announced a large selection of very rarely produced WWII planes and the presales are very good on those. For the established manufacturer, Dragon Wings has also recently released Wildcat and Hellcat models, which are underrepresented in the market so are selling well. And Corgi continues to be a perennial favorite especially for British and German warplane models."
Listen to the experts. If you want the latest and the greatest in the collectible die-cast world, check out some of their suggestions, and then roll the die … cast.
Curtiss P-40 Warhawk by CORGI USA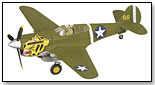 The Curtiss P-40 Warhawk of the Aleutian Islands Flying Tigers patrolled the northern skies against hostile aircraft, flying in often-difficult conditions. This version with a white spinner was one of the latest P-40E's to be still flying when attached to the 11th Fighter Squadron in 1943. It's a limited edition collectible. 12/9/2005 (MSRP: $27.99)



966 Chaparral 2E: First Heat Can-Am Collection by EXOTO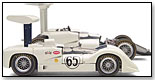 Words alone cannot describe the detail and attention that Exoto put into their grand 1:18 scale replica. The removable body panels set a new industry standard for fit and finish: beautiful, crisp seams where the bodywork fits together, separate metal rear spoiler, butterfly doors that are held by real wire supports and operate on hinges that are flush with the bodywork, countless photo-etch and genuine wire mesh parts, and a glorious paint finish. 6/9/2006 (MSRP: $398.95; Age: 12 and Up)



Johnny Lightning 1970 Ford Mustang Boss 429 1:18 by ERTL CO. INC.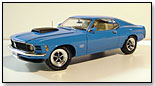 1970 Ford Mustang die-cast muscle car by Ertl, Johnny Lightning series in Black and Gold with a black interior. Diecast body with a chrome plastic chassis. Features opening hood and doors. 6/9/2006 (MSRP: $24.99; Age: 8 and Up)



Dragon Wings — F4F Wildcat USN VC-10, "Mah Baby" by HERPA MODELS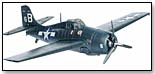 His fully finished and pre-painted model represents "Mah Baby" that was flown by Lt. Bruce Allen McGraw in October of 1944. This aircraft flew from the U.S.S. Gambier Bay. At 1/72 scale, the wingspan is 6.3". The incredible detail makes the aircraft appear larger than its actual size. 6/9/2006 (MSRP: $24.95; Age: 8 and Up)



D-ROD$ 1947 Ford® COE Truck 1:24 Scale by JADA TOYS INC.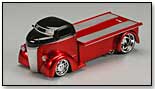 This classic cab-over truck has been completely customized, including its exterior paint job with high gloss finish. Sliding flatbed with crosshatched chrome bed floor. Suicide doors open to a completely customized interior. Chrome grille and side pipes. Profile tires with realistic tread wrapped around a set of custom chrome wheels with a super-brite chrome finish. 6/9/2006 (MSRP: $12.99; Age: 8 and Up)



Witty Wings - F/A-18E Super Hornet, VFA-2 "Bounty Hunter" by BAD CAT TOYS INC.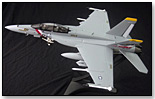 The combat-proven F/A-18E Super Hornet is the 21st century's premier strike fighter with all the capability, flexibility and performance necessary to modernize the air/naval aviation forces of any country. 6/29/2006 (MSRP: $44.95; Age: 8 and Up)



Ducati 996 2001 Reynolds British Superbike by PMA-MINICHAMPS NORTH AMERICA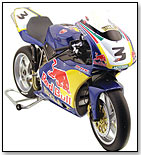 This is an immaculately detailed model of one of the most popular bikes of the modern generation. It recently appeared on a television episode of "Entourage." 7/5/2006 (MSRP: $119.95; Age: 12 and Up)



IXO Models - German FW-190-D9 Focke-Wulf by PREMIUM & COLLECTIBLES TRADING COMPANY LIMITED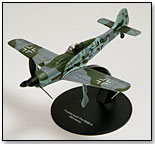 This airplane model is in a 1:72 scale. It's a historical beauty complete with a 6" wingspan and incredible detail. 7/6/2006 (MSRP: $22.95; Age: 10 and Up)



---
---


Copyright © 2021 TDmonthly®, a division of TOYDIRECTORY.com®, Inc.