May 8, 2021

July 2006 | Vol. V - No. 7

---
New Action Figures Get Going
Manufacturers Tell What's Up With Heroes
"In 2005, somewhere between 25 percent to 30 percent of buyers of action figures were males 18 years of age and older." — Jeremy Padawer, JAKKS Boys Entertainment Marketing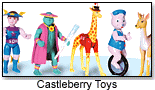 Action figures encompass such a broad category of toys that they appeal to almost any age. Whether it's a kid who needs someone to believe in or adults who just want to make believe, imagination and interaction are paramount for a figure's success, manufacturers told

TD

monthly Magazine

.

"Our feedback with kids ages 5 to 10 indicates fantasy play and uniqueness are important action figure toy traits," Jeanne Starr Gater, president and CEO of Castleberry Toys Inc., shared with TDmonthly Magazine. "Kindergarten and first-grade children who have played with our talking action figure toys treat them as though they're real. Questions abound with the Supa Dupa Babee hero himself because they want to know if he's real. 'Can he fly in the skies with his wings on his boots and his hat for real?'"

Andrew Witkin, director of marketing for Mega Bloks, believes that the more interaction kids have with their action figures the better.

"In order to secure the interest of kids, action figures must offer more than just traditional play patterns," Witkin told TDmonthly. "By offering the construction aspect, action figures provide a more diverse play pattern that offers interactivity, customization and collectibility. Kids can mix and match different building parts of our Dragons or MagnaMan to create dedicated or unique figures, which creates more varied possibilities for their play."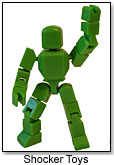 But kids aren't the only consumers of action figures, reminded Jeremy Padawer, vice president of JAKKS' boys entertainment marketing, who oversees the company's WWE, Dragon Ball Z and Rocky action figure lines.
"In 2005, somewhere between 25 percent and 30 percent of buyers of action figures were males 18 years of age and older," Padawer pointed out. "Because of this, there is a tremendous need for constant communication between action figure manufacturers and consumers so that we can bring to market the types of products that these adult collectors will purchase, which are authentic, highly decorated and detailed goods."
Whereas kids will often gravitate toward action figures they've seen on television or in the movies, said Gater, Geoff Becket of Shocker Toys noted that adult collectors have other interests … including independent comic books.

"Our new 6" figures with 20 points of articulation Indie Spotlight line will bring icons of the Independent Comic Universe to comic shops all over the world and into the homes of the fans who have come to love them," Becket told TDmonthly. "Companies who have signed onto Indie Spotlight include Top Cow, Troma, AAApop, Blue Water Productions and King Features. Some characters in the Indie Spotlight include Magnus Robot Fighter, Dick Tracy, Lone Ranger, Grim Jack, Fallen Angel and Judge Dredd."

Although the Indie figures might not be the snuggle in bed kind, the emotional attachment that collectors have to them isn't dissimilar to the connection that Gater sees in kids with their mini heroes.
"Parents have reported that 2- and 3-year-old kids take Fawnee to bed with them and keep pulling her leg so they can hear her musically repeat: 'make a wish for your dreams ... I'm your friend always,'" concluded Gater.
Here are some of the new action figures that manufacturers are hoping will be friends to collectors and kids everywhere:
The Black Pearl from The Pirates of the Caribbean by MEGA BRANDS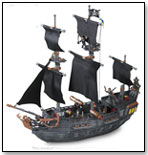 Captain Jack Sparrow commands his majestic vessel through peril in attempt to evade the Flying Dutchman. Boys can recreate exciting scenes from the film with the fully buildable flagship playset: the Black Pearl. This action-packed set includes two launching cannons, a pulley system, opening deck panels and play access to the captain's cabin inside the hull. With real fabric sails, highly-detailed design, and three collectible micro figures (Jack Sparrow, Will Turner and Pintel), the Black Pearl 170-piece set is a must have for all pirates fans. 6/9/2006 (MSRP: $39.99; Age: 6 and Up)



G.I. JOE SIGMA 6: DRAGONHAWK by HASBRO INC.


G.I. Joe Sigma 6 smaller scale (2-½-inch) offerings, Dragonhawk, the Sigma 6 team's primary drop ship from the hit animated TV series, has a number of awesome features to make self-created combat situations even more exciting. The MIC-2 (Magnetic Interface Connector) docking system allows the ship to bring various SIGMA 6 vehicles into battle; a fast-deploy system to launch the team's Ninja Lightning Motorcycle into action; as well as rotating propellers, a hand grip for easy play and a variety of electronic lights and sounds. Launch date: Fall 2006. 6/9/2006 (MSRP: $34.99; Age: 5 and Up)



Darth Vader - Titanium Series by HASBRO INC.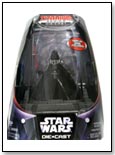 Darth Vader is one of the first Star Wars 3.75" figures available from the TITANIUM SERIES Collection. The intricately micro-detailed figures each include a custom base and premium display case. Collectors will be interested in limited-edition versions of each figure featuring a patina finish. Throughout the year, the TITANIUM SERIES universe will continue to expand with the addition of vehicles and figures from TRANSFORMERS and Battlestar Galactica. Launch date: March 2006. 6/9/2006 (MSRP: $15.99)



Supa Dupa Babee Talking Action Figure by CASTLEBERRY TOYS INC.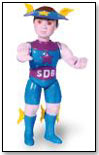 Supa Dupa Babee Talking Action Figure Supa Dupa Babee is the mighty, muscular, "Hero of the Universe", who travels on his Jet Star Swoosh to save the Earthland Children all over the world from drugs and violence! Hear three custom sounds with the voice of Supa Dupa Babee. No batteries needed! 6/9/2006 (MSRP: $9.98)



Red Shockini Prime by SHOCKER TOYS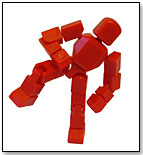 Red Shockini Prime is a blank version of the Shockini action figure. It has 18 points of movement and comes with 5 accessories, a base and 50 stickers. It can be interchanged with all other Shockini and Shockini products. You can also add themed packs to the Shockini to turn it into a Pirate or Military person or a cowboy. The Shockini world consists of preassembled block figures that can be taken apart and interchanged with all other shockinis to make your own characters. You can paint them with any type of paints or markers and add sculpting to them with clay or other materials. The end result is a character that the end user has built for him- or herself. 12/9/2005 (MSRP: $7.95; Age: 5 and Up)



Toxic Avenger Shockini by SHOCKER TOYS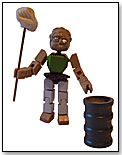 The Toxic Avenger Shockini is a licensed property from Troma films and is built around the body style of the Shockini mini block action figure. It has 18 points of movement and comes with a mop, toxic waste barrel accessory and a radiation symbol standing base. The Toxic Avenger Shockini can be interchanged with all of the other Shockini products on the market. So if you wanted to make Toxie a pirate or put him in different colored outfits you can. 12/9/2005 (MSRP: $9.95; Age: 5 and Up)



Dragon Flyz: Flying Action Figure with Power Launcher by JAKKS PACIFIC INC.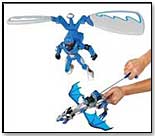 Their legend foretells of an uninhabitable Earth in the 40th century, forcing mankind to exist in the skies. With mighty flying dragons as their steeds, heroic Dragon Flyz — Z'Neth, Summit and Peak — are aerial protectors of mankind who battle the evil mutant Dread Wing. This kit includes a Dragon Flyz figure, an ExoWing Pack, and a Power Launcher. All Dragon Flyz figures stand about 4.25" tall and have 7 points of articulation. Each product is available in an assortment of four different characters. 3/30/2006 (MSRP: $9.99; Age: 6 and Up)



Fawnee Talking Action Figure by CASTLEBERRY TOYS INC.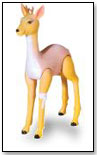 Fawnee is the disabled doe who gently assists children all over the world and takes them to Healing Stream Station to wish for their dreams. Hear three custom sounds with the voice of Fawnee. No batteries needed. 6/9/2006 (MSRP: $8.98)



---
---


Copyright © 2021 TDmonthly®, a division of TOYDIRECTORY.com®, Inc.