May 7, 2021

January 1900 | Vol. I - No. 1

---
Toys in Motion: Word Games
These word games will polish your language skills!
Snatch-It Word Game by U.S. GAMES SYSTEMS, INC.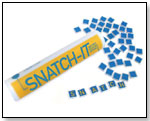 Every second counts and every letter's up for grabs in this fast-paced, word-stealing, mad-dash game for two or more players. As players take turns flipping over a letter tile, words can be formed by using 3 or more letters from the center or by adding onto an existing word. Players may snatch any word at any time by adding one or more letters. As the words grow so, too, does the excitement. The game is easy to learn and encourages quick, creative thinking. The simple instructions are printed right on the handy plastic tube containing 100 colorful letter tiles, making this an ideal game for family fun anywhere, anytime. The unique and appealing packaging makes an eye-catching display. It recently won an iParenting Media Award. (

Watch Video) 12/20/2005 (MSRP: $18.00; Age: 8 and Up)



Nerdy Wordy by BRIARPATCH INC.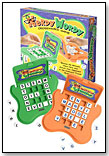 This delightful go-everywhere family game will wow kids as well as adults with the thrill of spelling short words up, down and all around the crossword tray. Being imaginative and a good speller of two-, three-, four- and five-letter words will make you worthy of the title "ultimate word nerd." When you are done playing, simply close the lid on the word tray … all the letter cubes are neatly stored inside. It's new for 2006. (

Watch Video) 4/20/2006 (MSRP: $14.99; Age: 8 and Up)



Wordigo by RIVEREDGE GAME COMPANY LLC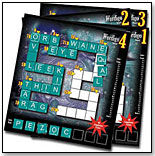 This ever-popular board game combines crossword puzzles with letter unscrambling to produce hours of intellectual fun. Wordigo gives 1 to 4 players different boards (depending on the difficulty level) and allots them seven minutes to accumulate as many points as possible. Wordigo was a 2004 Parents´ Choice Gold Award Winner, as well as a GAMES Magazine Best 100 Games of the Year for 2005. (

Watch Video) 9/14/2005 (Age: 8 and Up)



Heximania by EDUCATIONAL INSIGHTS INC.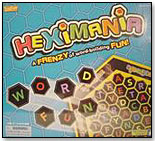 Building words has never been so fun, or wild. This Hexagonal board game teaches spelling, letter identification, visual discrimination and vocabulary. Spinning the board as they go, the players take turns placing letter tiles, earning points for each word built. As long as letters are adjoining and in the proper sequence, words may be read in any direction-up, down, backwards and forwards. The person with the highest score when the board is full, wins! (

Watch Video) 8/24/2005 (MSRP: $24.99; Age: 6 and Up)



Baffle Gab by DISCOVERY BAY GAMES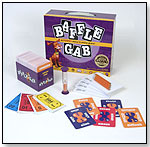 The fast, funny and easy-to-play creative writing game will appeal to classroom teachers who are looking for a fun way to supplement the language arts curriculum as well as families who like to have fun while challenging their creative writing abilities. To play, each player uses five Gabby words to write a story in less than one minute. A Spanish version of the game is also be available. This product is a winner of numerous awards, including a 2005, 2006 and 2007 Creative Child Magazine Game of the Year Award, 2005, 2006 and 2007 Parent to Parent Foundation Adding Wisdom Award, a 2006 Earlychildhood NEWS Director's Choice Award and a 2005 iParenting Media Best New Products Hot Award. 2/25/2005 (MSRP: $29.95; Age: 7 and Up)



BANANAGRAMS® by BANANAGRAMS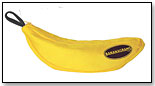 The fast-moving word game consists of 144 ivory-like letter tiles in a zippered banana pouch. Players place the tiles face down on the table and randomly select 21 tiles. They turn their letters right-side up simultaneously and proceed to form as many intersecting and interconnecting words as possible, rearranging their own letters as many times as desired throughout the game. Awards: TDmonthly Top Seller 2007; 2009 TOTY Game of the YEAR, 2006 Oppenheim Toy Portfolio Gold Seal; 2007 iParenting; 2007 Parents' Choice Recommended; 2007 Dr. Toy Best Products. (Read Review)
— This product has been making the TDmonthly Best-sellers lists since 2007.
— As of 05/13/2011 this product had 4.8 out of 5 stars from 456 reviews on Amazon.com.
— Eight of 66 retailers vouched for its best-selling status in May 2008; seven of 63 did in Sept. 2008. Shani Watmough of Planet Toys in Rockland, Maine, said her store sells 60 per month. Fifteen of 38 named it a top-selling game in Feb. 2010.
— As of April 5, 2010, Bananagrams had spent 570 days in the top-100 best-selling toys and games on Amazon.com.
— According to owner Brett Sommer of Figpickels Toy Emporium in Coeur d'Alene, Idaho, "It was the 2009 game of the year. The brilliant packaging definitely helps this product." (

Watch Video) 6/19/2006 (MSRP: $14.99; Age: 7 and Up)



Trhyme by L. M. RDEUX INNOVATIONS INC.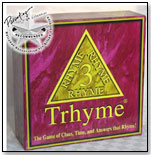 It's Trhyme (pronounced trime), the exciting word game with the intriguing twist. Players are confronted with three clues for which they must provide three answers within a specified time. And here's the twist — all three answers must rhyme with each other! In this game of Time, intellect and rhyme, there can be only one winner. But, it's so entertaining, no one really loses. This product is a National Association of Gifted Children Award Winner. (

Watch Video) 11/9/2005 (MSRP: $29.99; Age: 11 and Up)



What's Gnu? by THINKFUN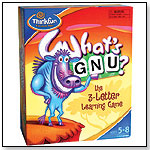 This game lets two to six young players choose between competing and cooperating. It encourages healthy competition as kids race to form three-letter words faster than their opponents. Whoever forms the most words wins. Parents (or older kids) can combine forces with little ones to help them learn how to spell new three-letter words. The game contains 72 letter tiles, 36 word cards, Gnu's stand and instructions. "What's Gnu? is designed as an essential learning tool to help younger kids develop important language and vocabulary skills. It's perfect for multiple players and the rapid-fire game play keeps kids coming back again and again," said Emily Peters, marketing communications manager for ThinkFun. Launch date: 2004.
— "ThinkFun: They have a lot of very popular games," said Gwen Bowden, manager of Doodlehopper 4 Kids in Springfield, Va.
— "ThinkFun games: What's Gnu?" is a best-selling game according to Jamie Burdette, owner of LB Toys in Media, Pa.
— In fall 2009, two of 40 specialty retailers named games by Thinkfun when polled about best-selling educational items. (

Watch Video) 5/25/2006 (MSRP: $15.00; Age: 5 to 8)



---
---


Copyright © 2021 TDmonthly®, a division of TOYDIRECTORY.com®, Inc.