August 7, 2020

September 2006 | Vol. V - No. 9


Education is a Child's Game
Kids Learn While They Compete
With additional reporting by regional correspondents Terri Lazzell and Brenda Ruggiero
Retailers and manufacturers TDmonthly spoke with agreed: Games make great back to school products. Teachers and parents find educational games hold kids' interest through multiple rounds, learning as they go. Here's what's selling:
Competition = Learning
"We sell the 24 card game — a lot of people buy it for school, and it helps with math — addition, subtraction, factoring," said Nikki White,sales associate at BeBeep — A Toy Shop in Severna Park, Md. While toy banks and pretend play school sets also sell well, she said, "We have a lot of more interactive-type games that try to make it fun, and the kid doesn't realize that he's learning."
Boni Velazquez, program coordinator at Suntex International, said the company has been quite successful with an online version of 24 that allows students to play at school, in the library and even at home just by entering a code number purchased by the school.
"It's a competition," Velazquez said. "The program tracks how the students do individually, as a class and as a school." She said that for her company, being able to incorporate computer use into the educational process has meant increased sales.
Former teacher Markie Carlson, owner of Children's Gift Shop in Northfield, Ill., agreed that educational toys that emphasize active play learning are her favorite. "Games are definitely the best for learning. They are fun and allow for healthy competition and bonding." Most popular at her location are ThinkFun's Zingo and What's Gnu, Out of the Box's Apples to Apples, University Games' Totally Gross, and Briarpatch's Nerdy Wordy.
Teachers Buy Games for the Classroom
Kevin Garton, vice president of marketing at ThinkFun, said, "We do notice a blip in sales around August/September. Teachers coming back to school might be adding a game or two to their classroom," he suspected. New games for 2006 include Sudoku 5x5 and Sudoku 4x4, both centered on making the tricky adult math game easier for kids to handle both during summer travel and when school gets back in session.
"I think it starts with back to school," when it comes to sales spikes for Out of the Box Games, noted director of marketing Matt Mariani. He said the next sales trigger is Halloween, then Thanksgiving, leading up to a huge December demand for product. Teachers stock their classes with the company's games, he said.
Parents Bring School Into the Living Room
Elise Gresch, product manager with University Games Corp., said games make popular back to school items because "we're seeing the trend of parents being more involved with their children's education." For this reason, the company will soon be introducing the Game of Knowledge. "It's fun, topical and has an educational focus so parents will want to play it with their children."
What follows is more information on top-selling educational games.

Child Keyboard and Optical Mouse by MLG.NET INC.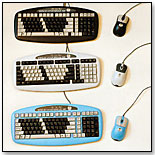 The My Little Genius keyboard and optical mouse is a full-function hardware combo for the PC and Mac that enables kids aged 12 and younger to comfortably use the computer. The smaller keyboard and mouse are a natural fit for the hands of a child. Rather than forcing children to work with equipment designed for adults, this hardware contributes to their learning the work- and life-skills that they'll need to move through school and beyond. 9/23/2005 (MSRP: $39.95; Age: 4 to 12)



Zingo! by THINKFUN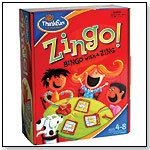 Players try to fill their Zingo! cards with matching tiles from the Zingo Zinger. The first player to fill his or her card wins. Rules can be adjusted to favor more or less competition among players, and to vary the length of time each game requires. This game was a 2007 T.O.T.Y. Nominee for Specialty Toy of the Year. "It teaches memory, matching, vocabulary and social interaction skills. Kids have so much fun playing again and again; they don't realize they're learning essential thinking skills," Marketing Communications Manager Emily Peters of Thinkfun told TDmonthly.
— "Customers use this game as their 'standard' party gift," Owner Elaine Hackney of Boing! JP's Toy Shop in Jamaica Plain, Mass. told TDmonthly in summer 2007.
— "We sell out as soon as they come in," added Pam Horwitz, manager of Mr. Toad's Toy Company in Naples, Fla. Four of 63 retailers singled out Zingo! as the hottest-selling game in their store. Seven percent of 56 retailers listed Zingo as a top-selling game in January 2009. Six of 38 retailers called it a best-selling game in Feb. 2010.
— "Zingo is a great game for 4- to 5-year olds," Jamie Burdette, owner of LB Toys in Media, Pa., told TDmonthly about this game — a top seller in his store — in April 2008. "The basic Bingo concept starts to introduce words and spelling." (

Watch Video) 5/10/2005 (MSRP: $15.00; Age: 4 to 8)



What's Gnu? by THINKFUN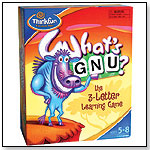 This game lets two to six young players choose between competing and cooperating. It encourages healthy competition as kids race to form three-letter words faster than their opponents. Whoever forms the most words wins. Parents (or older kids) can combine forces with little ones to help them learn how to spell new three-letter words. The game contains 72 letter tiles, 36 word cards, Gnu's stand and instructions. "What's Gnu? is designed as an essential learning tool to help younger kids develop important language and vocabulary skills. It's perfect for multiple players and the rapid-fire game play keeps kids coming back again and again," said Emily Peters, marketing communications manager for ThinkFun. Launch date: 2004.
— "ThinkFun: They have a lot of very popular games," said Gwen Bowden, manager of Doodlehopper 4 Kids in Springfield, Va.
— "ThinkFun games: What's Gnu?" is a best-selling game according to Jamie Burdette, owner of LB Toys in Media, Pa.
— In fall 2009, two of 40 specialty retailers named games by Thinkfun when polled about best-selling educational items. (

Watch Video) 5/25/2006 (MSRP: $15.00; Age: 5 to 8)



Apples to Apples Party Box Edition by OUT OF THE BOX PUBLISHING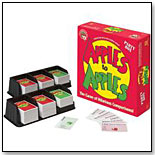 Each player selects a card from his or her hand that seems best described by a card played by the judge. If the judge picks that card, that player wins the round. Everyone gets a chance to be the judge. The Party Box version comes complete with more than 1,000 cards — the entire collection of cards from the original core game plus Expansion Sets 1 and 2.
— "Teachers love this game. It crossed the border from teacher outlets to retail toy stores. There's a Junior to Adult version," said Roberta Edwards, owner of Wishes Toys & Gifts in La Quinta, Calif.
— This has been a consistently solid seller for Tree Top Kids in Fairfax, Va., according to Susie Waterstreet, vice president of marketing.
— "Believe it or not, I had the Junior age 7 and up, Junior 9 and up and Party Box kinds and I only have one 9 and up left," said Trish Garlock, owner of Treasured Child in La Grange, Ky.
— As of 1.06.2011 this product had 4.5 out of 5 stars from 340 reviews on Amazon.com and was No. 10 on the top 100 bestselling toys and games. Pros: Encourages creative thinking; fun for large groups. Cons: requires at least 4 people to play; not for children under 12. 1/20/2006 (MSRP: $29.99; Age: 12 and Up)



Totally Gross — The Game of Science by UNIVERSITY GAMES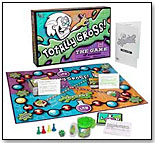 Did you know that snot keeps your lungs clean? Or that some bullfrogs are cannibals? Learn this and more as you travel around the game board answering queasy questions. Land on a Gross-Out space, and you may have to check another player for toe jam or describe the last time you threw up! Every time you answer a question or complete a Gross-Out, stretch your slime on the score line. Stretch it to 10 and complete a Lab Experiment to win the game! A dose of gross helps science make sense. Includes a game board, 110 Question cards, 50 Gross-Out cards, 30 Lab cards, a die and a jar of slime. For 2 to 4 players.
— "This is one disgusting game," commented Dolores Hopson, assistant manager of the Barnes & Noble in Macon, Ga. "Kids love it, and even the parents like it."
— It was rated the No. 1 gross toy on Amazon.com for the week of October 16, 2005.
— Silly Goose Toy Store owner Diane Ross said this game sells "extremely well" and has since it first came in. 10/27/2005 (MSRP: $29.99; Age: 8 and Up)



Nerdy Wordy by BRIARPATCH INC.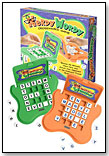 This delightful go-everywhere family game will wow kids as well as adults with the thrill of spelling short words up, down and all around the crossword tray. Being imaginative and a good speller of two-, three-, four- and five-letter words will make you worthy of the title "ultimate word nerd." When you are done playing, simply close the lid on the word tray … all the letter cubes are neatly stored inside. It's new for 2006. (

Watch Video) 4/20/2006 (MSRP: $14.99; Age: 8 and Up)



24 Game Double Digits by SUNTEX INTERNATIONAL INC.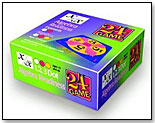 This set includes double-sided, 4" by 4" cards that come in three levels of difficulty. The object of the game is to make 24 using all four numbers displayed on the card, using each only once. Players can add, subtract, multiply and divide. There is at least one solution to every card.
— In a November 2013 survey, Dean Smith, owner of JaZams in Princeton, N.J., told TDmonthly that the 24 game is a best-selling educational toy in the store. 7/10/2006 (MSRP: $10.95; Age: 10 and Up)



---
---


Copyright © 2020 TDmonthly®, a division of TOYDIRECTORY.com®, Inc.