"We had a lot of problems getting the large plywood manufacturers to give us what we wanted."—Christopher Wirth, Liberty Puzzles

Christopher Wirth had what many would consider a great job making good money as a corporate attorney for a financial firm. But after eight years, "I didn't like it anymore," Wirth confessed. His passion was for puzzles — an industry he had to learn from the bottom up.

"My family had 30 old Falls Puzzles made in the '20s and '30s in Cleveland during the puzzle craze," he explained. These hand-cut wooden puzzles cost thousands of dollars and are some of the finest ever made.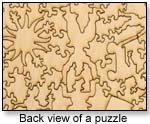 "My idea was to bring back the wooden cut puzzles and bring the price down to around $100," Wirth explained of his decision to start his own heirloom-style puzzle company, Liberty Puzzles. But the company didn't just happen overnight.
Wirth spent from January to October 2005 researching manufacturing procedures and materials that would be essential to realizing his dream. He tested 50 kinds of plywood before settling on 1/4" maple-veneer plywood. He also tested different kinds of topcoats and adhesives to find the best fit.
"We had a lot of problems getting the large plywood manufacturers to give us what we wanted," Wirth said.
One issue was that wood manufacturers generally embed metal flecks within their wood for identification purpose, but the flecks caused problems for the laser cutter that transforms Wirth's computer design into puzzle. Eventually, Wirth found a manufacturer that agreed to remove the metal flecks as well as the formaldehyde that is usually used in the woodcutting process.
Once the raw materials were secured, Wirth could concentrate on creating a unique puzzle product.
"We include 20 percent figural pieces per puzzle. We try to pack as many as we can," Wirth said. These unusual pieces, sometimes referred to as whimsy pieces, are carved in the shape of people, animals and things. Oftentimes Liberty will include two figural pieces interacting when placed together, such as a girl feeding a goose or two children dancing.
When it comes to deciding on the composition, image and colors to be placed on the front of the puzzle "it's a group effort," Wirth said. Family members are consulted, and Wirth tries to add new designs to his puzzle lines as quickly as he can. "One thing I've learned is that all the images we buy sell, but the demographics of puzzle-makers are 60 percent women. So, navy battle scenes might not sell as well as a painting of a bouquet of flowers."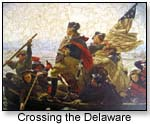 Americana images and historical works, as well as both contemporary and classic artwork are good sellers. In many cases, customers who hear about Liberty Puzzles call up and talk about the fancy old wooden puzzles they used to own as children or even still collect. Museum gift stores move a lot of Wirth's product. Twenty percent of Liberty's business is for custom work based on family photos.

However, Wirth noted that in order for his puzzles to make it at the retail level, store owners "can't just put our boxes next to $15 cardboard puzzle boxes" because of the high price. For this reason, he offers special displays and samples as well as double-sided frames to toy storeowners interested in carrying his product.

The first puzzles hit stores in October 2005. Wirth, the company's founder, manager and co-owner, continues to build Liberty's reputation as he expands into more specialty shops across the country.

What follows is more information on a few of his products.