May 10, 2021

August 2006 | Vol. V - No. 8

---
TDmonthly's Top-10 Most-Wanted Cars & Trucks
Toughness Rules Toy Vehicles
Kids love cars … and "Cars," too, 24 retailers from across the country reported to

TD

monthly Magazine

. Whether RC or hand-powered, boys want their vehicles adaptable, tough and creative. Here's what they've been choosing lately:
Morphibian by KID GALAXY INC.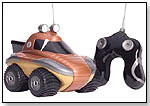 A Morphibian is a radio-controlled, multi-terrain vehicle that comes in one of four animal options, including the "Land Shark," "Dirt Frog," "Gator" and "Cobra."
— "They're very durable, and they can go from land to water with no problem," said Wendy Kramer, manager at Big Fun Toys in Hoboken, N.J.
— Laura Miller, owner of Imagination Village in Concord, N.H., added, "It has a pretty good price point and has big appeal for the kids."
— This RC car navigates shallow water as well as roads. (

Watch Video) 4/20/2006



Cozy Coupe II by LITTLE TIKES INC.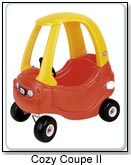 This classic car has been updated, and includes extras such as a higher seat, vanity license plate, and a working horn with four sounds.
— "The Little Tikes ride-ons are popular — kids just love cars," said Dina Hanson, manager of Fun Stuff Inc. in Seaford, N.Y.
— "Parents like them because of the quality, but they're fun toys," added Wes Lenon, manager at Kay Bee Toy & Hobby Shop in Boise, Idaho.
— The interactive aspect of the Cozy Coupe II from Little Tykes sets it apart from competitors. 3/21/2005 (MSRP: $39.99; Age: 1 to 5)



Hot Wheels R/C Fury FTX by MATTEL INC.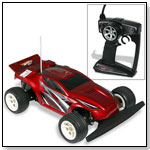 Hot Wheels never seem to go out of style. Performance is key with this model as it comes with a power grip and can undergo the demands placed on it by enthusiastic car lovers of all ages.
— "Kids love remote control and Hot Wheels, so they really like what Hot Wheels has to offer," said Linda Doucette, manager of Learning Express in North Hampton, N.H.
— Joseph Baiocco, manager of Big Top of Scarsdale Inc. in Scarsdale, N.Y., offered the simple observation that "Hot Wheels from Mattel are always the best sellers."
— This radio-controlled vehicle from Hot Wheels gives its operators a feeling of speed and control. 7/28/2006 (MSRP: $44.99; Age: 8 and Up)



Little RC Lightning McQueen by MATTEL INC.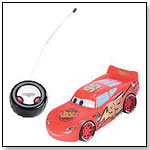 Kids now have something hands-on to extend the experience of the popular movie by Disney and Pixar. It's not surprising that one of the most popular characters from the film sells well to kids who want to recreate the speed that made Lightning McQueen a racing force in the movie.
— "Anytime there is a popular movie, the products branded to them always sell well," noted Neil Ramyad, assistant manager of Zittles/Zitomer in New York, NY.
— Dina Hanson, manager of Fun Stuff Inc. in Seaford, NY, added, "Right now, anything from the Cars movie is hot."
— RC lets kids mimic one of their favorite characters, Lightning McQueen. This is more a description than a unique selling point feature. In essence, this is the definition of a pretend play product. 7/28/2006 (MSRP: $14.95; Age: 3 and Up)



Victory Lane by DARDA INC USA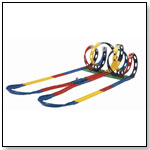 This racetrack set that comes with two cars is simple but exciting. No batteries are needed. Kids just use the pullback mechanism and watch the cars buzz around the track at high speeds. Darda is distributed by Life-Like Products, a division of Walthers.
— Jan Grimsley of Trademarks in Little Rock, Ark. said, "We have the sample track out and they see it and play it and want it."
— "Oh cool," was the reaction Debbie Scholl, of Fundamentally Toys in Gray, Houston, got when setting out the demo in her store.
— "It is the fastest scale-model speed friction engine in the toy market, with a scale-model speed of between 500 and 600 mph," explained Peter Schell, sales specialist for Darda. (

Watch Video) 7/28/2006 (MSRP: $39.95; Age: 4 and Up)



Thomas & Friends Wooden Railway System: Terence the Tractor by RC2 BRANDS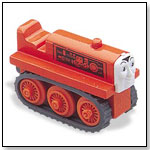 As with all the toys associated with Thomas & Friends, this tractor character from the popular Thomas storyline allows children to combine imagination with learning skills while immersed in a fictional world they've come to love. The line was launched in 1995.
— "They are a traditional toy, well made, and we have a good display set up," said Ed Evans, co-owner of All Things Fun in Berlin, N.J.
— "High detail and price points" are what Donna Tippin, owner of Action Toys in Billings, Mont., believe makes RC2 a successful manufacturer.
— "With its wide range of characters, many places to visit, and real wood construction, nothing helps a child bring Thomas & Friends stories to life quite like Thomas & Friends Wooden Railway," Joal Kjarsgaard, brand manager of Thomas & Friends Wooden Railway, told TDmonthly. 7/28/2006 (MSRP: $10.99; Age: 2 and Up)



Dudley Dump Truck by WOW TOYS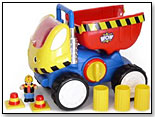 Dudley is a chunky and tough dump truck: He tips, he drives and he shakes, too. Turn the power switch for great tipping action, then drive off-site with the powerful friction motor and realistic engine sound. This eight-piece set includes barrels and traffic cones to collect and dump, a driver friend and a sturdy carry handle.
— "I love Wow Trucks," was the enthusiastic reaction from Elaine Hackney, owner of JP Boing's Toy Shop in Jamaica Plain, Mass.
— "They are big and chunky plastic infant toys that appeal to the adults for those reasons," observed Joanne Farrugia, owner of JaZams in South Pennington, N.J.
— Dudley is big, fun and noisy … but doesn't need batteries. "His cute and chunky styling is perfect for little hands," explained Tanya Laperouse of WOW. "Each toy also comes with fine accessories that can be interchangeable with the rest of the range, making for even greater worlds and adventures to discover." (

Watch Video) 11/21/2005 (MSRP: $40.00; Age: 1 to 5)



CAT Excavator by BRUDER TOYS AMERICA INC.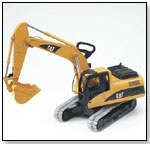 This realistic replica of a real Caterpillar Excavator allows kids to imagine they're behind the controls of the real thing. Components such as a handle for digging and rubber tracks simulate the performance of its real-life counterpart.
— Steven Levy, owner of Toy City in Surry, N.H., believed they "are built very well, and the play value is endless. "
— "They're rough and tough," said Amanda Toupes, manager of Magic of Box Ltd. in New Orleans, La., and "they have so many features."
— Attention to detail and sturdiness puts kids in control of a toy that mimics the experience of handling actual construction equipment. (

Watch Video) 7/28/2006 (MSRP: $58.99)



Kinsmart - Mini Cooper Classic by KINTOY DIE-CAST MANUFACTORY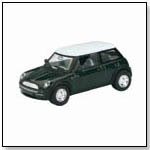 A miniature, 1:56-scaled, metal die-cast version of the real thing, the 2.5" Mini Cooper Classic provides kids with a detailed model at a very low price. Other cars from the line allow kids to build up their own collection of the playable models.
— "They just look very real and the younger kids — 3, 4 and 5 years old — just love to play with them," was the reaction from Char Mcaulay, manager of Toy Town in Casper, Wyo.
— "Probably the quality matters more than anything," added Jenny Pyle, assistant manager of Discovery Pond in Miles City, Mont.
— The MINI trademarks are used under license from BMW AG. The model is available in blue, black, red, yellow, green and silver, and features pullback action. 7/28/2006 (MSRP: $3.95)



Damart — Professional Car Designer Kit by TOYSMITH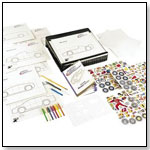 This kit allows children to design their own cars. It comes with basic design templates and kids can decide what to add on and what custom features they'd like to see their cars display. Imagination is a premium with this innovative play kit.
— "They're hands-on. You can draw the cars, and kids have a lot of fun with that," said Jenny Pyle, assistant manager of Discover Pond in Miles City, Mont.
— "The kids get to choose. I think that's the most important aspect of it," noted Char Mcaulay, manager of Toy Town in St Casper, Wyo.
— The Professional Car Designer Kit "has won four different awards," according to Debra Ashley of sales and marketing at Toysmith. The various Professional kits "give children a first-hand insight into exciting professions. They truly learn from a pro, because we team up with recognized professionals and work with them to develop the aspect of the subject. On the back of the package, it shows what professional we spoke to for the design of that particular item." 7/28/2006 (MSRP: $19.99; Age: 7 and Up)



---
---


Copyright © 2021 TDmonthly®, a division of TOYDIRECTORY.com®, Inc.