September 25, 2020

September 2006 | Vol. V - No. 9


TDmonthly's Top-10 Most-Wanted Mini-Toys
Groovy Girls Are Still the Biggest Little
With additional reporting by regional correspondents Virginia Davis, Terri Hughes-Lazzell, Krista Lebednik, Bonnie Priever, Ted Rabinowitz, Brenda Ruggiero and Donna Sacks

Manhattan Toy's (ToyDirectory) Groovy Girl Minis are tied with Papo Knights as the best-selling teeny toy, each getting a top-selling nod from 10 of 45 specialty toy-store owners surveyed by

TD

monthly Magazine

. But five others said the mini girls' sales had slacked off. Small animals and knights by Schleich and Safari (ToyDirectory) were also big. Here's what else storeowners said was hot:
Vanishing Wild - White Wolf Male by SAFARI LTD.®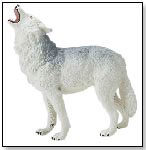 The Vanishing Wild Collection is a series of scaled replicas sculpted and hand painted with exacting detail by artisans from around the world. The oversized replicas are lifelike representations of endangered animals. Their natural poses help capture their magnificent beauty and spirit. This male White Wolf is scaled at 1:10 and measures 6" L x 4.5" H. The figure includes a 5-language educational hang tag.
— "Mini stuff is very popular, especially animals," noted owner Linda Laramy of Crackerjacks, Inc. in Easton, Md.
— "The animals from Safari sell extremely well," is what Judy Bielewicz, manager at Imagination Toys Inc in St. Louis, Mo., said about this little toy.
— "Safari Ltd offers the largest variety of realistically detailed PVC figurines in the world," noted Shelly Garib, a representative of Safari Ltd. "We foster the awareness of our fragile wildlife and their vanishing habitats," and, "we spark the sense of wonder and encourage creative play with our collections." 8/30/2006 (Age: 3 and Up)



Good Luck Mini Pigs by SAFARI LTD.®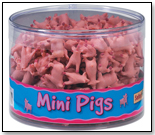 This mini-bin of porcine cuties has been "very popular" for over 10 years, Ramona Pariente, President of Safari told TDmonthly. There are 192 hand painted Mini Pigs composed of a non toxic, soft rubber in an acetate bin. Each pig measures approximately 1".
— "We have a band call Oink Henderson and the Squealers," explained Mark Gauger, owner of Fun Zone in Iowa City, Ia. "They do a pig toss halfway through their show and sometime it's worse than Mardi Gras. Oink buys these pigs by the hundreds." They're popular with Gauger's other customers, too, and with each piggy purchase he hands out a special "Good Luck Pigs" card, explaining a German tradition that considers the possession of a pig mighty lucky.
— "Safari in the little PVC animals is huge, as is their line of Carnegie dinosaurs," said John Middelkamp, owner of Zoom in Kansas City, Mo.
— A total of 6 of 45 retailers agreed that Safari animals were among their best-selling tiny toys. In Germany, continued Pariente, the mini pigs are used as a drinking game: "The idea is to roll it and make it stand. If it doesn't stand you drink some beer." Newly available in the past year are mini ladybugs and elephants with more themes to come, she said. 8/24/2006 (Age: 5 and Up)



Cowboy With Lasso by SCHLEICH NORTH AMERICA, INC.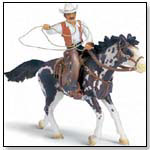 There's a new category of collectible from Schleich — the American Frontier (Wild West). Like this Cowboy With Lasso, they're based on the United States' westward expansion of the 1800s. "Schleich figurines are meticulously crafted and hand-painted with attention to detail," said Katherine MacLean, sales and marketing coordinator for Schleich North America Inc. "They are realistic without a cartoon feel. The price points are reasonable. Schleich is becoming a brand." Launch date: September 2006.
— "We have a line of animals from Schleich that does extremely well. There are all types of animals from frogs to horses to elephants," said Holly Reay, owner of Kid's Corner in Carmel, Ind.
— Bonnie Dodds, owner of Bonnie's Toys and More in Iowa City, enthusiastically endorsed the brand in the miniature category by exclaiming, "Schleich everything!" sells well.
— Nine of 45 retailers we asked told TDmonthly that these figurines were popular with their customers. 7/19/2006



Papo – Knights Crusader by HOTALING IMPORTS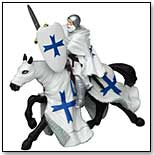 Dressed in white and emblazoned with a cross, this knight is ready to defend his faith. His horse is also dramatically draped. Each is available separately. Launch date: 2006.
— "Papo... across the line. Our Knight Papo figures are our best-selling stand-alone figures," said Alex Witten of Sparks Toy & Hobby Shoppe in Smithfield, R.I. Eighteen of 34 retailers TDmonthly spoke with in spring 2007 cited Papo as best-selling action figures in their stores.
— Retailers reported sales of Papo Knights averaging 50 to 100 units a month.
— "Papo's design, quality and play value continue to inspire children and even adults with the imaginary world of Papo," said Larry J. Hotaling of distributor Hotaling Imports. (

Watch Video) 5/2/2006 (MSRP: $4.99; Age: 3 and Up)



Breyer - Classic Shire by REEVES INTL. INC.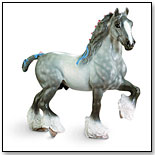 Breyer's expertise in horses comes through as it provides a 1:12-scale model that children and adults, equestrian amateurs and even experts can all appreciate and enjoy.
— "I carry Breyer horses," Marilyn Sipila, owner of Toys Etc. in Poulsbo, Wash., said about best-selling gift ideas in her store.
— "I would say Breyer horses," concurred Mary Walsh, owner of Magical Child in Greenfield, Mass.
— Three retailers specifically told TDmonthly that Breyer horses are popular last-minute gift ideas for girls. 8/24/2006 (MSRP: $15.00; Age: All Ages)



Calico Critters - Hawthorne Hamster Family by INTERNATIONAL PLAYTHINGS LLC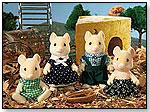 This family sure has a green thumb! Father Harry is a landscaper while Mother Tilley grows beautiful roses. Rusty and Cinnamon love to help their parents outdoors whenever they can. Calico Critter families come complete with two parents (3" tall each), a brother and a sister (2 1/4" tall). These cute flocked critters are poseable with jointed arms and legs and heads that turn, and feature removable clothing.
— "Calico Critters is the best seller for girls," was the observation provided by Sylvia Luppinci, manager of Giggles for Kids in Swanee, Ga.
— "Calico Critters by International Playthings — they're mini critters," are the mini-toys that sell well for Grafton Stine, owner of Toys on the Square in Hummelstown, Pa.
— Kids continue to collect the Critters well into their tweens, retailers have told TDmonthly. 8/24/2006 (MSRP: $19.99; Age: 3 and Up)



1:16 Scale Model M With Blade by ERTL CO. INC.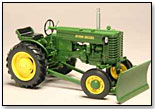 First-rate detailing and paint highlight this approximately 9"-long John Deere model M tractor. It's a 1:16 scale collector's edition series 3.
— "In this area, there are a lot of farm vehicles," which is how Linda Laramy, owner of Crackerjacks Inc. in Easton, Md., accounts for the popularity of this toy in her store.
— Lisa Pippin, manager of Action Toys in Billings, Mont., put two and two together when she said, "Ertl is the biggest manufacturer, and farm tractors sell well, so..."
— Three of 45 retailers mentioned Ertl as their best-selling mini toy and several others echoed that mini cars and trucks do well for them. 6/6/2006 (MSRP: $48.99; Age: 8 and Up)



Polly Pocket Pollywood Limo Scene Vehicle by MATTEL INC.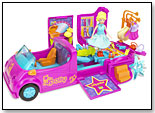 Now Polly can travel around in style and get dressed for the occasion while she's at it. This limo for the popular character from Mattel comes with 18 pieces and a poster, as well as all the fun that fans of Polly have come to expect from her line of products.
— "We sell a lot of Polly Pockets by Mattel," was the flat-out assessment given by Grafton Stine, owner of Toys on the Square in Hummelstown, Pa.
— "We do Polly Pockets — they still sell well," said Rich Gordon, owner of Learning Express of Exton in Exton, Pa.
— Polly Pockets were offered by McDonald's in its Happy Meals at participating stores in August 2006, according to a press release published at Yahoo News. 8/24/2006 (MSRP: $20.00)



Thomas & Friends Wooden Railway by LEARNING CURVE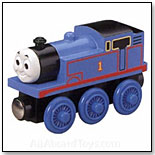 This wooden railway toy is the classic among the Thomas & Friends line. Compatible with wooden railway toys from other manufacturers, this replica of the popular children's character embodies the hopes and dreams of mini-Thomas fans.
— "Thomas the Tank by RC2 — I sell 100 to 150 units a month," Ray Goodhart, owner of Ages and Stages Toy Box in Arvada, Colo., told TDmonthly.
— Janelle Cedusky, manager of Cheeky Monkey Toys in Menlo Park, Calif., told TDmonthly that her best-selling wooden toy item is "Thomas the Train by RC2 in general, but especially the Wooden Railway System. It's hard to specify how many we sell because all are popular."
— "Thomas & Friends Wooden Railway is the perfect last-minute gift or stocking stuffer. [The] deep product line offers a wide range of price points, from $10.99 engines to deluxe sets," said Laura Mares, marketing manager for Thomas & Friends Wooden Railway. 8/24/2006 (MSRP: $10.99)



---
---


Copyright © 2020 TDmonthly®, a division of TOYDIRECTORY.com®, Inc.