February 1, 2023

September 2006 | Vol. V - No. 9

---
TDmonthly's Toy Sleuth
From Ants to Yetis, Critters Are Here to Play
"Once they get in one, [they] never want to get out." — Romney Williams, AK Designs

"Quis cusotdiet ipsos toy makers?"

TD

monthly Magazine

does. Spanning the nation, the world and beyond, looking for the latest and greatest, from the very small to the very, very weird,

TD

monthly

leaves no toy shelf unturned, no inventor un-interviewed, no toy maker unasked. Will these products be your next "big thang"? Read here and be the first to find out.

Posh Bug-Catcher
Science toys are all about curiosity: The more easily they answer a child's question, the more they are used. Carson Optical, a well-known binocular and telescope company, has a bug magnifier with a difference: it's one-handed. Even the most squeamish child can capture a bug and study it. No muss, no fuss, all curiosity.



Rich Cameron, president and CEO of Carson Optical, told

TD

monthly

, "It is selling very well for us in the 'specialty' toy trade. It does not sell in places like Target, Wal-Mart or Toys R Us. Carson's toys are high quality, and fit much better in specialty channels than in mass channels."


Primate Perches
In the plain weird and wonderful category, you can't beat AK Designs' AK Creature furry chairs. According to AK Designs' Romney Williams, "we're getting great response from older folks as well as kids, who once they get in one, never want to get out." Made of faux fur and faux leather, no Yetis, Mammoths or Primates were harmed in the making of these things.

Kitty Burgers


And don't leave out the pets (and pet owners) when thinking of the latest and greatest toys. Smarthomes' Remote Controlled Mouse is hours of fun. It's the latest in technology (radio controlled with rechargeable batteries) coupled with the oldest of pastimes: making cats look silly. Why the remote control is hamburger shaped is anyone's guess, but it works well and will not be confused with any other remote controller. Michelle Laird of the distributor Smarthomes reported, "We sell over 50 units a month."

Potty Charms
And the sneakiest of sneak peeks: This just in from Japan — the toilet-shaped cell phone charm. Yup, for the person who has everything and wants to take it with them.

TD

monthly Magazine

is trying to track down the manufacturer, so keep your eyes here to find out.
BugView One Hand Bug Catcher by CARSON OPTICAL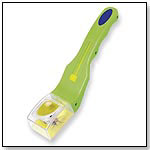 BugView is a "one-hand" bug catching tool with a thumb-operated trapping slider that makes it easy to catch even the speediest specimens! The 5× crystal-clear acrylic magnifier allows surrounding light in and lets you see the smallest details with ease. Kids will have hours of fun with this educational tool. 8/25/2006 (MSRP: $10.00; Age: 5 to 12)



---
---


Copyright © 2023 TDmonthly®, a division of TOYDIRECTORY.com®, Inc.