January 19, 2022

---
Toys in Motion: Strategy Games
Put your thinking caps on!
17! by ROBOR GAMES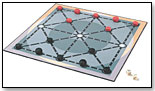 The game board has 13 spots where players can move their pawns and queens, based on the role of the dice. The object of the game is to be the first to score 17 points. Players score a point when they capture an opponent´s piece and when they occupy an opponent´s Home Space. If they occupy all three of their opponent´s Home Spaces, they receive 2 bonus points. (

Watch Video) 9/20/2005 (MSRP: $29.95)



Giza by FUN FACTORY GAMES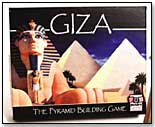 As an Egyptian pyramid builder in ancient Giza, you will try to construct the finest three pyramids and fill the pyramids with as much treasure as possible. Your rivals may try to thwart you by sabotaging your pyramid or by releasing scarabs at your construction sites to scare away your workers. Perhaps you may need to do the same to your rivals so that your three pyramids will be the finest ones chosen by the Pharaohs for their afterlife! Awards won include CTTC Three Star Award, Canadian Toy Testing Council; Major Fun Family Award, Major Fun; and Vienna Selection of Top Games, Viennese Games Academy. (

Watch Video) 8/24/2005 (MSRP: $24.99; Age: 8 and Up)



INFINIFIELD® by INFINIFIELD INC.

Infinifield is an abstract strategy game for two to four players, ages 6 to adult. Players use their creativity and imagination to build a two- or three-dimensional board from 24 blocks for every round. Then they use logic and strategy skills to chase and eliminate opponents´ pawns in a fast-paced game. Infinifield was invented and produced by an 8-year-old boy and his father as a homeschooling project.
Awards: 2005 Parents Choice Silver Honor Award; 2007 Learning Magazine Teachers' Choice Award for the Family. (

Watch Video) 8/3/2005 (MSRP: $29.99; Age: 6 and Up)



---
---


Copyright © 2022 TDmonthly®, a division of TOYDIRECTORY.com®, Inc.