June 4, 2023

December 2006 | Vol. V - No. 12

---
Hollywood ToyBoy: Electrify Toy Fair
How to Save Toy Fair From Its Boring Self
"It could be slick, or it could be cheesy, but show kids having fun." — Documentary videographer

Face it. Toy Fair is boring. Comic-Con is an enthusiastic geek-fest. E3 was sexy. But Toy Fair? Boring. Video games are flashy (taking a huge chunk of revenue away from toys). Comic books lead to big-budget movies. Toys? Except for designer vinyl, they're just plain blah.

"The toy industry needs to wake up and smell the leather bikini," quipped a successful sitcom producer who drops at least a 100 grand a year on his personal toys. "My own kids would rather play with my 'adult' stuff like Buffy action figures, than Barney plush."

So, what's a toymaker to do with a Toy Fair booth?

Get Some Color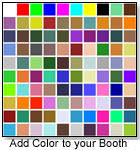 "First, liven it up," a feature film set designer began, starting to enthusiastically foam at the mouth (oh, wait, that's just his cappuccino). "These booths at Toy Fair are always so staid. Use colors — even splash a bucket of paint randomly. Sure, it can cost a lot if you went with molded plastics and metal armatures that look like your product, but it doesn't have to. These are toys. Have some kids fingerpaint the booth. Give it a playful feel."

Go Video

"Multimedia is the key," countered a documentary videographer who is a devout anti-caffeine-ian, and looked down his nose at my triple-shot super-latte with a side of espresso and a handful of chocolate-covered coffee beans. "Don't say it, show it. Get videos of kids playing with the toy and grab a dozen monitors (TVs to you non-Hollywood types) and have them all playing at once. It could be slick, or it could be cheesy, but show kids having fun."

Make It Sexy



A producer buddy waxed lyrically about sex appeal. "Sex sells. You know how every mechanic in the world has a tool-girl calendar? Nothing sexier than a scantily clad woman with power tools ... except a scantily clad woman with a child's toy. It's just so ... thought provoking.... It could be a scantily clad guy, too. Just youth, vigor and not many clothes."

Passion Works

"If [the reps] aren't the grand champion of that game, a total ringer, then why should I care about it?" pointed out a marketing exec at a production company, who keeps her ear to the ground to see what the "next big thing" might be. "I want to see their enthusiasm for the product, not for the sale."

Sneak in the Real Kids


"And what about kids?" cried a media mogul with two overly toyed kids of his own. "Where are the real kids playing with the real toys? I used to play days of Monopoly with my sister. How come they don't show their toys and games being played with by real kids?"

"Kids today," explained a child psychiatrist turned screenwriter, "are engaged by $100 million-plus budget special-effects movies, constant electronic stimulation from IM, cell phones and the Web and a pace that's light-years ahead of any generation before them. If manufacturers don't sell the toys the same way ... toys are dead. Someone at Toy Fair needs to light a match under a few butts and get them thinking about the 21st century. It's a brave new world, and toys and toy conventions aren't keeping up. Build a better booth, and they will come."


To go to the TDmonthly ToyShow Preview, with lots of new toys for 2007, click here. To get a sneak peek at some of the toys that will be at Toy Fair this year, click here. And to see what Toy Fair and the Pomona Fair looked like last year, watch our videos by clicking here.
---
---


Copyright © 2023 TDmonthly®, a division of TOYDIRECTORY.com®, Inc.