September 27, 2020

November 2006 | Vol. V - No. 11


TDmonthly's Top-10 Most-Wanted Games
Comparing Apples to Blokus ...
With additional reporting by regional correspondents Virginia Davis, Elizabeth Greenspan, Terri Hughes-Lazzell, Krista Lebednik and Brenda Ruggiero

A broad appeal to both kids and adults is why games such as Educational Insights' Blokus and Out of the Box Publishing's Apples to Apples are best sellers. That was the consensus among the 57 retailers who spoke with

TD

monthly Magazine. Monopoly is putting a new twist on an old classic, while card games and mind-twisters also entice game players. Here's what's doing well and playing well:
Blokus Trigon by EDUCATIONAL INSIGHTS INC.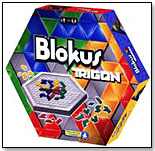 The next in the series of the international best-seller Blokus. Designed for two to four players, it was launched in 2006. THIS PRODUCT IS NO LONGER DISTRIBUTED BY EDUCATIONAL INSIGHTS. 12/4/08. (

Watch Video) 3/10/2006 (MSRP: $29.99; Age: 5 and Up)



Apples-to-Apples Party Crate by OUT OF THE BOX PUBLISHING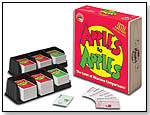 This popular card game now comes in a solid wooden storage crate to be preserved for generations. It's designed for 4 to 10 players, comes with 756 Red Apple Cards, 252 Green Apple Cards and two Deluxe Card Trays. Kids and adults can have fun by making outrageous comparisons that go beyond just "apples-to-apples." Matt Mariani, director of marketing for Out of the Box Publishing, told TDmonthly, "It takes only 30 seconds to learn. A complete game takes less than 30 minutes to finish. The conversations around the table while playing the game are the focus." Launch date: 2006.
— "Apples-to-Apples by Out of the Box: just got more in because people still want it, even after the holidays," said Karen Williams-Fox, owner of Woodbury Mountain Toys in Montpelier, Vt. Five of 31 retailers said the game was one of their best sellers for Christmas 2006.
— "The word is out about this game for adults as well as kids," Owner Elaine Hackney of Boing! JP's Toy Shop in Jamaica Plain, Mass., told TDmonthly in summer 2007. "We carry all the versions. It's so much fun ... a must at our family reunions!"
— An Apples-to-Apples sale a day helps keep the bill collector at bay, retailers have told TDmonthly (in so many words) bushels of times, and so it's been honored with a TDmonthly Top Seller 2007 award. 10/23/2006 (MSRP: $34.99; Age: 12 and Up)



Monopoly: Here and Now Edition by HASBRO INC.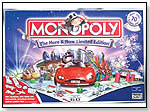 This is an updated but limited edition of the all-time classic game. It's the Monopoly we all know, except that it's updated to reflect the "here and now." Player pieces represent modern symbols. Properties and their prices are familiar in current American culture. It's an innovative way of playing a familiar game for today's generation. It's designed for two to six players. Launch Date: 2006.
— "Monopoly is popular because it's a classic kid's game — it's very familiar," was the observation given by Monica Brewster, associate at Sweet Dreams in Berkeley, Calif.
— "[Classic games like Monopoly] are popular because so many people have them and those that know them think everyone should," was the unique insight provided by Emily Holmes, executive assistant to the president at Ambassador Toys in San Francisco.
— Patricia J. Riso, VP for public relations at Hasbro Games, spoke with TDmonthly: "Monopoly: Here & Now Edition was designed to answer the question: 'What would the most popular board game of all time look like if it were invented today instead of in 1935?' … The new game has newly appraised property values and rents (players who land on Times Square with a hotel will pay $20 million), larger currency denominations and airports replacing the railroad spaces. All the property spaces were selected by a popular online vote, making this version of Monopoly the first-ever that was designed by fans!" 10/23/2006 (MSRP: $29.99; Age: 8 and Up)



The Amazing Labyrinth by RAVENSBURGER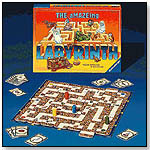 The Amazing Labyrinth is a mind-challenging game that allows players to shape the game board maze in order to win. A player's wooden piece is moved according to the card games selected and the imagination of the players involved. It's fun for kids and adults alike.
— Linda Graham, owner of Scheffel's Toys in Jacksonville, Ore., summed up the game pretty well when she said, "It's a universal maze game for kids and adults. It's always different and always changing."
— "Labyrinth … appeals to many different people. We sell a lot of games to families. They play the game together," was the answer Valla Wagner, co-owner of Teaching Toys & Books in Tacoma, Wash., gave when asked for the best-selling game in the store. "An old favorite was back this year, Labyrinth from Ravensburger," said Ron Sebert, owner of Becky & Me Toys in Glenview, Ill., in early 2009.
— Just when you think you've found your way out of the maze, someone comes along and cuts you off. The concept is easy but the strategy endless, which makes it challenging and fun for everyone from kids to grandparents. The Amazing Labyrinth is often on the best-seller list when games are mentioned, earning it a TDmonthly Top Seller 2007 award.
Where to Buy: Smart Kids Toys 10/23/2006 (MSRP: $24.99; Age: 8 and Up)



Rat-a-Tat Cat 10th Anniversary Edition by GAMEWRIGHT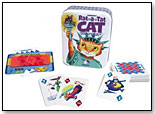 Because the game has sold so well since its introduction in 1996, Gamewright released a 10th Anniversary Edition in 2006. Players will still need to discard their rat cards while collecting cat cards, but the new edition will have brand new art, more power cards and the addition of a "Super Peek" power to make the game even more fun.
— "My best-selling games are from Gamewright: Rat-a-Tat Cat. It's so popular because it's travel-sized, it's just a little card game, the whole family gets involved, and the price is right," said Julie Nicolazzo of Toy Boat in Hudson, Mass.
— "Rat-a-Tat Cat by Gamewright is our best-seller [in card games]. I think it does well because it's a small game to learn, not overwhelming," said Lisa McMartin, co-owner of Wonderment Inc. in Minneapolis, Minn. — 19 percent of 43 retailers cited Rat-a-Tat Cat as a card game best seller in a summer 2010 survey.
— Casey Sartain, buyer for Tutoring Toy in Salt Lake City, Utah, told TDmonthly the store sells approximately 24 Rat-a-Tat Cat games each month. 6/22/2006 (MSRP: $11.99)



Cariboo by CRANIUM INC.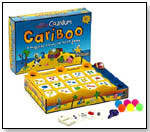 This game is well suited for the young and growing mind. Kids don't have to know how to read to start playing. They learn as they go along. Advanced cards are provided as players become older. It comes with a game board, two sets of playing cards (beginner and advanced), six colorful treasure balls, key and the treasure chest. It's designed for two to four players.
— "The Cranium games are very popular because they're educational as well as a lot of fun. I think a lot of teachers use them. You can start as young as age 3, and play all the way up to the teens," summed up Lee Ann Stern, general manager of The Village Toy Shop in Canton, Mass.
— "Lately, it's been Cariboo by Cranium," was what Daniel Janoska, of Talbot's Toyland in San Mateo, Calif., said when asked about the best-selling game in his store.
— Cranium "Head of the Hive" Heather Snavely was excited to talk about this popular game. She told TDmonthly, "Cranium Cariboo is a shining star in its category because it engages preschoolers in the thrill and excitement of a treasure hunt, while reinforcing letter, number, shape and color recognition. ... Cariboo also fosters parent-child interaction, as it's designed in a format that's fun for adults to play along. 10/23/2006 (MSRP: $16.99; Age: 3 and Up)



Ringgz by BLUE ORANGE GAMES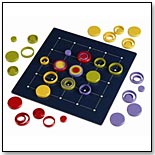 In this exciting strategy game, players use colorful rings to challenge each other to win the most territories. It takes finding the right balance between gaining majorities and controlling the opponents to capture victory. Fast-paced and addictive, this beautifully crafted all-wooden game will please the whole family. For two to four players, playtime is approximately 20 minutes. The game includes a wooden playing board with 25 territories, 1 starting base, 48 wooden rings and instructions. Launch date: 2006.
— "Blue Orange Ringgz is great. It has a beautiful wooden board," said Cathy Albrow, owner of Creative Learning Toys in Grand Rapids, Mich.
— "The best-selling toys are hands down those from Blue Orange. All-wooden games is what they do. Their games are original designs and ideas," said David Correa, buyer at Mrs. Tiggy Winkles in Tucson, Ariz.
— Adeline Bertrix, from sales and marketing at Blue Orange, told TDmonthly, "It's a completely new concept. There is no strategy game out there like it. It can be played by two, three or four players. The colors are very lively. The design is very simple. It's a beautiful game. It's very addictive. Both adults and children can play it, and I think that's very important." (

Watch Video) 3/27/2006 (MSRP: $29.95; Age: 8 and Up)



Do You Sudoku? Electronic Game by UNIVERSITY GAMES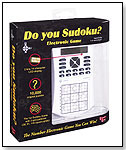 Kids and adults have got to move quickly with the Do You Sudoku? Game, because the hottest puzzle the world's seen since the crossword is now a great electronic game. The game, for two or more players, contains 2 game trays, 2 sets of 81 number tiles, 100 puzzles, die, instructions and solutions.
— "Do You Sudoku? by University Games is doing well," was the comment from Cathy Foland, manager of Imagination Station in Fenton, Mich.
— University Games sell well "because the chain stores do not carry these," was the observation provided by Alyssa Cox, owner of Animal Quackers in Raleigh, N.C.
— Games of strategy are big at The Wee Loft in Dana Point, Calif, according to co-owner Annette Garcia, who mentions Sudoku games as one of the season's hottest games for kids. 2/1/2006 (MSRP: $20.98; Age: 8 and Up)



---
---


Copyright © 2020 TDmonthly®, a division of TOYDIRECTORY.com®, Inc.