September 18, 2020

December 2006 | Vol. V - No. 12


Electronics of Choice Create and Educate
Specialty Retailers Define a Limited Field of "Electric" Sales
"The pull for electronics is so great, but the specialty market doesn't go there." — Marybeth Kreger, Learning Express

Science kits, models and educational items take precedence in the electronics category, specialty toy retailers told

TD

monthly Magazine. As children and parents scope out the e-trail, products with creative flair and a learning curve, from companies such as OWI (ToyShow), Elenco (ToyShow) and LeapFrog, are making their way to registers.

What's Selling

Five out of eight retailers easily mentioned Elenco Snap Circuits, which have "snapped" into place for the long haul. It's "the best toy ever," said manager Suzanne Runicki of Learning Express in Barrington, R.I.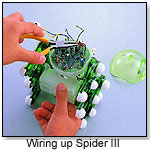 Robot kits by OWI rule the roost at Toyland in Milford, N.H., and are especially appealing to older children, said manager Cheryl Pyles, who stocks several in the line.

For hobby enthusiasts, the new E-flite Blade CP RTF Electric Micro Helicopter is of a "revolutionary" caliber, according to owner Lee Moore of Nancy's Hobby in Warren, R.I. His business is 50 to 60 percent radio-controlled items.

What's Fading (or never was)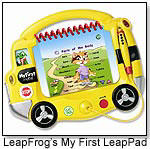 As Marybeth Kreger of Learning Express in North Kingstown, R.I., pointed out, "the pull for electronics is so great," but the "specialty market doesn't go there." Catch a Falling Star in Lexington, Mass., declines licensed products to differentiate from big-box retailers, such as Target and Toys R Us. And owner Deran Muckjian hopes that "kids use their mind" — sans electrons.

Specialty retailers sometimes carry electronics, though, if they're high quality and educational.

LeapFrog products are one such example. The company is "dedicated to helping more small stores capture [a] market share," Kreger told

TD

monthly.

What to Make of It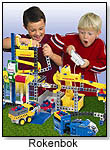 Retailers couldn't agree on whether children or adults are more likely to choose electronics, but Kathleen Tutone, owner of Treehouse Toys in Portsmouth, N.H., summed it up as "even Steven." Regardless of who's selecting, it's wise to consider a product's creative and educational worth.

Here are some electronics (and closely related items) that fill specialty shelves:
E-flite Blade CP Pro RTF Electric Micro Heli by HORIZON HOBBY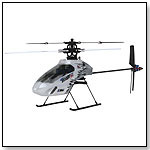 Based on the tried-and-true Blade CP platform, the Blade CP Pro adds the lightweight power of a three-cell 800mAh Li-Po battery pack, the lightning-quick cyclic response of Bell-Hiller mixing, and the upright or inverted agility of symmetrical main rotor blades. Plus, it can easily be outfitted with brushless power and a heading-lock gyro, without the need for a new radio system or difficult modifications. For red-hot micro heli aerobatics in about the time it takes to charge a battery pack, nothing can touch the cutting-edge Blade CP Pro.
— In a Summer 2012 survey about electronic and battery operated toys, Mark Rosenblum from Hobbytown in Fairfield, Conn., told TDmonthly that he sells 20-30 RC helicopters from E-Flite and Ares each month. 10/3/2006 (MSRP: $249.99)



Neurosmith Music Blocks Mozart Set by SMALL WORLD TOYS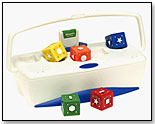 This sturdy, radio-like box comes with five colorful, sensor-controlled blocks and a memory cartridge. Little ones have fun placing the blocks into the box, hearing snippets of Mozart songs as the blocks are placed in the square seats. Switching around the blocks creates new songs.
― "I sell a lot of Music Blocks because I love them to pieces," Wendy Bricht, owner of Chatterpillar Toys, Gifts, and Balloons in Frazier Park, Calif., told TDmonthly in spring 2010.
― During a March 2010 survey of 39 specialty retailers, two named Neurosmith as their top brand of infant and toddler products. 10/27/2005 (MSRP: $69.95; Age: 2 and Up)



SC-300 Snap Circuits by ELENCO



Snap Circuits make learning electronics easy and fun. Kids follow the colorful pictures in the manual to build exciting projects, such as FM radios, burglar alarms, doorbells and more. Parts are mounted on plastic modules and snap together with ease. "Children can play with this kit for hours and hours and still have not completed all the projects the snap circuit kits have to offer," Walter Larsen, national sales manager for Elenco, told TDmonthly.
— One retailer said in summer 2007 his store sells 25 Elenco units monthly. Five percent of 64 retailers said in August 2008 that Snap Circuits are a best-selling science product, reporting average sales of six units per month. Four of 38 retailers echoed the same a year later. "They've gone back to this game six or seven times," between January and July 2006, said TDmonthly's homeschooling mom Susan Ledford.
— Any time TDmonthly asks specialty storeowners about top-selling science toys, Elenco's Snap Circuits heads the list. This simple electronics kit appeals to both girls and boys. By making science fun and easy, Snap Circuits earned a TDmonthly Classic Toy 2007 award.
— As of 12/17/2012 this product had 4.8 out of 5 stars from 575 reviews on Amazon.com. Cons: One user said that her grandchildren were "not all that interested" in the Snap Circuits, and told her that they would prefer LEGOs on their birthday. (

Watch Video) 10/27/2005 (MSRP: $59.95; Age: 8 and Up)



My First LeapPad Learning System by LEAPFROG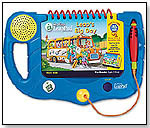 With this portable, lightweight system, letters, words and numbers come to life with the touch of a Magic Pen, and interactive learning games, sing-a-longs and word play give kids a full-throttle jump into the exciting world of reading. Children can just snap in a book, pop in a cartridge, and be ready to read and play. 11/8/2006 (Age: 3 to 5)



Battery Science by KLUTZ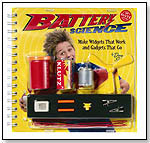 Children can "make widgets that work and gadgets that go" with this activity book by Doug Stillinger that includes a genuine Klutz alkaline battery, buzzer, propeller, light bulb, motor and other useful items. Through eight different projects, the product helps kids master the real science behind electricity. It received the Parents' Choice Recommended Award and was listed as one of Dr. Toy's 10 Best Educational Products and Dr. Toy's 100 Best Children's Products. "Budding scientists will be amp'd with all eight of the kid-tested parent-approved projects, which range from a propelled swamp boat to creating a motorized bugzilla," publicist Melissa Bloomfield of Scholastic Inc. told TDmonthly. Launch date: August 2003. 11/8/2006 (MSRP: $19.95; Age: 8 and Up)



Rockit Robot Kit by OWI INC.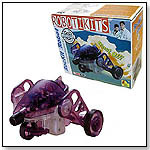 This non-solder robot in the OWI Beginner Series has a futuristic style and features a touch/sound sensor that prompts it to change direction when it hears a loud noise or comes in contact with an object. It comes with a condenser microphone, a pre-assembled printed circuit board, and an easy-to-assemble mechanical drive, and requires only basic hand tools and two AA batteries (not included). The product was selected by the Children's Institute for Childhood Resources as one of the "100 Best Children's Products" and "10 Best Software/High Tech Products" for 2001. 11/8/2006 (MSRP: $35.00; Age: 10 and Up)



SPIDER III Robot Kit by OWI INC.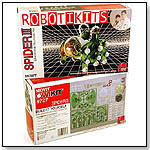 This non-solder robot features a radical walking style, a light sensor beam, and the ability to avoid interference. The SPIDER III judges by the reflection of its light sensor rays whether there are obstacles, and then gives signals in the form of electric pulses to alter the rotating direction of the left side motor. It requires 2 AA batteries and 1 9V battery (not included). OWI "kits incorporate the basic principles of robotic sensing and locomotion, and guarantee an adventure that's exciting, challenging, educational and fun," President Craig Morioka of OWI Inc. told TDmonthly. 11/8/2006 (MSRP: $65.00; Age: 10 and Up)



Defender Duel Start Set by ROKENBOK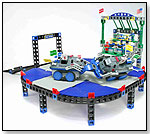 The Defender Duel has a competitive play pattern: The radio-controlled Defender vehicles enter the arena, facing the spectators in the stands — all constructed of Rokenbok's unique girder, ramp and decking units. Then it's no-holds-barred excitement as the two players try to capture all three flags from their opponent's vehicle or push the vehicle completely out of the arena to win the game. Like the other Rokenbok Start Sets, Defender Duel includes the four-player, eight-vehicle command deck and eight receiver keys, which allow nearly limitless expansion of the system. "Retailers responded enthusiastically because of the proven themes of these new Start Sets; Rokenbok's reputation for imaginative play; the flexible expandability of the Rokenbok construction system; our full-featured, robotic vehicles, and the rock-solid quality of every Rokenbok product, backed by our lifetime warranty," Christine Norris, marketing for Rokenbok Toys, told TDmonthly. "Men really like the Rokenbok sets and are always adding to them," said Ed Dodd, manager of Classic Toys in Anchorage, Alaska. 3/20/2006 (MSRP: $159.99)



---
---


Copyright © 2020 TDmonthly®, a division of TOYDIRECTORY.com®, Inc.