September 24, 2020

February 2007 | Vol. VI - No. 2


Spas in the Toy Store
Do-It-Yourself Beauty Kits Stay Strong
"Young girls love it." — Rhonda Kipplinger, Explore More
With additional reporting by regional correspondents Virginia Davis, Elizabeth Greenspan, Dennis Furlan, Terri Hughes-Lazzell and Brenda Ruggiero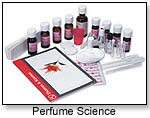 Cosmetics have invaded the arts and crafts market, nudging over airplane glue and fingerpaint with scented oils and fingernail polish, 19 of 35 specialty retailers told

TD

monthly Magazine.

"Young girls love it," Rhonda Kipplinger, owner of Explore More in Springboro, Ohio, said about the influx of primping products, such as Perfume Science by Thames and Kosmos (ToyShow) and Make Your Own Lip Gloss Kit by Colorlab Cosmetics.

What's New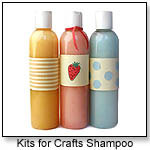 Hot on the scene of this vanity craze is Kits for Crafts, a year-old Connecticut-based manufacturer dedicated to teaching children the fundamentals of skin care with its line of wholesome beauty kits.

"We're instilling a lifestyle, not just a hobby," Wendy Robbins of Kits for Crafts told

TD

monthly. "Skin care is booming," she added.

What's Selling

Retailers are raving about Creativity for Kids. When asked why, Denise Magstadt, 11-year owner of Imagination Station in Whitefish, Mont., told

TD

monthly, "It's popular because it's all-inclusive. You buy one thing, and you can figure out how to do the whole project."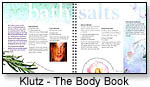 Diane Glasier, owner of Green Caboose in Stroudsburg, Pa., said her store is having great success with The Body Book, an instructional beauty kit by Klutz. Four other retailers agreed that Klutz's book on recipes for natural body care is a top seller.

"It's hard to keep [on the shelves]," said Cathy Foland, manager of Imagination Station in Fenton, Mich.

Retailers concerned with education need not shy away from cosmetic craft kits.

"There's not a whole lot in the science area that's geared to girls," noted Fred Rosenberg, owner of On the Park in Kingwood, Texas, "and this one sticks out." He was referring to Scientific Explorer's Spa Time, a make-your-own perfume and lotion chemistry kit.

"They're easy to work with, and fun," echoed Richard Gordon, owner of Exton, Pa.'s Learning Express.


Here's what kids are throwing in with the bathwater today:
Spa Time by SCIENTIFIC EXPLORER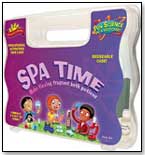 Kids can make therapeutic lotions and fizzy scented baths to turn their frenetic sleepover party into a relaxing spa experience. Components include sea salt, oats, lavender oil, citric acid, pipette and a science guide. The kit was launched in 2005.
— "One of the big fun ones was Scientific Explorer, Spa Time, which has lotions and things like that," enthused Kate Tanner, owner of Kidstop Toy & Book Store in Scottsdale, Ariz.
— "Scientific Explorer went out on a limb and did the perfume kit, where you mixed your own chemicals, and then they did a Spa kit and made facial washes. We sold a lot of that for sleepovers," shared Greg Bonner, owner of Heights Toy Center in Little Rock, Ark.
— "Anything makeup-related," does well with tweens and would be good for a slumber party, recommended Tricia Cooper, buyer at Le Jouet in Metairie, La.
THIS PRODUCT IS NO LONGER AVAILABLE 1/17/2006 (Age: 8 and Up)



Basic Clay Facial Kit by KITS FOR CRAFTS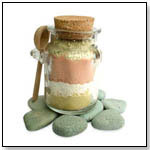 Founded by two parents anxious to unearth a remedy for their daughter's eczema, Kits for Crafts encourages crafters to "show responsibility by labeling ingredients properly." Kids have the opportunity to do so, as well as to personalize their own products, with downloadable packaging designs on the Kits for Crafts web site. "We want to teach kids that [taking good care of themselves] is something they can be doing for the rest of their lives," Wendy Robbins of Kits for Crafts told TDmonthly. 4/27/2006 (MSRP: $29.95)



Chocolate Chip Bath Cookie Kit by KITS FOR CRAFTS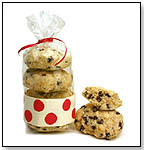 The Chocolate Chip Bath Cookie Kit contains everything you need to make decadent chocolate chip bath cookies that fizz in the tub. Cocoa butter and glycerin moisturize your skin while you soak. Sea salt, milk and oatmeal soothe and nourish your skin. The fizzing combination of citric acid and baking soda add extra fun to your bath. Whether you stack them in cellophane bags, or layer them in cookie boxes, these Chocolate Chip Bath Cookies make a great holiday gift for friends and family. Everyone will be amazed at how real they look and smell! (

Watch Video) 4/26/2006 (MSRP: $39.95)



Perfume Science by THAMES & KOSMOS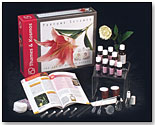 Perfume Science provides children an opportunity to develop a more sophisticated nose than most adults will ever have. The kit includes a complete perfumer's laboratory and will teach how the brain and the olfactory senses work together.
— "I sold all of my Thames & Kosmos Creative Cosmetics and Perfume Science kits," enthused Bettie Lee Moore, owner of Kaboom! in Leesburg, Va.
— "It'd be fun if everybody made their own bottle of perfume" at a slumber party, agreed Kate Tanner, owner of Kidstop Toy & Book Store in Scottsdale, Ariz. She says that beauty-related crafts kits are hot with girls at her store.
— "I don't care how advanced we want them to be, they still like putting on makeup and doing their hair," sighed Greg Bonner, owner of Heights Toy Center in Little Rock, Ark. Perfume and cosmetic craft kits were among his best sellers for "girlie" parties. 12/22/2005 (MSRP: $60.00; Age: 10 and Up)



Make Your Own Lip Gloss Kit by COLORLAB COSMETICS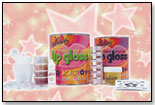 Make Your Own kits allow consumers to create their own products to their specifications. With mass customization on the rise, consumers are increasingly looking for ways to personalize their own products to fit their needs. With this kit, kids can brew up a batch of luscious lip gloss in just two minutes with frosts, gloss base and strawberry flavoring. The kit is great fun for kids to enjoy individually or with a group of friends. All ingredients and tools are included in each kit. It makes 6 lip glosses. Other products include eyeshadow and body gel kits. 1/4/2006 (MSRP: $24.00; Age: 8 and Up)



Nail Art Fun Party Pack Craft by CREATIVITY FOR KIDS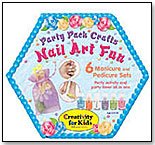 Great for parties, the Nail Art Fun Party Pack Craft comes in a cake-shaped box that opens to reveal all the accessories for six at-home manicures and pedicures. The kit includes 6 colors of nail polish, 6 sets of fake nails with adhesive, 6 sheets of adhesive-backed glittery nail art, 6 foam toe separators, 6 flower-shaped nail files/buffers, and 6 drawstring tulle bags for taking supplies home. It comes complete with 6 thank you cards for the guests.
— Little girls like tea parties, but big girls prefer craft parties, agreed retailers.
— "This is fun done by groups of girls," said Elaine Hackney, owner of J.P. Boing!'s Toy Shop in Jamaica Plain, Mass.
— Craft activities for birthday parties do well for girls 8 and up at Teri's Toy Box in Seattle, said owner Teri Soelter. 10/21/2005 (Age: 5 and Up)



Creative Cosmetics Experiment Kit by THAMES & KOSMOS

The kit includes 17 different cosmetics base substances that can be used to make personalized makeup, lip gloss, body lotion, face cream and shower gel. The full-color, 48-page book guides young chemists through the science and history of cosmetics and gives dozens of beauty recipes and techniques. In addition, it teaches how to care for skin, hair and nails to keep them healthy and radiant and builds a young person´s foundation in basic dermatology. 2/11/2005 (MSRP: $60.00; Age: 12 and Up)



The Body Book: Recipes for Natural Body Care by KLUTZ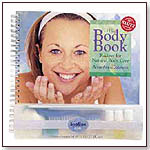 This is a gorgeous instruction book of common-sense luxuries for treating hair, skin and nails. These simple recipes — for things such as bath salts, tub infusions, hair rinses, facial masks, toners and scrubs — are remarkably easy to follow and yield delightful results. The kit comes complete with a Spa Box of supplies that includes a facial brush, nail buffer, pumice stone, bath infusion bag, headband, three vials of essential oils (lavender, peppermint and tangerine) and more. It's written by Anne Akers Johnson. Launch Date: Fall 1999. 11/21/2006 (MSRP: $21.95; Age: 12 and Up)



Shampoo and Conditioner Kits by KITS FOR CRAFTS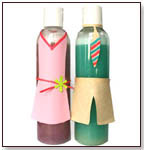 The Shampoo and Conditioner kits (sold separately) contain everything kids need to customize their own shampoos with color and fragrance. It's easy to do with a pre-made gentle base enriched with shea butter. Launch date: 2006. 11/21/2006 (MSRP: $24.95; Age: 5 and Up)



---
---


Copyright © 2020 TDmonthly®, a division of TOYDIRECTORY.com®, Inc.