July 5, 2022

January 2007 | Vol. VI - No. 1

---
Retailer Spotlight: Treehouse Toys
A Toy Store Tells a Story
"We try to tell stories with our merchandising." — Kathleen Tutone, Treehouse Toys

For Kathleen Tutone, owner of Treehouse Toys of Portsmouth, N.H., and Portland, Maine, deciding on toy-store ownership involved a little inspiration and the wish to "have 1,000 different children in my life at any given time."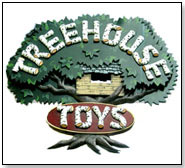 Living in New York City without any children of her own, Tutone experienced a crossroads of life at the same time she noticed that New York City had "a small offering of really quality stores for kids." Further, friends' children had "plastic toys that weren't very engaging," she told

TD

monthly.

Then Tutone visited the now-defunct New York toy store, The Enchanted Forest. Combining her love for children with a bit of inspiration from the high-quality toys the store stocked, Tutone opened her first store, in Portsmouth.

Play Value Is Paramount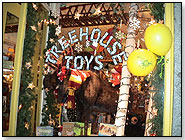 When it comes to product selection, Tutone insists on the best possible, which she defines as toys that are safe and well manufactured. Products must also have play value.

Treehouse Toys avoids products likely to wind up on the floor in a group of infrequently played-with toys, or those that "you put a battery in it; and watch it go around."

The Quest for the Best

Three years ago, Kathleen and her business partner, Robert Leuchner, formed sister company Magicforest after European buying trips revealed quality items unavailable in the United States. The company, Leuchner's primary focus, imports toys from Europe and is the exclusive U.S. distributor for the Italian plush company Trudi.

A Toy Store Becomes a Storybook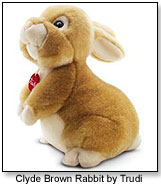 Tutone emphasizes the "spectacular, entertaining and engaging" character of play with themed departments, where "I try to tell stories throughout the store."

She organizes Treehouse Toys by theme, instead of vendor-specific groupings. Themes include jungle, farm and adventure. Tutone herself often dresses in character wardrobe, appearing as a princess one day and Daniel Boone the next.

"I believe in the power of play," Tutone told

TD

monthly. She also believes that children need play for learning success skills in life.

Staff First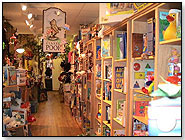 Tutone counts the staff at Treehouse Toys as one of her own successes. They love children, enjoy their occupations, and are "kids at heart." And, like Tutone, they help consumers make good buying decisions.

Treehouse Toys' story-telling approach, combined with high-quality product and superior customer service, has made the store a favored destination for more than 10 years.

To read about some of the best-selling toys in Treehouse Toys, please CLICK HERE or visit their website at www.treehousetoys.com.
---
---


Copyright © 2022 TDmonthly®, a division of TOYDIRECTORY.com®, Inc.