May 7, 2021

February 2007 | Vol. VI - No. 2

---
Why Quilting Is Sew Cool
Sharing and Showing Off Boost Needlecraft Sales
"Anything with felt is big." — Kari Thomas, Little Learner

With additional reporting by regional correspondents Virginia Davis, Dennis Furlan, Elizabeth Greenspan, Terri Hughes-Lazzell and Brenda Ruggiero

What's old is still new, according to 36 retailers interviewed by

TD

monthly Magazine about the hottest trends in arts and crafts. Kids continue to put a modern twist on needlecraft projects, replacing traditional potholders and doilies with cell phone pouches and funky scarves, using kits by Alex, Klutz, Curiosity Kits, and Creativity for Kids.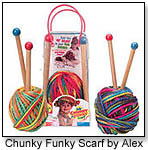 What's Selling

Those same four manufacturers were mentioned repeatedly by retailers, and for good reason: "Parents buy one kit… and the kids enjoy it so much they come back and buy another one," according to Joyce Matthews of Just 4 Fun in Simons Island, Ga. "Crochet kits are selling like hot cakes."

Kari Thomas, along with her husband, Dean, opened Little Learner in Lakeville, Minn., just over a year ago. "Anything that can be made," has sold well, Kari told

TD

monthly. "Alex has a lot of good products: Knot a Quilt, sewing and felt kits. Anything with felt is big."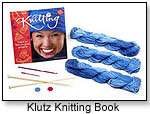 What to Make of It

And why do kids like these sentimental hobbies?

"They just love making things," Peter Schwiers, owner of Mr. Toad's Toy Company in Naples, Fla., put it simply.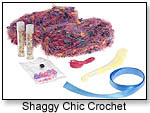 More than just any craft or toy, needle hobbies are activities that can be shared among generations. "It's something they can do with their mother and grandmother," Matthews commented.

Manager Roberta Kenworthy of Greenville, N.C.'s AbraKIDabra Toys summed it all up for

TD

monthly: Arts and crafts are "not just a toy to look at or cuddle, but something they can do and have something to show for their time."

Here are some of the kits that will have customers showing off their handiwork:
Color & Cuddle Washable Doll by ALEX BRANDS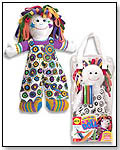 Made of Tyvek, this doll provides both patterns for kids to color and plenty of blank space to draw and decorate. When kids become bored of their designs, the Color & Cuddle Washable Doll can be thrown in the wash and will come out clean for more drawing fun. To make drawing easy, the Color & Cuddle Washable Doll from Alex Toys includes 4 colorful, washable markers and washing instructions. "Alex is moving well," Christina Callan of Interactive Toys, Crafts & More in Cle Elum, Wash., told TDmonthly, referring to the Color & Cuddle Washable Doll. "You decorate them and then you wash them." She said that even 13 year olds had bought them. 11/27/2006 (Age: 3 and Up)



Knot-a-Quilt by ALEX BRANDS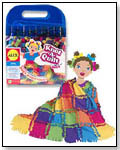 Who needs needles, stitching or stuffing? Kids can make a giant 36" by 48" quilt in just a few hours by knotting fringed squares together into a colorful pattern. The kit includes 48 9" squares of fleece in six bold colors.
— "We're out of Alex's Knot-a-Quilt — we just can't keep them in stock," Kits & Kaboodle Owner Teneen Dobbs in Carmel, Ind., told TDmonthly.
— "Alex's Knot-a-Quilt and others…we sell it everyday," Sharon, manager of Creative Kids in Columbia, S.C., concurred.
— Ten percent of retailers singled out this kit as their best-selling arts-and-crafts item. 12/5/2006 (MSRP: $19.99; Age: 6 and Up)



Leg Warminators Kit by FASHION ANGELS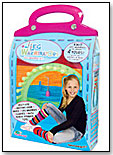 Ballerinas and fashionistas alike will want to make these ultra-cool leg warmers. Included is the "Leg Warminator Tool" for quick and easy completion of a first pair of leg warmers. It comes packaged in a vinyl knitting tote for easy storage and display on retailer shelves. This product received a 2007 Oppenheim Toy Portfolio Platinum Best Toy Award. Launch date: 2006.
— "Leg warmers are coming back," Susan Sellers, buyer for Tree Top Kids in Washington, D.C., told TDmonthly. "I ordered it for four stores."
— Fashion Angels (formerly known as The Bead Shop) is very excited about its 2006 wearable line, publicist Lisa Orman told TDmonthly.
— Fashions Angels products are a fave with tweens, retailers have told TDmonthly. 3/27/2006 (MSRP: $17.00; Age: 8 and Up)



The Sockett® Kit by TIGERCANDY ARTS INC.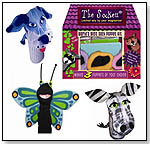 The World's Best Sock Puppet Kit encourages creativity by allowing the user to create three sock puppet characters of his or her own design. Each kit includes three colorful blank Socketts — special sock puppets with soft, flexible mouths — plus eight types of color-coordinated craft materials, craft glue, suggestions, photos and a blank Sockett house. This kit particularly targets the developmental needs of elementary school-aged children. Launch date: February 11, 2007. 1/5/2007 (MSRP: $29.99; Age: 6 and Up)



Design-a-Purse™ Purses by Design-a-Purse™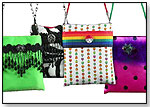 LauraLi Corporation presents Design-a-Purse, a versatile patent pending pouch accented with a treasure of beautiful accessories. Design-a-Purse allows a girl to design her own purse and then assemble it herself. Interchangeable straps, trims and jewels make Design-a-Purse a fun activity and fashion for girls. Packaged as individual components suitable for craft stores, party stores, home parties and as play sets, Design-a-Purse will offer seasonally updated designs, making the product a collectible item every girl will seek out. Pick-a-Pouch, Pick-a-Strap, Pick-a-Trim, Pick-a-Jewel, its your creation, take it home. LauraLi Corporation offers a Point of Sale Display on request as part of any Design-a-Purse wholesale purchase. Suggested retail prices for components range from $1.50 to $10.50. Launch date: April 2007. (

Watch Video) 1/8/2007 (Age: 5 and Up)



Creativity for Kids Crafty Caps by FABER-CASTELL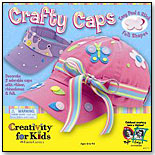 Each box comes with two hats. The kit includes an adjustable fabric baseball hat and a visor. Peel-and-stick felt shapes let little hands decorate with ease. The hat can be finished off with pretty fabric ribbons. Launch date: 2006.
— "It's really darling," enthused Trish Garlock of Treasured Child in La Grange, Ky. "There's also a ribbon-and-felt tote bag that looks like it'll match."
— Of the 14 retailers who carried make-your-own clothing items, 10 said that Creativity for Kids kits were among their best sellers.
— Boys who want cool caps, too, can make CFK's "Creature Caps." 3/27/2006 (MSRP: $14.99; Age: 4 and Up)



Fabulous Flip Flops by FABER-CASTELL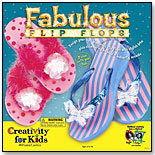 Creativity for Kids has come out with a brand new flip-flop kit that gives tween girls a little elevation: They have wedge-style heels for maximum fashionability. The kit comes with two flip-flop styles so it makes a great mother/daughter activity or fun for two friends. The larger pair features a fun, chunky heel and has blue and pink stripes, and the smaller pair is pink with circles. They come with self-adhesive sequin trims, sparkling angel eyelash yarn and iridescent butterflies. The kit was launched in February 2006.
— "Flip-flops have been hot," enthused Michelle Deutschmann, owner of Kaleidoscope Toys in Falmouth, Mass. Half of retailers who sold make-your-own clothing kits said that flip-flops were their best items, and it was the most popular kit in this survey.
— "Flip-flop kits keep selling," agreed Rich Gordon, owner of the Learning Express in Exton, Pa.
— "Flip-flops have been strong for a couple of years," said Kate Tanner, owner of Kid Stop Toy & Book Store in Scottsdale, Ariz. 3/27/2006 (MSRP: $19.99; Age: 6 and Up)



Weaving Loom Kit With Beginning Weaving Projects Book by CORPS OF RE-DISCOVERY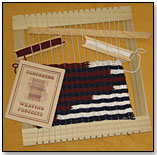 Children will delight as they create their own handiwork with this laptop weaving loom. This loom (approximately 12" by 12") is ideal for beginners and is based on an early pioneer design. The kit comes with complete easy-to-follow directions, a pick-up stick, two shuttles, a beater and more than enough cotton yarn to make to make an 8" by 8" project. The accompanying Beginning Weaving Projects Book details advanced designs and patterns and shows how to make blankets, scarves, purses, and wall hangings. The kit is ideal for read-aloud time and car trips. "While both girls and boys will create projects on the loom," said Corps of Re-Discovery owner John Newton, "the girls show more creativity. The loom is very popular among 6- to 14-year-old girls." The Weaving Loom Kit and Beginning Weaving Projects Book are also available separately.
— Annette Garcia of the Dana Point, Calif., toy store, The Wee Loft, told TDmonthly that the "weaving looms are always picking up around the holiday season." 3/30/2006 (MSRP: $15.00; Age: 6 and Up)



pegLoom — Weaving for Beginners by HARRISVILLE DESIGNS INC.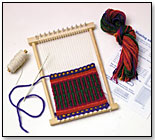 The mini pegLoom includes everything needed for a complete woven project: a 7" by 10" hardwood loom with rugged nylon pegs, cotton warp string, brightly colored 100 percent pure wool yarns, plastic needle for easy weaving and illustrated instructions. The pegs are slanted, which helps keep the yarn in place.
— Kevin Hart, co-owner and buyer at Toy Store in Atlanta, told TDmonthly, "Harrisville Design … makes their own wool … they've been around hundreds of years." Also popular at his store are Harrisville's crocheting and quick-knit scarf kit.
— Craft kits from Harrisville Designs sell well, agreed Sydney Shure, owner of Ideas and Toys Etc in Westminister, Md.
— The pegLoom was a winner of the Teachers' Choice Award and the Oppenheim Toy Portfolio Gold Seal "Best Toy" Award." 3/27/2006 (MSRP: $19.95; Age: 5 and Up)



The Funky Bead Chest by BEAD BAZAAR/KID JOURNEYS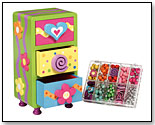 Kids can hide all of their treasures in this stylish, hand-crafted Funky Bead Chest. It's the perfect place to store finished bead creations and other accessories. All the drawers in this adorable chest are fully lined. The Funky Bead Chest contains tons of beads, plus lots of string and charms. The bead chest is a great permanent keepsake and it is one of Bead Bazaar's iconic items. It adds a touch of style to any room, is 9" by 5" by 4" and can be used to create three different accessories. It won an Oppenheim Toy Award in 2006.
— "Bead Bazaar is my best-seller for girls that are into crafting," Christina Callan, owner of Interactive Toys Crafts & More in Cle Elum, Wash., told TDmonthly.
— "I'd probably say bead kits. We get them from Bead Bazaar," was the response from Tristan Hewitt, manager of Dragon's Toy Box in Seattle, when asked about customer favorites in his store.
— Moore Porsaid, president of Bead Bazaar, shared his thoughts with TDmonthly: "[The Funky Beach Chest is] a painted and hand-crafted bead kit. You can create jewelry with it as well as [store] a finished product. Girls can also add their own jewelry to it if they like." 3/17/2006 (MSRP: $19.99; Age: 4 and Up)



Ribbon Purses by KLUTZ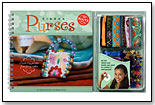 With Ribbon Purses, girls can make up to 14 bitty bags, with no two exactly alike. Everything they need is included — colorful floss, plush chenille and satin cording, sparkling beads and seven different kinds of beautiful ribbon. Super-simple instructions, clearly illustrated every step of the way, ensure that even beginning crafters will be able to sew and embellish their own dinky designer purses. The biggest question will be how many to keep and how many to give to friends.
— Kate Tanner, owner of Kid Stop Toy & Book Store in Scottsdale, Ariz., is betting that tween girls will go for the new Ribbon Purses book/kit.
— Susan Sellers, buyer for Tree Top Kids in Washington, D.C., also expects Klutz craft kits to continue to be faves with tween girls this year.
— Ribbon Purses launched in March 2006. 3/27/2006 (MSRP: $14.95; Age: 9 and Up)



---
---


Copyright © 2021 TDmonthly®, a division of TOYDIRECTORY.com®, Inc.