February 26, 2021

January 2007 | Vol. VI - No. 1


Toy Sleuth: Making the Future Friendly
The Warm and Cuddly Side of Tech
The push for new technology in all walks of life, from techno-phones to TIVO TVs, has created a backlash: a reaction for the comfy and familiar. Even high-tech toys are becoming warm and fuzzy.

TD

monthly Magazine scoured the corners of the industry, following this trend. From French monsters to mechanized dragonflies, here are some soon-to-be-seen items that call to the more human side of tech:
iPod Covers by BIBI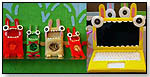 What's warm and fuzzy and French all over? At least for your iPod? Lauren and Paulina Bibi's iPod covers. These two fashionista twins ("We've been designing things since we were little girls and love to do this.") are going to have computer covers of the same ilk coming out later in 2007 (April). MacMall salesperson Dan Elrik thinks they could be big: "I could see people eating them up." 12/21/2006 (MSRP: $40.00; Age: 8 and Up)



PlushBot by POUND DESIGNS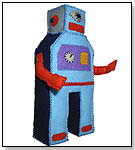 Kelly Pound's artistically friendly robot-thingies aren't made of scary metal, but are lovingly hand-stitched of felt and embroidery floss, and then covered with beads and rhinestones. Hence the name: PlushBots. Standing anywhere from 3" to 8" high, they are one-of-a-kind designs that bring humanity to our automaton friends. When asked about the PlushBots, art teacher and mom Molly O'Hanlon exclaimed: "He's pretty cute, but has a certain nervousness about him." Camille, 13, thinks he's definitely "one of a kind and almost cuddly." 12/21/2006 (MSRP: $20.00; Age: 10 and Up)



FlyTech Dragonfly by WOWWEE GROUP LTD.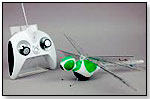 Capable of reaching speeds of up to 18 mph, the radio-controlled flying insect features an ultra-light, dual-wing design and crash-resistant structure. It flaps its wings like a real insect and can take off from any smooth surface and soar, dive-bomb, hover and glide. The motion of the flapping wings can keep the bug aloft for up to 15 minutes.The futuristic bug also features multifaceted LED eyes, two pairs of fluttering wings, a powerful tail rotor and an elongated body that fits in the palm of one's hand. (

Watch Video) 12/21/2006 (MSRP: $49.99; Age: 8 and Up)



Chatterbowl by Talk2Pet LLC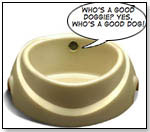 Modern technology has gone to the dogs with Chatterbowl, the talking animal bowl. Able to record and play back up to 10 seconds from "Master," Chatterbowl may help alleviate separation anxiety. Now when you have to leave ol' Fido or little Fluffy for the day, a soothing "Good dog" or "Nice kitty" is left behind. Dr. Frank W. Lavac, who heads up the VCA Wilshire Animal Hospital, agreed that a calming voice could help the nervous pet. For your furry friend, it's almost like you never went away... Jay Taylor, inventor and company head of Talk2Pet LLC, has already found initial interest strong and will be taking Chatterbowl to shows this year to expand his market. 12/21/2006 (MSRP: $24.95)



KtraK by KTRAK CYCLE CORP.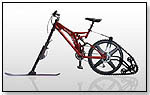 When is a mountain bike not a mountain bike? When it's a KtraK and can ride over snow, ice and sand. KtraK is a universal attachment for bikes of all sizes and shapes that turns the front wheel into a ski and the back wheel into a tank-treaded all-terrain propulsion unit. It's extreme to look at, but familiar in execution: If someone can ride a bike, they can ride a KtraK. Requiring no tools to install if the bike has a quick release (or a multiwrench if not), it takes all of two minutes to set up, and you're ready to rock the beach or boogie down a ski slope. Avid dirt bike racer Cal Douglas is looking at a KtraK: "It could be the next big thing, or just fun for us crazies." An adult size ($400) is also available. 12/21/2006 (MSRP: $499.00; Age: 12 and Up)



USB Squid by SOLID ALLIANCE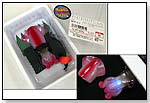 Mmm... calamari. Lately the stolid USB flash memory market has been brightened up with fun accessories — everything from glowing ducks to chameleons — but Solid Alliance has gone them one better with a half-gig memory stick that not only glows, but also looks like a squid. Yup, cephalopod fetishists unite: This is your memory stick of choice. Imagine impressing your sushi-loving boss with one of these, or as a gift for the Cthulu fan. Marge Donklin, assistant manager at the Jackson, Miss., CompUSA pointed out that "USB sticks are becoming trendy. People are accessorizing with them and defining their 'look.' Squids would be really interesting." 12/21/2006 (MSRP: $51.00; Age: 10 and Up)



Ani-Movie by JAZWARES INC.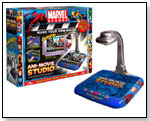 Ever wanted to make your own stop-motion movie like the Marvel Marching Superheroes? Or maybe South Park? Well, the Ani-Movie does it ... digitally. It's made up of a digital camera on a sweep arm that looks down on a "stage" for backgrounds and animation pieces — just like an old-time animation camera ... only digital. Put one of the cut-out Marvel superheroes or villains on deck (Spidey or Dr. Doom), position him, hit the Red Button to capture a frame, move an arm, or leg, hit the button again, and before you know it, you're playing your own animation back on your TV. Mike DeCamp, art director for Jazwares and creator of the Ani-Movie has been a student of animation for years. "I always thought it was cool and fun making stop-motions on my own. Then I thought it might be easy to do digitally, and came up with the Ani-Movie. It just kind of came together with Marvel — they've been very helpful." You can use your own memory sticks to get more footage, too. Launch date: December 2006. 12/29/2006 (MSRP: $59.99; Age: 8 and Up)



---
---


Copyright © 2021 TDmonthly®, a division of TOYDIRECTORY.com®, Inc.