September 26, 2020

February 2007 | Vol. VI - No. 2


TDmonthly's February Staff Picks
Will They Catch Your Customers' Eyes?
TD

monthly Magazine is always on the lookout for new and exciting toys and games that might do well in specialty toy stores. This month, we found a game that tames kids by putting them in the jungle, building blocks that appeal to both tiny tots and design snobs, and a new way to build an ecosystem. Please let us know if these toys work for you!

And to see other new manufacturers and innovative toys, click here for our Toy Fair Preview articles, or visit the front page for our Innovations of 2007 articles.
"Wild Science" Eco System by TREE TOYS CORP.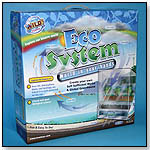 Children can create their own self-sufficient world and global greenhouse with this product. They can explore closed and open biological systems, learn how life, atmosphere, water and geology are linked in a cycle powered by the sun, grow plants in microhabitats, track temperature changes, create rainstorms and more. ToyOps distributes this toy. This product appeared on Dr. Toy's Spring 2007 Best Products List.
— "There has never been a true Eco System developed for the toy industry, and in today's changing world of global warming and greenhouse gas emissions, we look forward to helping children under[stand] this and how their precious resources can be secured for the future," Dennis Callaghan of TreeToys Corp. told TDmonthly. Launch date: May 2007. 1/5/2007 (MSRP: $39.95; Age: 8 and Up)



TINTE by LEARNING MATERIALS WORKSHOP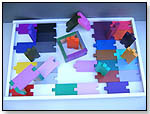 Created by award-winning designer Karen Hewitt, TINTE is both an art object and a toy that appeals to children and playful adults. As an interactive art object, the myriad design combinations become intriguing, two-dimensional works of art, equally at home on the living room wall or a child's bedroom. As TINTE is both a plaything and educational toy, builders of all ages delight in constructing three-dimensional structures with TINTE's 42-color, modular, hardwood blocks while exploring the basics of color theory: hue, value and intensity. The product comes with a hardwood frame with a sliding Plexiglas cover. An illustrated booklet on color theory is included. Launch date: March 2007. 1/5/2007 (MSRP: $189.99; Age: 5 and Up)



G2 Alpha Male With Dome Robot Walker by STIKFAS/SAIZON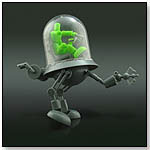 Shielded with a 'bullet-proof' dome, this STIKFAS™ villain can now ride around town wreaking havoc with his classic ray gun and retro vacuum cleaner. The G2 Alpha Male features 18 super-poseable points of ball-joint articulation and 26 interchangeable parts and accessories. The Dome Robot has 23 points of articulation and 41 interchangeable parts and accessories. "Stikfas-Action Figure Kit is the most articulated 3" figure in the world. With its unique patented ball-and-joint socket design, the Stikfas-AFK allows enthusiasts to express their individuality and interest through kit bashing, customization and posing," Sammy Nelson of SaiZon told TDmonthly. Launch date: November 2006. 12/29/2006 (MSRP: $20.00; Age: 8 and Up)



The Amazon Hop: A Madcap Jungle Adventure Game by MOMS ON EDGE LLC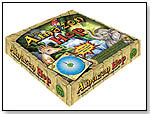 Teach little ones good behavior, manners and social skills while having lots of swinging, screeching and squawking fun. This game comes with 50 question cards,16 lily pads and stone foam pieces, and a Jungle Activity wheel. When a child answers a question correctly and hops to the next foam pad, the spinner is spun and he acts out one of 16 activities, such as "Hop like a tree frog," or "Trumpet like an elephant." The finish line marks the crossing of the "Amazon River."
— The game "encourages parents and caregivers to take an active role in their young child's development," Elena Neitlich, owner of Moms on Edge, told TDmonthly. Launch date: 2006. 1/5/2007 (MSRP: $24.95; Age: 3 and Up)



The SockettŪ Kit by TIGERCANDY ARTS INC.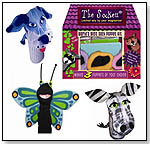 The World's Best Sock Puppet Kit encourages creativity by allowing the user to create three sock puppet characters of his or her own design. Each kit includes three colorful blank Socketts — special sock puppets with soft, flexible mouths — plus eight types of color-coordinated craft materials, craft glue, suggestions, photos and a blank Sockett house. This kit particularly targets the developmental needs of elementary school-aged children. Launch date: February 11, 2007. 1/5/2007 (MSRP: $29.99; Age: 6 and Up)



Baby So Real by iTOYS INC.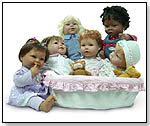 A breakthrough in doll technology has produced this lifelike baby doll, weighted to feel like a real baby. Baby So Real features a unique vinyl coloring process (patent pending) that brings the realism of natural human body shadows to the doll's skin texture. She has baby-fine hair and detailed fingernails and toes, and is available in 48 different styles with numerous skin tones, hair colors and textures. According to Laura Liebeck of Grand Communications, Baby So Real is "the most realistic baby doll in the non-collector market, with an endless variety of feature combinations appealing to every little girl." Launch date: June 2007. (

Watch Video) 1/22/2007 (MSRP: $29.99; Age: 3 and Up)



Noah's Ark Collection - Lion by RUBIE'S COSTUME COMPANY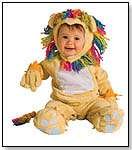 The Noah's Ark Collection for babies features bright pastel-colored costumes, including chenille and flannel buntings and jumpsuits. Other costumes in the line include Pony, Wiggle Worm, Teddy Bear, Rainbow Baby, Blue Bunny, Pink Lamb, Rainbow Chickie, Pink Bunny and Blue Lamb. Launch date: Summer 2007. 1/22/2007 (MSRP: $29.99; Age: 0 to 2)



ThatWordGame Syzygy on CD-ROM by SYZYGY

All the fun of Syzygy can now be enjoyed on the computer. 1/19/2007 (MSRP: $19.95)



Shadow Puppet Theater by BRIGHT PATH ENTERPRISES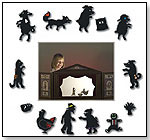 The Shadow Puppet Accessory Pack easily converts the theater into an enchanting shadow puppet theater. This art form originated in China and Indonesia hundreds of years ago. Although these shadow puppets have fairly simple forms, in the hands of a puppeteer, they come to life to excite and entertain audiences. They are cleverly accented with exciting color and constructed with tough poly-plastic, and the moving parts bring them to life. Use a simple desk lamp (not included) as a light source.

Additional story sets sold separately. Included is a shadow screen panel, 10 shadow puppets and props for three stories — The Gingerbread Man, The Little Red Hen and Old McDonald. 1/19/2007 (MSRP: $24.99; Age: 8 and Up)



Extension Block With Axle - Red by AUTOMOBLOX

Turn any of your Automoblox vehicles into a six-wheeler by adding one of our Extension Blox to your Automoblox garage. Get two Extension Blox and create an eight-wheeler. It includes two C9 wheels and tires, and is compatible with most models.
― Automoblox is "very nice to deal with [and has] great sales reps," said Martin Goetzinger, founder of www.schooldelay.com, in spring 2007. 1/17/2007 (MSRP: $12.00)



Mini Solar Robot Kits by OWI INC.



Let's meet OWI's new Mini Solar Robot and science kits. These frolicking fancies are easy to assemble and demonstrate alternative energy principles. They are simple and friendly, and will put a smile on any child 8 years and up. Happy Hopping Frog, Super Solar Racing Car, Frightened Grasshopper, Walking King Crab, and Attacking Inch Worm fit nicely into OWI's JR Science Series. Besides having jovial names, they have become our premiere entry level product. Because of their entry-level price points, retailers will grow fond of their movements; both off the shelf and after assembly. If a make-it-and-take-it type product is what you are looking for, these hands-on terrestrial tantalizers will make you the local hero. Our research team has found this product to be a distinct liking in educational programs such as after-school, summer and vacation programs. How about science workshops? You betcha! How about one-hour projects? Perfect! Let's show the kids how truly engaging science can be with OWI's new Mini Solar Robot and science kits. (

Watch Video) 1/25/2007 (Age: 8 and Up)



Thumball: Young Learners Series 1 - Animals by ANSWERS IN MOTION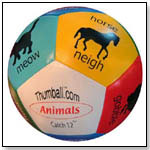 Young Learners Thumballs are great for little hands to catch and toss as they work on developing skills. Bright primary colors are easy to focus on, and the balls are available in the following designs: Animals, for vocabulary development; Numbers, for development of counting and math skills; and Shapes, to enhance visual perception skills. "Thumball has a unique multi-paneled design and safe composition which offer a 'pleasingly squeezable' play experience," Gregg Pembleton of Answers in Motion told TDmonthly. Launch date: February 2007. 1/12/2007 (MSRP: $13.99; Age: 3 to 8)



---
---


Copyright © 2020 TDmonthly®, a division of TOYDIRECTORY.com®, Inc.