November 27, 2020

February 2007 | Vol. VI - No. 2


February Videos
If you want to know what a toy will look like on your shelf, TDmonthly Magazine lets you see it before and after it comes out of the box.


Videography and editing by Alison Marek.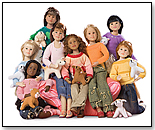 Only Hearts Club Dolls by OHC GROUP LLC.

Taylor, Karina, Olivia, Briana, Lily and Anna are all best friends who have made a promise to listen to their hearts and do the right thing. All six are available in this line, along with fashion accessories, outfits and each character´s associated book. Each Club Doll comes with her own pet dog.(

Watch Video)

To see archived videos sorted by category please click here.


To watch manufacturers demonstrate their products at tradeshows click here.


And here are the new videos of this month!
Noah's Pals – Lance and Linda Lion by Caboodle! Toys LLC (Noah's Pals)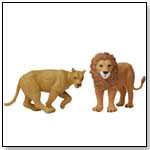 Lions roam the African savannah in families called prides that are made up of related females, their children and a single male. When a male reaches adulthood he gets kicked out of the pride and has to go seek his own group. Female lions hunt as a team. Together they can overpower large prey like zebras, buffalo, giraffes, hippopotamuses and even young elephants, but they're not above scavenging other animals' leftovers. Lions sleep as much as 20 hours a day and both males and females defend their pride from any intruders. Lions' roars are really loud and can be heard up to five miles away. Lance is 2.6" tall x 1.2" wide x 4.0" long. Linda is 2.0" tall x 1.0" wide x 3.8" long. As "vulnerable" animals, the lions are limited to 20,000 editions. Noah's Pals are lovingly sculpted and beautifully handpainted animal figures. It's a fun and educational collection that's perfect for both children and adults. "Each male and female pair of animals includes an educational ID Card that allows collectors to register Noah's Pals on our interactive website where they can learn more about wildlife conservation," Co-founder Steve King of Caboodle! Toys told TDmonthly. This product received a Spring 2007 Seal of Approval from The National Parenting Center. Launch date: January 1, 2007. (

Watch Video) 1/4/2007 (MSRP: $8.00; Age: 3 and Up)



Incredible Creatures Hermit Crab by SAFARI LTD.®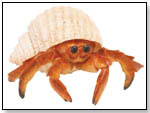 Part of the stunning Incredible Creatures series, this hand-painted, phthalate-free Hermit Crab depicts how hermit crabs are never far from their homes because they carry them on their backs. The product is soft to the touch for added realism.
— "Five-language educational information that teaches children about their fragile planet Earth and her endangered wildlife," makes this product stand out, Teresa Duddles of Safari Ltd. told TDmonthly. Launch date: January 2007. (

Watch Video) 1/5/2007 (MSRP: $5.50; Age: 3 and Up)



Dino Discoveries T-Rex Hatchling by SAFARI LTD.®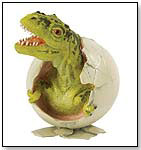 Safari Ltd. introduces the newest addition to its Dino Discoveries series, the T-Rex Hatchling. Hand-painted and phthalate-free PVC makes for safe play. Each dinosaur includes five-language educational information. Replica size: 4" L x 3.4" H. Launch date: January 2007. (

Watch Video) 12/11/2006 (MSRP: $6.00; Age: 3 and Up)



Wild Safari® Jungle White Bengal Tiger by SAFARI LTD.®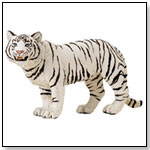 This Wild Safari Jungle White Bengal Tiger is authentically sculpted, hand painted and phthalate free. Developed with input from leading animal experts, these replicas are just like the real thing, only smaller. Safari's jungle series has more than 70 realistic replicas. All animals include five-language educational information to educate children about our planet's endangered wild kingdom. Replica size: 5.6" L x 3" H. Minimum order of 6. Launch date: January 2007. (

Watch Video) 12/11/2006 (MSRP: $5.00; Age: 3 and Up)



Blue Ribbon Horse Collectibles Clydesdale by SAFARI LTD.®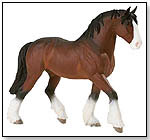 Safari's Blue Ribbon Horse Collectibles are unique in the marketplace for a variety of reasons. They feature superior sculpting from one of the top horse sculptors in the world, showing true musculature just like a real horse. Superb hand painting enhances the beauty of each figure. The large 7"-high size adds play value, and there's attractive gift packaging with five-language educational information included with each horse. Launch date: January 2007. (

Watch Video) 1/5/2007 (MSRP: $14.00; Age: 3 and Up)



I'm Gronk and I'm Green © by FAUX PAW PRODUCTIONS INC.

Gronk is an affable but easily distracted little dog who places fun in front of obeying the rules. His is a story of conflict and consequences: Little things can turn you green, and it's a silly thing for a dog to be green. Watch Toy Fair demo video (

Watch Video) 12/4/2006 (MSRP: $14.99; Age: 1 to 8)



Blue Dog of Happiness by OUR NAME IS MUD INC.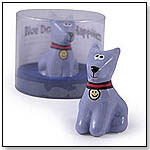 This faithful friend brings the gifts of pure joy and security to its new owner. A friend fur-ever, he will assist in the dogged pursuit of dreams and help individuals over life's ruff spots. From a special place in a home or office, he will bring many days of happiness. "The Blue Dog of Happiness stands out among the thousands of kids' inspirational keepsake products by being a figure that a kid would want to bond with. ... [He'll] remind them that they can overcome anything." Victoria Compton-Jorasch, director of marketing and PR at Our Name Is Mud, told TDmonthly. Launch date: January 2006. (

Watch Video) 1/9/2007 (MSRP: $6.00; Age: 10 and Up)



Globesavers by DUPREY INVENTIONS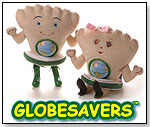 This educational plush toy features an environmental do-gooder theme. It includes a spinning globe and a magnifying glass. The interactive doll comes in girl and boy varieties. (

Watch Video) 1/5/2007 (MSRP: $24.95; Age: 3 to 12)



---
---


Copyright © 2020 TDmonthly®, a division of TOYDIRECTORY.com®, Inc.